If you've ever thought about meeting other Tripawds in your city, this will inspire you to arrange a Tripawds pawty!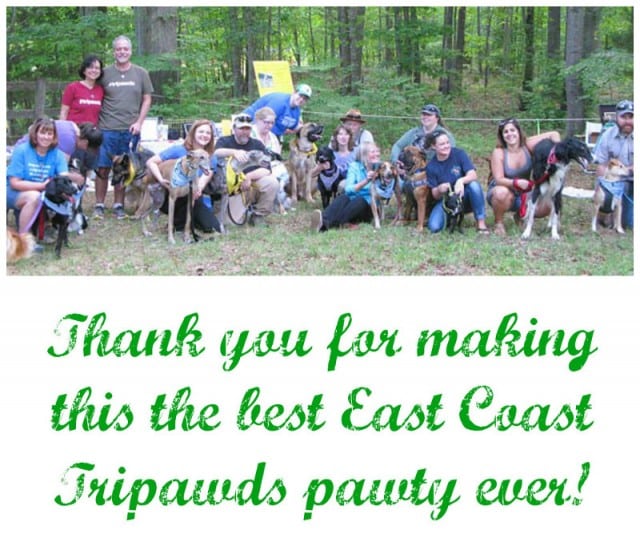 Three and Four Legged Dogs Party in Virginia
In honor of Pet Cancer Awareness Month, the Tripawds nation and Greyhounds Rock Fredericksburg came together on May 23 and 24th for the biggest three and four-legged community celebration ever!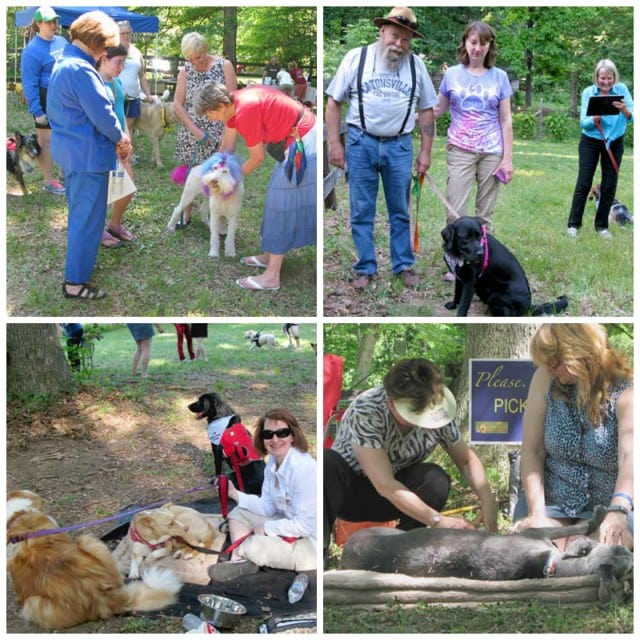 With thanks to the mighty crew at Greyhounds Rock Fredericksburg, the pawty was a blast. Greyhounds Rock members from around Virginia and Tripawds packs from as far away as the Carolinas road-tripped to Fredericksburg for treats and fun!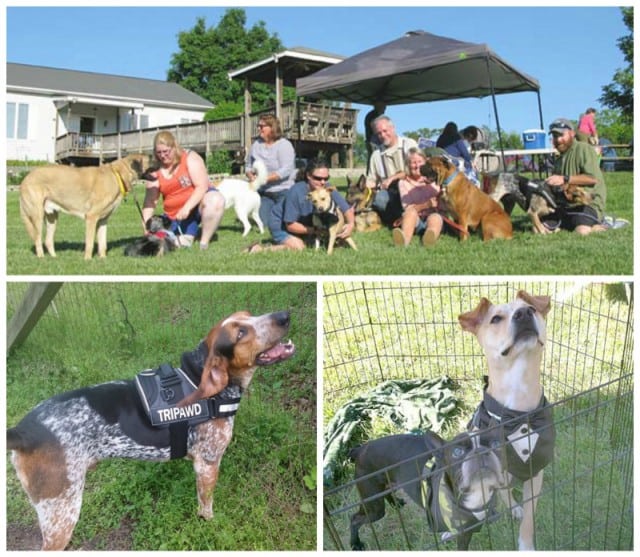 We all finally got to meet our cherished online friends, many of whom helped each other through some of the roughest times of adjusting to life on three legs, and oftentimes, canine cancer.
There are no strangers in the Tripawds community. Everyone who came left feeling like they reunited with old friends.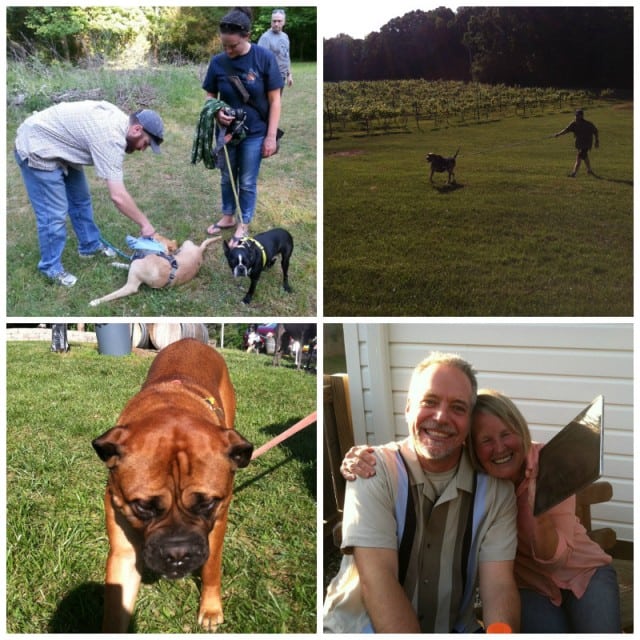 Our generous sponsors made sure there was plenty of goodies and fun freebies for everypawdy. Let's give a big shout out to these companies for supporting the Tripawds Nation:
EzyDog
The Honest Kitchen
That Pet Place
Tractor Supply Company
Paw Patch Pastries
K9 Medicinals
The Tripawds Tribute Leash was on display. Some ribbons for Tripawd heroes and angels were added. Want to add one for your three-legged cat or dog? Here's how.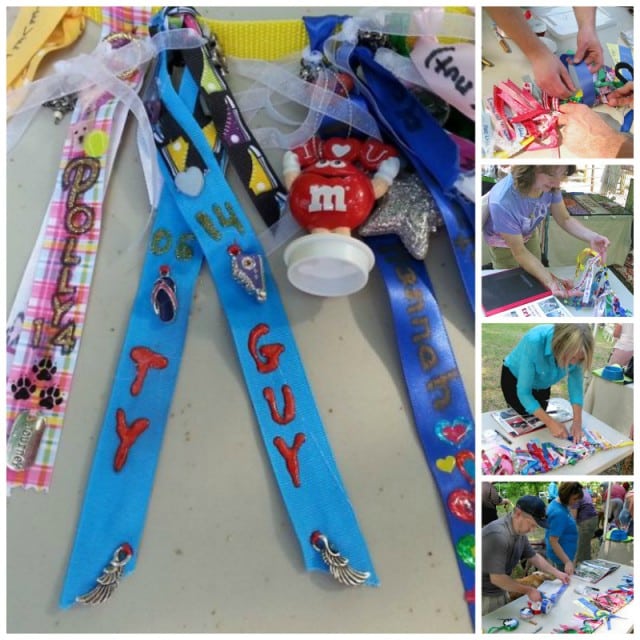 Three speakers gave wonderful presentations: Dr. Lori Pasternak, DVM of Helping Hands in Richmond talked about how her clinic prevents economic euthanasia, and holistic vet Dr. Anita Walton of Locust Grove Vet Hospital did a wonderful acupuncture demonstration. Canine exercise expert Beth Skewis also demonstrated fun activities to do with your dog!
Many laughs were shared throughout the weekend, and a few tears too as our Tripawd angels names were read during a beautiful bonfire ceremony at the conclusion on Sunday.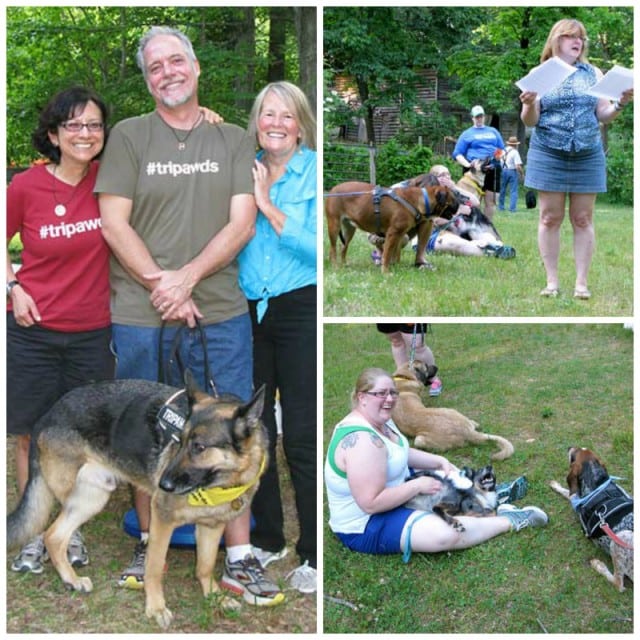 And in one of the most unforgettable parts of the weekend, we had the honor of meeting sweet Tripawd hero Nixon, now an angel. We will never forget you Nixon.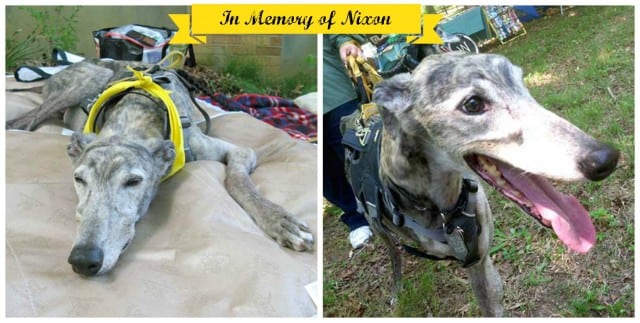 All Tripawd pawties are fun but this one is definitely the biggest one our community has held in our history.
Special Thanks to Greyhounds Rock Fredericksburg
Please give extra big barks to our friends at Greyhounds Rock Fredericksburg for making it all pawsible. They literally arranged everything from the tables and chairs, to our pawesome presenters, to the event location itself. Ticket sales were slated to be split between our two groups but we feel they deserve whatever is left after event costs are paid. Tripawds is donating our share to this pawesome canine cancer awareness fundraising group. We don't know the exact amount yet but will update soon.
Thank you so much for all of your hard work Greyhounds Rock!