Caring for a Three Legged Dog or Cat
Tripawds is the place to learn how to care for a three legged dog or cat, with answers about dog leg amputation, and cat amputation recovery from many years of member experiences.
JUMP TO FORUMS ↓
Join The Tripawds Community
Learn how to help three legged dogs and cats in the forums below. Browse and search as a guest or register for free and get full member benefits:
Instant post approval.
Private messages to members.
Subscribe to favorite topics.
Live Chat and much more!
Find out in Be More Dog: Learning to Live in the Now by Tripawds founders Rene and Jim. Learn life lessons learned from their Chief Fun Officer Jerry G. Dawg! Get the book and find fun gifts in the Be More Dog Bookstore.
(0

votes)
East Coast Tripawds Rock Virginia
Read the original blog post
Add Reply
Add Topic
If you've ever thought about meeting other Tripawds in your city, this will inspire you to arrange a Tripawds pawty!
Three and Four Legged Dogs Party in Virginia
In honor of Pet Cancer Awareness Month, the Tripawds nation and Greyhounds Rock Fredericksburg came together on May 23 and 24th for the biggest three and four-legged community celebration ever!
With thanks to the mighty crew at Greyhounds Rock Fredericksburg, the pawty was a blast. Greyhounds Rock members from around Virginia and Tripawds packs from as far away as the Carolinas road-tripped to Fredericksburg for treats and fun!
We all finally got to meet our cherished online friends, many of whom helped each other through some of the roughest times of adjusting to life on three legs, and oftentimes, canine cancer.
There are no strangers in the Tripawds community. Everyone who came left feeling like they reunited with old friends.
Our generous sponsors made sure there was plenty of goodies and fun freebies for everypawdy. Let's give a big shout out to these companies for supporting the Tripawds Nation:
EzyDog
The Honest Kitchen
That Pet Place
Tractor Supply Company
Paw Patch Pastries
K9 Medicinals
The Tripawds Tribute Leash was on display. Some ribbons for Tripawd heroes and angels were added. Want to add one for your three-legged cat or dog? Here's how.
Three speakers gave wonderful presentations: Dr. Lori Pasternak, DVM of Helping Hands in Richmond talked about how her clinic prevents economic euthanasia, and holistic vet Dr. Anita Walton of Locust Grove Vet Hospital did a wonderful acupuncture demonstration. Canine exercise expert Beth Skewis also demonstrated fun activities to do with your dog!
Many laughs were shared throughout the weekend, and a few tears too as our Tripawd angels names were read during a beautiful bonfire ceremony at the conclusion on Sunday.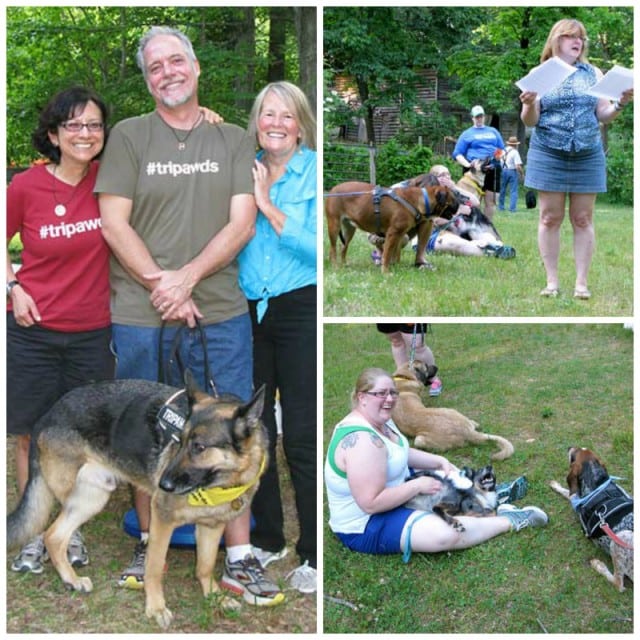 And in one of the most unforgettable parts of the weekend, we had the honor of meeting sweet Tripawd hero Nixon, now an angel. We will never forget you Nixon.
All Tripawd pawties are fun but this one is definitely the biggest one our community has held in our history.
Special Thanks to Greyhounds Rock Fredericksburg
Please give extra big barks to our friends at Greyhounds Rock Fredericksburg for making it all pawsible. They literally arranged everything from the tables and chairs, to our pawesome presenters, to the event location itself. Ticket sales were slated to be split between our two groups but we feel they deserve whatever is left after event costs are paid. Tripawds is donating our share to this pawesome canine cancer awareness fundraising group. We don't know the exact amount yet but will update soon.
Thank you so much for all of your hard work Greyhounds Rock!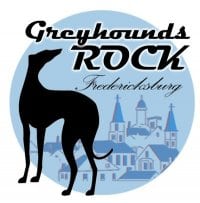 Virginia
Member Since:
26 January 2014
Offline

Los Angeles, CA
Member Since:
13 June 2013
Offline
Give us the dates and Jasper and I are on our way!!!! We may need to couch surf around town to make it worth our while but I'm past due for an East Coast adventure! 
OXOX
Alison with Spirit Shelby and little Jasper Lily 
Shelby Lynne; Jack Russell/Shiba Inu mix. Proud member of the April Angels of 2014.
October 15, 2000 to April 8, 2014
Our story: Broke rear leg in June 2013 - non-conclusive results for cancer so leg was plated and pinned. Enlarged spleen in September 2013 and had it removed and was diagnosed with Hemangiosarcoma and started chemotherapy. Became a Tripawd January 8th, 2014 and definitive Hemangiosarcoma diagnosis. Three major surgeries in 7 months and Shelby took them all like a champ only to lose her battle to cancer in her brain. We had 8 amazing extra months together and no regrets. #shelbystrong #loveofmylife
HUGE THANK YOU TO GREYHOUND ROCKS AND TRIPAWDS!!!
The weekend could not have been more joyful and so full of love and connection!! To join up with friends who have travelled with us on this journey...OMD! We already knew the pure and loving spirit of everyone there. However, meeting in person...hugging in person.....sharing laughs in person.....sharing our hearts with each other....and even a tear or two.....AND sharing our dogs with each other...MAGICAL!!!!
And a shout out yet again to BFF Eric who went beyond and above to help with Frankie and Merry Myrtle! Myrtle was in love with Eric...well,except when she was two timing him with John. and was easy to handle, relatively speaking.
See that gtoup of photos...fifth group from first ohoto...that's Frankie pulling Eric on the leash and "vocalizing@ LOUDLY with sheer happiness. I would tell people that disruptive dog was Erics and everyone would go to him and ask him to keep HIS "outta' control" Trilawd quiet!!!! KIDDING!!!
Oh, and in that same group of pictures...see the Admin Guy right belpw grinning ear to ear as he's helping me hold up "our" tavlet??? He was "vocalizing" how much he lpves tavlets!!! Realku! Turn the volume knob up and you'll hear him say, "I LPVE TAVLETS"!!
Oh, you have to jave a tavlet to hear it though!
And a shout out to BFF John for letting Merry Myrtle just sit there and slobber on himas she gazed into his eyes all day Sunday!
ESTHER AND DON....ERIC AND ELIZABETH.....INGRID AND RICH...thank yoh soooooo mich for letting me follow you at various times so I wouldn't get lost!
And dear sweet Deb for renting that house with that great huge fenced yard with magnificent shade trees.. That was a huge bonus for us all! We were able to actually let all the dogs visit "free range" and they had a blast!! Talk about harmonious energy encircling our dogs, just delightful to see. We all have NO doubt that our tripawds at the Bridge were kept I fusing everyone with their @ove and kept all the pups friendly with each other.
And the EXCLAMATION POINT TO THE WHOLE WEEKEND.....spending time with JIM, RENE AND WYATT RAY!!! OMD!!! And make no mistake about this...we could all feel Jerry's presence through them!! Words cannot describe how gracious, warm and loving they were to each of us! They had to be exhausted, yet acted as though they had just gotten off a relaxing vacation , as opposed to driving cross country for days!!! You see their smiles in those lictures? Yep, real, genuine and inviting! I guess GENUINE sums it up!
Thank you each and everyone for making this a weekend in. PARADISE!!! And hugs to all the dogs who reflected the love in the Tripawd Universe and interacting so harmoniously.
From my heart,
Sally and My Eternal Light Happy Hannah and Merry Myrtle and Frankie too!!
PS..As Elizabeth says...everybody has time to start making plans for a lther great gatherin!!!
Jim and Rene, very nice of you to kickback Tripawds' portion of donations. I know there are NEVER enough funds for Tripawds. That was very kind....but then again...that's how you two roll!!
Happy Hannah had a glorious additional bonus time of over one yr & two months after amp for osteo! She made me laugh everyday! Joined April's Angels after send off meal of steak, ice cream, M&Ms & deer poop!
OMD! Alison and Jasper Lily are signed up!!! Michelle, you and Snickers, Jazz and Bosch can catch up along the way!! I'm envisioning a re ted RV full of grates of dogs and their humans!!
Jim and Rene...where is Dog Blog Paws being held next year?
Happy Hannah had a glorious additional bonus time of over one yr & two months after amp for osteo! She made me laugh everyday! Joined April's Angels after send off meal of steak, ice cream, M&Ms & deer poop!
benny55 said
...where is Dog Blog Paws being held next year?
 BlogPaws 2016 will be held in Phoenix, AZ June 23-25. The following year it will be back on the East Coast somewhere.
Who ever said anything about "next year"?
WOOF!! WOOF!!! Oh yeah, "next year" is just around the corner! EastCoast in 2016....hmmm...Virginia is looking promising!
Heck, by then you'll be teaching "Advanced Tavlet Techniques for Facebookers" at Blog Paws!
Happy Hannah had a glorious additional bonus time of over one yr & two months after amp for osteo! She made me laugh everyday! Joined April's Angels after send off meal of steak, ice cream, M&Ms & deer poop!
Forum Timezone:
America/Denver
Most Users Ever Online:
946
Currently Browsing this Page:
1
Guest(s)
Member Stats:
Guest Posters: 1192
Members: 15208
Moderators: 2
Admins: 3
Forum Stats:
Groups: 4
Forums: 23
Topics: 17638
Posts: 245586
©
Simple:Press
—