We are so grateful for the growing numbers of TriKitty community members, so today we're giving a Tripawd Tuesday tribute to two of these brave kitties, Vinny and Elvis. Both were diagnosed with feline hemangiosarcoma, a rare cat cancer with an uncertain prognosis but as these kitties prove, that isn't going to stop them from living life in the Now! Here are their stories:
Prince Vince, The Cuddly Gentle Giant
This 7-year old, 19 pound fluffball joined us last July when his limb was amputated because of hemangiosarcoma.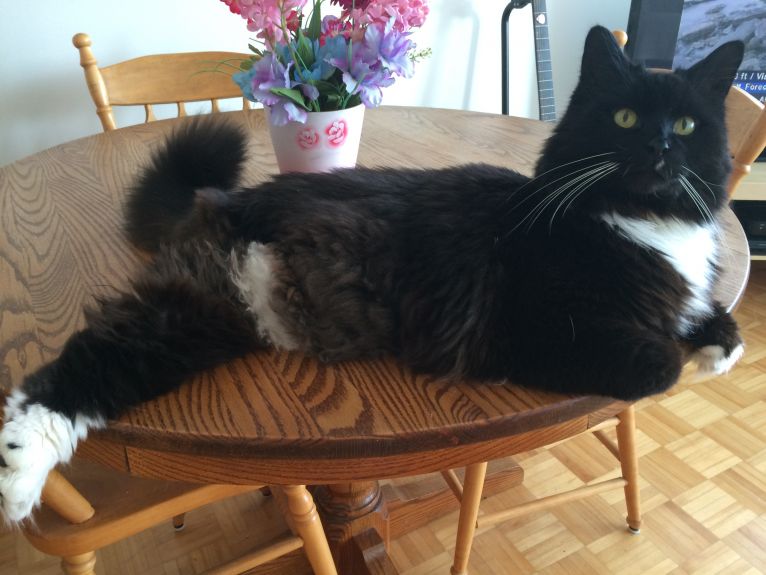 After completing his last round of chemotherapy in November, his humans shared in Vinny's blog:
All of Vinny's chemo treatments are now complete! He did it!

He really races around the apartment well now, running and jumping on stuff with no hesitation. It's so wonderful. I know he's back to his old self now that he jumps on the bathroom counter every time I open the jar of coconut oil, hehe. He stopped doing that for a while just before his amputation when he was feeling crappy, and for a while after he was healing. Now he can't be stopped!
Elvis is in the House
Elvis joined us only last week for the same reason that Vinny did: feline hemangiosarcoma — small world, considering that this condition accounts for just two percent of all feline cancer cases.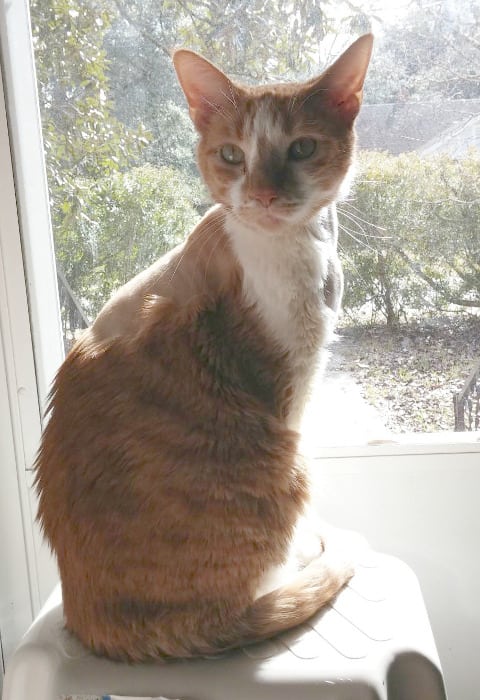 This sweet feline is just now starting his three-legged journey. His worried momma shared in the forums:
I'm so very grateful to hear that he's in the normal parameters for recovery.  I know this has to be both painful and confusing for him, but I keep hearing everyone say "cats bounce back, he'll do great" and he isn't really doing great to my perception so far, it's disheartening.  I keep wondering if I made the right decision.

Tonight, I spent close to an hour grooming and rubbing him and he seemed to enjoy it.  I brought him out into the living room and got him to relax while I brushed out a bunch of blackheads–he's prone to them, and a flea comb does a great job of manual exfoliation–and then just petted and stroked him.  He stayed out for a while before heading back to his hiding spot under our bed.  I'll keep working with him and giving him plenty of one-on-one.  I'm getting over a short hospital stay myself (oddly enough, I had illness that coincided with his.. thankfully nothing as serious as cancer) so maybe some mutual R&R will be nice.
We have our paws and tails, toes and fingers crossed that Elvis bounces back quickly and that he and Vinny both kick cancer's butt to the outer reaches of the universe. Please give them your best and follow along their journeys with our newest feline friends!
Share Your Story on Tripawd Tuesday
Each Tuesday, Tripawds from around the world can enter for a chance to be "Tripawd of the Week." Just share your Tripawd's story and you're entered to win! On every Tuesday of the week, tell us about your three-legged hero here in the Tripawds Discussion Forums or on the Tripawds Facebook page. Just follow these easy steps:
In a few short sentences, describe your three-legged hero's story.
Include a photo or video.
Include a link to your Tripawds Facebook page, Forum topic and/or Tripawds blog (if applicable)
All entries must be received by Saturday at 11:59 pm. One Tripawd story will be selected at random to be featured the following Tuesday.