Caring for a Three Legged Dog or Cat
Tripawds is your home to learn how to care for a three legged dog or cat, with answers about dog leg amputation, and cat amputation recovery from many years of member experiences.
Learn how to help three legged dogs and cats in the forums below. Browse and search as a guest or register for free and get full member benefits:
Instant post approval.
Private messages to members.
Subscribe to favorite topics.
Live Chat and much more!
Hi all, my name is Jo and I'm happy to meet you.  I have to preface this post by saying that I've known about Jerry's story since I watched the Nature episode "Why We Love Cats and Dogs " years ago.  His (and his humans') story touched me deeply and left a lasting impression, but of course, I never thought I'd have a "tripawd" myself.
I need to play a little catch up and, at this point, it's a long story.

 I first noticed my cat Elvis' front left paw swollen approximately the end of November/the beginning of December.  While upsetting, it didn't seem to impede his normal behavior so we tried to be optimistic.  My vet tried her best to rule things out in a conservative but timely manner, and we did several antibiotics, steroids, and a needle aspiration.  That last test told us we were dealing with a blood-filled mass that wouldn't respond to any treatment so far, but my vet could find no abnormal cells.  She referred us to a specialty clinic on New Year's Eve, where the doctor we saw was about to reassure us that she could find no metastatic disease from chest x-rays.  She did say that in spite of that, she felt like the mass in his paw was malignant.
The first week of January, we took him back to my regular vet for an exploratory.  Everyone agreed it would be the best thing to do.  Elvis never mentally recovered from that exploratory.  He ate poorly, was in pain, listless, for an entire week while we waited for the biopsy to come back.  Tuesday the 13th, we went in to remove his bandages and opened them up to find a wound that was still oozing blood.  I don't see my vet panic often, but this was one of those times, and she sent us directly back to the referral clinic.  They got him set up for an amputation immediately.  Early that afternoon (at my husband's oncology appointment of all places) my vet called us and told us it was hemangiosarcoma.  We were devastated... lots of Googling and symptom checking throughout December, so we knew this was a terrible disease, and the biopsy confirmed our worst fears.  We couldn't do anything but go forward though.
Elf had an uneventful surgery the following day (January 14) and was back home the evening of the 15th.  He really wanted to be home.  We babied him, and he seemed to be getting along a lot better than he did after the exploratory.  We went ahead and submitted the amputated limb and shoulder lymph node for a final biopsy the following week.  From that, we were informed he had a low grade form of the cancer (mitotic index <1) and while it had invaded the bone of his paw, the tissues at his shoulder looked normal.  Prognosis: cautiously optimistic, with directions to monitor behavior and opt for scans in 3 months, if possible.
---
I think that brings us to now.  We're right at a month post-op, and I'm worried and I guess looking for reassurance, from the people of both cat and dog tripawds.  Elvis has not been himself.  He was not a "normal" cat before all of this... he was prone to anxiety.  He was a compulsive over-groomer, and we spent years trying to figure out the reasons and remedies.  Right before we noticed the swelling in his foot, I finally found what I thought was the "happy place" of Buspar and Prozac to keep him sane and content.
I left him off the mix for a while after the surgery.. two weeks, I guess?  I wanted to see if maybe the cancer was related to his over-grooming tendencies.  It turned out to not be the case, and the minute I noticed fur-mowing, I put him back on his medicines.  He's not over-grooming now, but he has become shy and skittish.  He prefers to spend most of his day hiding under beds and sleeping on vents.  This isn't the Elvis we are used to, and I'm worried about him living out his life in fear.  To compound issues, we have two other cats (Vesuvius and Bella, both black Standard Issue tanks) and a 5-year-old son, so it can get complicated.  On the plus side, he still attaches himself to me like a coral when I finally convince him to come out.  He will sleep peacefully with us while we're watching a movie, even a loud and funny one.  He's showing all normal signs of eating, as well as interest in playing and being near the other two cats... just not consistently.
So that was a lot!  My question is, how do you get an already anxiety-prone cat (or dog) through this ordeal?  Is he on the right track?  Are WE on the right track?  What can we do differently?
Thank you all so much!  I will try to get pictures of them up soon.

Hi jling, Elvis & family, welcome to the club nopawdy wants to join. We are so touched you saw the PBS show and remembered Jerry's story . That just made our day. But we are also so very, very sorry you found yourself here though, and we'll do what we can to help. There are lots of trikitty bloggers and pawrents here who are ready to offer insight so now that you're registered, your future posts will automatically appear and folks will see 'em.
First off, rest assured that a month isn't a long time. While cats generally bounce back quickly, those kitties with special behavioral and physical challenges may take longer, just like doggies. Have you checked out other TriKitty bloggers for some reassurance? The first cat I'm thinking of who was diagnosed with hemangio is Vinny so be sure to check out his blog
Now, I'm wondering a couple of things: when you took him off the Prozac did you do it gradually or suddenly? And the same question applies to when you put him back on. I know that sudden withdrawals can create problems, and Prozac also takes a while to build up in the system in order to work effectively. I think putting him back on is a good idea and in my non-vet opinion it sounds like more time is needed. Not only is he dealing with recovery, but also the anxiety and meds so he's got some extra challenges. The fact that you are seeing glimpses of his old self is VERY reassuring and a fantastic sign! I think that in another month you will wonder why you were ever so worried.
Stay tuned for feedback from others, and thanks again for joining, we send lots of hugs your way.

New York, NY
Member Since:
3 December 2012
Offline

Hi Jo and Elvis and family,
I'm sorry you had to find your way here - I know how hard this journey can be!
Jerry gave you some great advice.  I will offer what I can, as my kitty is quite different from Elvis, not anxious at all.  However, her brother Jack is a bit of an anxious cat.  So I know that can be frustrating.  At one point Jack was ripping all his fur out of his arms - the cure was to get him a friend though - that's when Jill came into our lives - and it doesn't seem Elvis needs THAT solution!
A month is definitely not a long time.  I have heard from many amputee kitty parents who spend at least that long with an anxious, "not him/herself" kitty after amputation.  Definitely follow Elvis' lead.  Since he is so attached to you, can you spend some time with him alone somewhere in the house just loving on him?  Maybe he just needs some reassurance.  Although Jill wasn't anxious after her surgery, she definitely wasn't moving around a lot until a month or so later.  It's a great sign that he's showing many signs of normal behavior.  He probably just needs a little more time.
And great news about the prognosis.  It sounds like you caught things in time!
Keep us posted and let me know if you have any other questions!!
xoxo,
Erica
Jill is a 9-year-old tuxedo kitty. She was diagnosed with Osteosarcoma in June 2012 on her toe in her right hind leg. Her leg was amputated on 12/12/12 and she completed four rounds of chemo (2 of Carbo, 2 of Doxy) in April 2013. "Like" Jill's facebook page: https://www.fac.....tty?ref=hl Proud member of the WINTER WARRIORS!!!! Her blog can be read at http://jillsjou.....ipawds.com. xoxo


Member Since:
27 July 2014
Offline
It sounds like Elvis's surgery went well and I wish him many happy cancer free years.
My cat Mona, who had her front leg amputated in June, has never been anxious and was not fearful at the vet clinic. She was a very social and easy patient and the surgery went well. However, the pain meds made her quite nutty, I think they would call it dysphoria but she was fine after we stopped the medication. Overall there was no change in her personality except for one incident when taking her in for a chiropractic treatment 4 weeks after surgery. She cried in the car. She'd never made a peep in the car before. Then at the vet's she initially hid, then came out to see the vet and fell asleep during her treatment. There was no more crying in the car after that.
Whether a cat is anxious or not I suspect the whole surgery process is very scary and somewhat traumatic for them. Then there is the pain and medications. It's not easy for them but remember cats are resilient and will recover over time as they develop their confidence and become stronger. I agree that a month isn't very long and it takes a bit of time to adjust. I was encouraged by the vet to massage Mona every day (feeling for lumps and to keep her limber) and to help her develop her core muscles because she now depends on 3 legs. I also set up boxes under the high places she climb up to so that she could use them as stairs rather than taking flying leaps putting too much stress on her remaining front leg. Sometimes she uses the boxes but not always.
I have only one other cat, Eli, who's very sweet to Mona and gives her lots of space. I tend to Mona's needs first before Eli because she needs me more than him (and she's more demanding). I brush her first, massage her first and play with her first. When she loses interest then I give the attention to Eli.
I think the medications are tough on our pets and agree with Jerry that Elvis may need more time on the Prozac to get back to where he was. You might want to check in with the vet if you are still worried.
Please post a photo of Elvis if you get a chance.
Kerren and Trikitty Mona

Member Since:
18 February 2014
Offline

I don't know how much I can speak to anxiety, but I've dealt with two...well I'm still currently dealing with one...over groomers.
Steve was my first Tripawd foster. She's a right rear amp due to injury and a foster failure, as in she lives here now.

She over groomed her belly for a solid year after her surgery. I don't know her history for further back than two weeks before her surgery. Steve lived in quarantine in our walk in closet with a mama cat and her two kittens prior to surgery because they were all being fostered for upper respiratory infections. Steve hated her roommates, but I don't recall her over grooming back then. I really think it started post op. She groomed her belly to the point that it was bare and turned red. Not as bad as some cases I've seen working in animal hospitals, but definitely not great! Steve was also dealing with a GI problem for about 6 months, and as that cleared up and settled down, I noticed she was over grooming less and less.
Esteban is my second Tripawd foster. He's a left front amp also due to injury. He will not be staying here as we've run out of room! He's named after his foster sister, though

He is a severe over groomer. We took Esteban in about 5 days after his surgery and he was already clearly over grooming at that point. He is also dealing with phantom limb pain, and isn't a big fan of our dog, so he's probably more stressed out than Steve was. Esteban over grooms in more locations than Steve did, so his skin isn't turning red; but his fur is thin in a lot of places. I hope that he gets over it in a year like Steve did.
Has Elvis always been an over groomer? Or only when other stressers show up in his environment? Like maybe when your son was born or maybe when the cancer first showed up (before you noticed it)?
Right rear leg amp due to injury from unknown cause (but don't tell her she's missing her spare...yes HER!)
Read our blog here: http://stevetheprettytripawdkitty.tripawds.com/
And find Steve's new Facebook page here: https://www.facebook.com/stevetheprettytripawdkitty
Thank you Jerry, Erica, Kerren, and Steve's parent for your caring responses!
I had some time to re-read my original post, realized I made some typos and forgot some information that might answer your questions.  Elvis is a nearly 8-year-old male DSH, but we're pretty sure he's 1/2 to 1/4 Siamese.  He has previously been through a PU surgery (about two years ago.. my poor guy).  His over-grooming problems started not long after our son was born, which I think was more a result of Husband and I handling a new and stressful situation poorly than the actual arrival of our child.  

  Our other two are both black DSHes.  Bella is Elvis' age, about one month younger or so, and her only real issue up to date is her weight.  She is Elf's best friend most of the time, although she's gotten a little less patient with age.  Vesuvius is our oldest, he'll be 12 in July, and he acts like pays the mortgage, utilities, and the car lease.  No telling him what to do.  Thankfully he is thus far remarkably healthy and resilient.  There is some intercat drama here and there, but overall, they get along pretty well.  V can be something of a bully, but whenever we catch him, we do call him out.  Well, we try to anyway.
I read everyone's thoughts and suggestions.  Elf was suddenly taken off the Prozac, yes, because he was put on Remeron (mirtazapine) for his lack of appetite after the exploratory surgery.  I kept him off a bit longer afterward because the vets said to make sure he was done with the pain meds before restarting the Prozac and Buspar.  Then, I waited a while longer because I wanted to see how much of the pain from the cancer was contributing to his overgrooming... and he started up again pretty quickly.  But before he went back on, in that maybe week-long space between the end of the pain meds and restarting the Prozac, he was acting a lot like himself again.  Sore, but wanting to be a part of the family.
I'm seriously considering halving his dose of Prozac, maybe the Buspar as well.  I've already talked to my vet about it and she's fine with me trying it.  5mg is the max dose an animal his body weight can have.
I'm so very grateful to hear that he's in the normal parameters for recovery.  I know this has to be both painful and confusing for him, but I keep hearing everyone say "cats bounce back, he'll do great" and he isn't really doing great to my perception so far, it's disheartening.  I keep wondering if I made the right decision.
Tonight, I spent close to an hour grooming and rubbing him and he seemed to enjoy it.  I brought him out into the living room and got him to relax while I brushed out a bunch of blackheads--he's prone to them, and a flea comb does a great job of manual exfoliation--and then just petted and stroked him.  He stayed out for a while before heading back to his hiding spot under our bed.  I'll keep working with him and giving him plenty of one-on-one.  I'm getting over a short hospital stay myself (oddly enough, I had illness that coincided with his.. thankfully nothing as serious as cancer) so maybe some mutual R&R will be nice.
I'm going to try to attach some pictures.
 Elf and Bella-boo, pre-amputation.  Nov '14.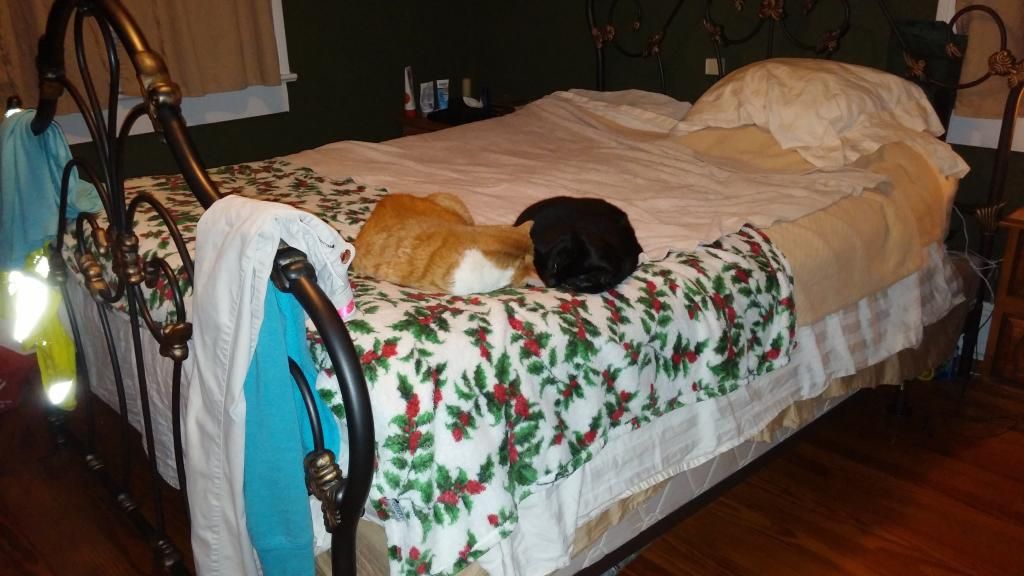 The Elvis himself

Basking in the sun
The King is in the House! Oh my gosh he is adorable.
Now, first things first; don't worry about typos here, we can decipher just about any typing and actually find them endearing, just as Sally

One thing I wasn't clear on; what's a PU surgery?
You are definitely on the right track. Keep working with your vet to manage the Prozac dosages and that kind of R&R quality time with Elvis will help both of you so much. You need the rest too, so may you both get well soon.
Don't feel badly about his recovery time. Yes, the majority of cats and dogs do bounce back very quickly but of course there are always exceptions and it's those animals who are so super special! When we have one of them, we tend to think that we're the only ones with a slower recovering Tripawd, but it's not reality so please don't beat yourself up. He's getting there!
Hello and welcome.
I'm not sure how much help I can be, I haven't had an inside cat for a very long time, and then there were no major health issues.  
My pug Maggie lost a rear leg to mast cell cancer.  She wasn't anxious, but really, really stubborn and not at all good with changes to her routine.  She seemed unhappy for about 6 weeks after her surgery, I really thought I had made a horrible decision.  The vet said 'most pups do fine on three', and I was at the point of 'sure, most do, but not mine!'.
She did eventually get used to her new normal, and hopped happily through life for almost 4 years

.
I hope you find the right balance of meds for Elvis.
Karen and Spirit Maggie
Tri-pug Maggie survived a 4.5 year mast cell cancer battle only to be lost to oral melanoma.
1999 to 2010
Thanks everyone.
Elvis had a PU, which is the acronym for perineal urethrostomy.  In neutered male cats, urinary crystals are an unfortunately common occurrence.  Sometimes they get too large to pass, and become pathological.  In really bad cases, they can cause a complete blockage, which will kill a cat in short order thanks to sensitive kidneys.  Between us not getting a fast enough diagnosis to alter his diet and him having multiple complete blockages in the span of a couple of months, we opted to do the surgery.  I felt guilty of the nature of it (the nitty gritty is they have to remove part of the penis and widen the urethra) but he recovered very well and was back to himself in short order.
Needless to say, when we told his new surgeon about his surgical history and she chuckled and said, "poor guy's had parts lopped off" ... well, she said it kindly, but it stung a lot.  (This is no criticism on her skill as a doctor, she did a great job with his amputation and bedside manner otherwise.  Just our own guilt eating at us.)  It was also a huge weight as far as whether or not to go forward, because we don't just want to keep sawing away at him.
The only thing that has kept me from complete despair is while the urinary blockage hypothetically could have been worsened by stress, I know that cancer is too multifarious to attribute to one cause, and stress isn't usually an attribute.  Chances are, we were cancer-bound if he hadn't had his already tough medical history.
Today has been not so great.  He's being somewhat fearful and aggressive, and still hiding whenever he can sneak off.  We're trying to find a good balance between socializing him and letting him be in the dark and quiet.  He is, at least, still eating, drinking, and using the potty... I just want my Elvis back.  I want him to love our kiddo again, not be terrified of him.  Trying to be patient.  It doesn't help that my entire family is home with a stomach virus.  Blehhh.
Hi Jo and welcome,
So sorry you are dealing with the "ugly c" in your sweet, pretty kitty, Elvis.....great name by the way.....He surely has had some bumps in the road along the way in his life, but he also is a kitty, and they can prove to live up to their "9 lives" description.
I am really sorry about the hemangiosarcoma diagnosis in Elvis, I had a lot of unwanted experience with this terrible cancer in 2 of my Labrador Retrievers, including my Angel Polly, that lost her front right leg to it, and ultimately lost her, exactly one year ago yesterday. But as far as cats developing this type cancer, it is normally rare, and much less aggressive than it is in a dog, and amputation can most of the time be a complete cure. There is a kitty here, Vinny, that also has this cancer, and as far as I know, he is doing quite well. I don't know his link, or I would post it here for you to read.
As far as him getting back to himself, he will get there, just give him time.....all our pups and kitties go at their own pace in the recovery process, and it seems with his anxiety issues, he may take a bit longer to adjust, but he will. You will definitely get a ton of support here, and there are many kitty people here going through the same thing, with much experience, knowledge, and wisdom.
Best wishes, and keep us updated on Elvis, and I also hope your family gets better soon....
Bonnie & Angel Polly

Member Since:
29 January 2015
Offline
Jo, Elvis looks like such a darling!  My cat just had his left forearm removed -- but in his case he has a mellow more laid back personality. More so than his sister, for sure.  I can see where Rory still has some mental re-adjustments to do -- and he's going to have to (re)learn how to keep his sister from pestering him when she gets in that mood.  Already on day 11 he can move at a pretty good clip, and for him it is "just" a matter of him remembering that he CAN let her know when he's had enough.  Just as he can (now) walk.
It sounds from your descriptions that Elvis is making progress.  Even slow progress is progress.  I think keeping his meds adjusted as needed is going to be a big help.  It also seems like there's a high probability they got the cancer nipped...
Many well-wishes to Elvis and his human and feline family! 
Here are the links that Bonnie was talking about for kitty Vinny:
Sorry today was a bad day, and the whole family home sick- yuck.
I have to believe things will get better for Elvis and you soon.
Karen and Spirit Maggie
Tri-pug Maggie survived a 4.5 year mast cell cancer battle only to be lost to oral melanoma.
1999 to 2010
I wrote a long response and the site ate it.

Bonnie, Polly's story was the first I found when I was researching hemangiosarcoma on Tripawds.com about six weeks ago.  When I read the more recent posts and found she had passed, it was heartbreaking.  She's such a beautiful girl with her pale blond coat and her dainty build.  I know she is your love... you're both in my thoughts.  Thank you for contributing your story.
rorycat, thank you and the very best wishes to Rory's continued recovery.  While it may annoy him, I'm glad he has a sister to pester him and keep him moving.

Elf is currently stuck in the slink/bunny hop mode but he does make earnest attempts at walking.  Sometimes phantom pains or confusion stop him in his tracks, maybe a mixture.  We're very happy with his prognosis but as with all cancer, there's no guarantee, so I'm trying to lose my own anxiety and enjoy the time we have.  Shooting for a goal of "respectable age" and "golden years"! 
Karen, thank you for the link hunting and the well wishes.  We're back in our routine as of today.  I've absorbed Vinny's blog, and I plan on going through his posts to make sure I haven't missed anything!
Last night was much better.  After our son went to bed, Elvis came out on his own... a little frustrating, but we'll get them back to where they were.  He walked a little, and went to the bathroom, and drank, and just sat.  He let me put him between my husband and I at bed time and stayed there until 5:30 in the morning.  Earlier in the evening, I held him in the bedroom and sang to him.  He's the only cat who has ever appreciated my singing, and that time was no exception.  Purrs and gratitude throughout.
Awww, that's what Elvis needs, more singing! And some good flattery too, did you happen to see this yesterday?
Tripawd Tuesday TwoFer: Vinny and Elvis Pounce on Hemangiosarcoma
Well now I know what a PU is, thanks for that explanation. Please don't beat yourself up though, you are amazing pawrents who want the best for him and he sure is surrounded by a lot of love, that's clear. He's had a tough road but cats are so resilient, he will get back to his old self. One thing we humans often forget is that this is such a big surgery, we would be a total mess and a lot worse off in the same situation. Elvis just needs extra TLC, time and more of your singing. Keep your vet in the loop just to make sure and of course you can vent here any time.
Oh about your post getting eaten. Usually when that happens it's because a user's Internet connection drops while a post is being written, and then when you hit "Reply" it's not there because it never registered in the first place. If that happens again, hit your "reply" button once the page reloads and your post should be there. If not, you're out of luck (sorry!). What I try to remember to do when typing long replies is after I'm done typing but before I click the "Reply" button, is to Select All/Copy (CtrlC) to put my reply in my clipboard, just in case.
Jo,
I hope Elvis is doing much better today, and Jerry is right, singing to him is what he needs.... that, and any extra spoiling.
I also want to thank you for your very caring and warm thoughts you posted about my Polly....yes, she was absolutely one in a million, and will always be the fur-baby love of my life, always.....I am glad you found our story, but I also want to make sure that you know Elvis should have a much better outlook than a dog that develops hemangiosarcoma....it is devastating in a canine, but not supposed to be nearly as bad in a feline, so for that I am very hopeful and positive for Elvis's recovery.
Like I said in my earlier post, it is still early in his recovery, so just take one day at a time.....Elvis will get better each day and back to himself before you know it.
And did I read that you were at an oncology appt for your husband as well? I do hope he is ok, and not having to deal with anything really difficult....I will keep you and your family, as well as Elvis, in my thoughts and prayers.
Love,
Bonnie & Angel Polly
Forum Timezone:
America/Denver
Most Users Ever Online:
946
Currently Browsing this Page:
1
Guest(s)
Member Stats:
Guest Posters: 1234
Members: 16461
Moderators: 2
Admins: 3
Forum Stats:
Groups: 4
Forums: 23
Topics: 18047
Posts: 249715
©
Simple:Press
—