Cats and dogs share one big thing in common: they will do anything to hide pain. In our ongoing "What to Expect" series, today we're discussing post-amputation pain in cats.
Cats are masters at hiding pain.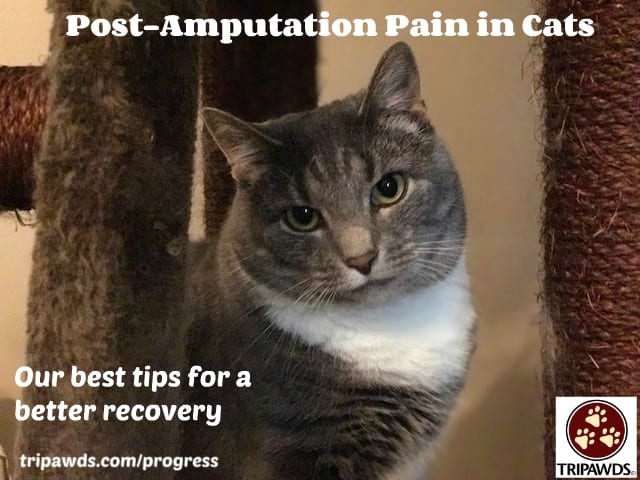 When your cat comes home from surgery the first few days can be challenging as you try to figure out if your cat has adequate pain control, or not enough. If you're struggling with this, here are some tips from our e-book, "Cool Tips for Tripawd Cats," that can help you during this tough time.
Nearly every new Tripawd parent reports that their cat's behavior during the first few nights after surgery includes rapid breathing, more vocalizing, anxiety, inappetence (refusing to eat) and just acting weird. Many cats may seem depressed and become constipated, sometimes for up to a week.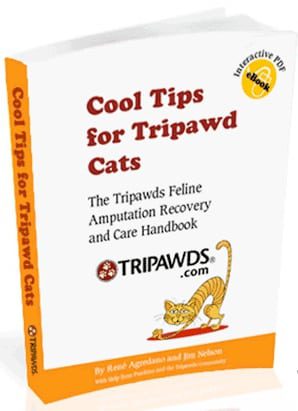 These behavioral changes are often from pain medication side effects. Try to remember that whenever you take a pain pill yourself, you are prepared and know what to expect. Your cat, however, has no idea that painkillers can make her see pink elephants and feel dopey. The resulting behavior is lethargy, confusion and what you might consider to be depression.
We're not saying that your cat isn't feeling badly, because she is. But that sad look on her face isn't anger or regret over the amputation – animals simply don't possess an understanding of such complex human emotions. However, that's not to say they don't feel pain. Just like us, they do.
Manage Post-Amputation Pain in Cats by Staying Ahead of It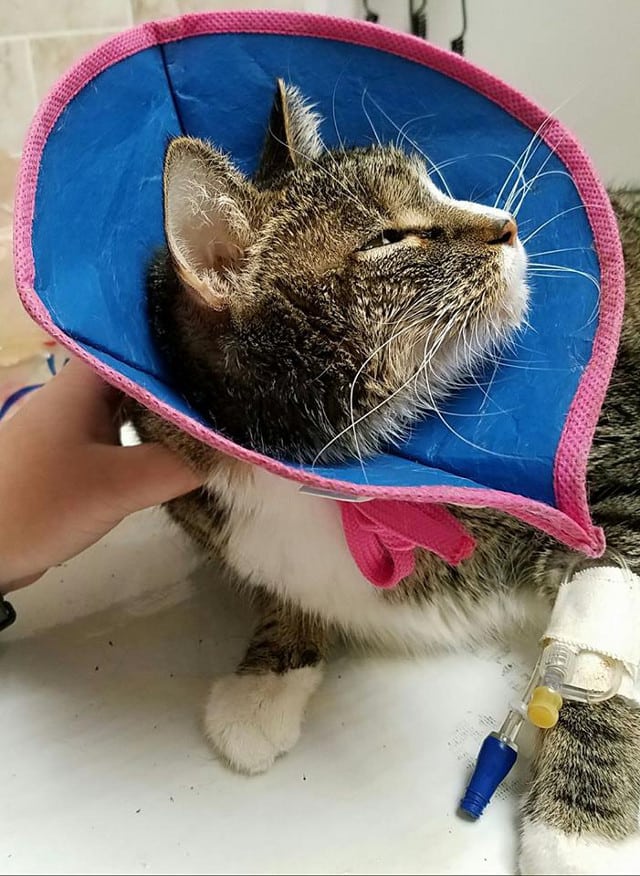 It's important to manage your Tripawd cat's post-amputation pain well and stay ahead of it. Here's how you can do it.
Know what cat pain looks like. Cats are extremely stealth about showing weakness, even more than dogs! Here are some ways they often do:
Less desire to interact with people and animals
Sleeping in an unusual position or location
Unusual aggression when approached
Resisting handling or being picked up
Decreased grooming and mat formation OR increased grooming in specific areas
Stiffness or limping
Changes in personality
This pain checklist cats can help translate what your cat is trying to tell you.
Stay ahead of the pain. It is more effective to prevent pain than to try to alleviate existing pain. In other words, using pain medications in anticipation of pain is more effective than waiting until the pain already exists. Before leaving the hospital, know the right way to do this. Ask your vet:
How often to give the pain medications?
What to watch for if your cat needs more frequent doses?
Which kind of side effects can happen?
What happens if you miss a dose?
Don't wait until the pain is so bad it's obvious. By then, an animal is likely experiencing horrific pain that would put any human in the hospital.
Take notes, then call your vet asap to discuss what you're seeing. Please ask your vet for a clear action plan for treating the pain. Sometimes all it takes is rest and medication. Other times managing animal pain may require additional support from a certified animal rehabilitation therapist.
If you're not seeing improvement in your cat after following your vet's plan, let the vet know. If the vet seems stumped, ask for a referral to a veterinary pain management specialist who belongs to the International Veterinary Academy of Pain Management. These vets are on the leading edge of pain management studies and treatments.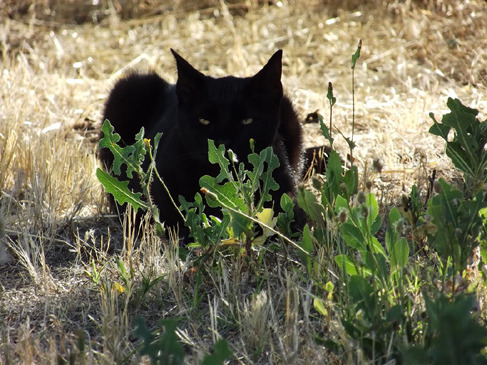 Pain control is one of the most challenging aspects of amputation recovery. Keeping the lines of communication open with your vet is an important step to help your cat have a smoother amputation recovery.
People I've talked to about amputation (who have gone through it with their pets themselves) have been kind enough to tell me that vets have extremely different approaches when it comes to pain management. Apparently theories have changed over the years, so vets trained in the recent-ish past may not do as much to PREVENT pain as they do to treat the pain once it occurs. This is an issue, because there are things that can be done to prevent some of the pain from ever occuring. – TriKitty Fang's story, "Pain Management – Dealing with Vets."
Recommended Reading
What to Expect When You Pick Up Your Tripawd from the Clinic
What to Expect on Amputation Surgery Day for Your Dog or Cat
Tripawd Cats Pain Management Tips and Tricks