Scheduling an amputation surgery day for your dog or cat is a day you won't soon forget. In the middle of your anxiety, you're probably wondering what to expect after you drop your pet off at the clinic. In our experience, here's how the big day usually plays out.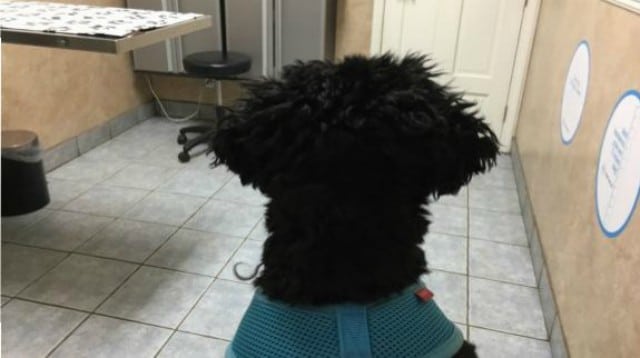 Here's What Amputation Surgery Day Looks Like
Your dog or cat's amputation procedure technically begins long before you ever drop them off. If you were fortunate enough to have time to research the clinic and surgeons who will handle the procedure, you will have hopefully found a qualified veterinary clinic. The best way to choose a veterinarian for amputation surgery is to use the American Animal Hospital Association hospital locator. We know there are many great vet clinics that aren't AAHA-accredited, but only AAHA-clinics are guaranteed to adhere to the most up-to-date procedures for things like pain management, surgery and anesthesia and contagious diseases.
Check with your vet about the availability of overnight staff. Even the smallest practice should partner with a 24-hour emergency clinic that handles their patients at night if they cannot provide all-night monitoring. We strongly encourage you to avoid facilities that do not have after-hours staffing.
This video gives a great description of what to expect:
Procedures Start Before Amputation Surgery
Your pet will undergo routine testing before surgery to ensure they get adequate and safe anesthesia and pain management medications. Veterinarians who follow modern pain management procedures for cats and dogs will provide pre-surgery pain medication like a Fentanyl patch for relieving acute pain, Gabapentin for alleviating nerve pain and amantadine to keep pain from spiraling out of control. "It used to be that pain was dealt with post-op, but a lot of pain can be prevented now by administering the drug Gabapentin pre-op, using an MLK (morphine) drip during and after surgery, and performing nerve blocks intra-op," says Tripawds Fairy Vet Mother Dr. Pam Wiltzius.
To reduce the risk of aspiration while under anesthesia, your vet will ask you to stop food and possibly all supplements the night before surgery.
On Surgery Day, You'll Fill Out Forms
Amputation surgery is a major procedure with its own set of risks. The steps you will go through are almost identical to what humans go through when undergoing medical procedures. You will fill out paperwork that should include a Pet Care Emergency Authorization Form. This tells your vet who is authorized to make emergency medical decisions about your pet if you cannot be reached (including euthanasia). Download and print the American Animal Hospital Association form and take it with you in case your vet doesn't give you one.
Then You Will Wait for Surgery Update News
Waiting for your surgeon to call with news about your dog or cat is agonizing. In general amputation surgery can take anywhere from one to two hours depending on the animal's size and other medical factors. Sometimes it can take as long as three hours. Your vet will call with news when it's over, but don't panic if the phone doesn't ring when expected. Emergency patients can come through the door and bump your pet's surgery time. Be patient but if you don't get a call within a couple hours after your vet said they would ring, feel free to call the clinic and ask for an update. Don't be shy, remember you are your pet's best advocate.
Your Pet will Spend the Night in the Hospital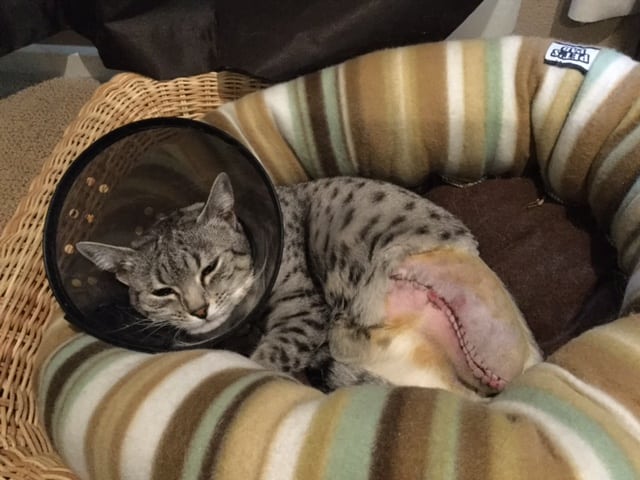 In the perfect world, your new Tripawd will spend at least one night in the hospital. Some stay longer depending on factors like existing health issues and whether or not the pet parent feels confident enough to take them home the next day. Your pet will be groggy from the pain medication and resting in the clinic is the best place for them while they sleep it off.
If Your Clinic Does Not Have Overnight Care . . .
It's not ideal if your vet does not have overnight care. If so, moving your pet to a 24/7 clinic for monitoring is the next best situation, followed by a recovery in your home. If that happens, it won't be easy because pain medication can make pets anxious, and you probably won't sleep a lot. But it's not impossible. Many Tripawds members have done it and lived to tell about the experience. Just work with your vet ahead of time to make the post-amputation recovery at home as easy as possible.
Your pet will only leave the hospital when they are able to stand, walk, eat and eliminate on their own. Sometimes this may take longer than one day so don't worry if it happens to your Tripawd, it's not too unusual for some to spend multiple nights in the recovery ward.
Bringing home your new three-legged hero is as scary as bringing home a newborn human infant. Try to keep calm, project pawsitive energy and your dog or cat will reflect that right back to you. Finally, remember that animals do way better after amputation surgery than any human. In no time at all you'll see that your new Tripawd is stronger than you ever dreamed.
Recommended Reading
How to Choose a Veterinarian for Amputation Surgery
What to Expect: Picking Up Your New Tripawd After Amputation Surgery
What to Expect: Amputation Recovery Time for Tripawds
Nocita Controls Post-Op Dog Amputation Pain Without Pills
Post-Surgery Pain in Tripawd Dogs and Cats, Part 1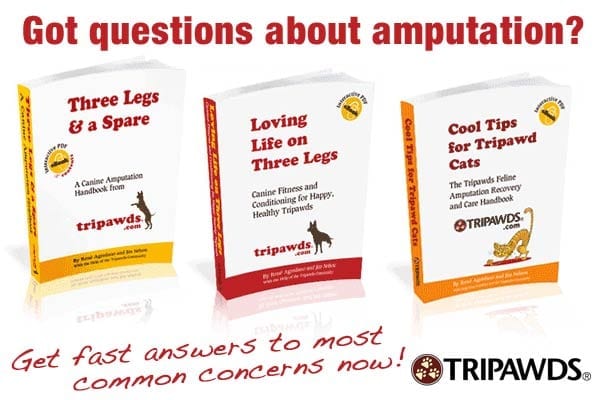 Start here for help finding all Tripawds resources and e-book coupon code!