Every day is a chance to celebrate our three-legged cats and dogs but today, 3/3, is the official #TriDay2018 of the Tripawds Nation! There's no better opportunity to honor the joy and inspawration we've gained from having these heroes in our lives. Let's spread Tripawd Awareness everywhere!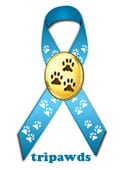 Celebrate Tripawds on #TriDay2018
Whether you have a three-legged rabbit, a Tripawd dog or a TriKitty feline in your life, now's the time to tell the world about your hero!

Share your three favorite Tripawd photos here in the Shout Outs Discussion Forum Topic.
Post cute Tripawd images on the Tripawds Facebook Page.

Tweet loud and proud to the Tripawds Nation on Twitter.
and capture the essence of your amputee hero with the Tripawds community on Instagram!
There's no better way to let the world know that animal amputees are stronger and more resilient than most people can imagine. Tell the word and fly the Tripawds flag, your hero rocks!