Dogs are the purest form of love and nobody knows that better than Jackie Guzda, mom to Licorice the Lovely Lab. Her beloved pup never met a human she didn't adore and even when she was fighting osteosarcoma, Licorice always had a tail wag for everyone. This gorgeous girl earned her angel wings late last year ("I was hoping to beat the odds until the new drug from Aratana was available," said Jackie) but Licorice lives on in spirit and in today's Tripawd Tuesday celebration of her life, as told by her mama.
Meet Licorice the Lovely (and Loving) Lab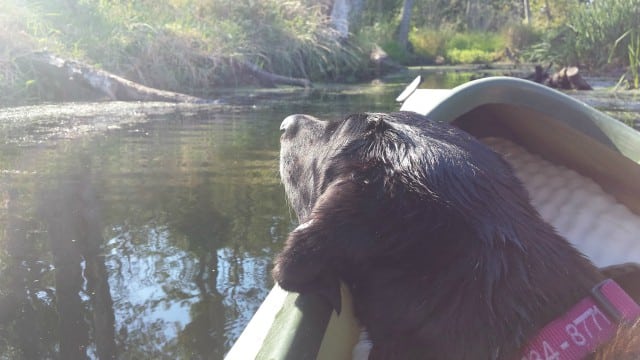 Licorice – my black Lab – was diagnosed with Osteosarcoma in late January, 2017. She was a far better person than most anyone I know, myself included! She was calm and happy from the day I met her until I ended her pain, this past October. This dog loved humans – so much, that I would have to grab her from walking into a busy street if she saw one of those humans on the other side. It didn't matter if you were someone she knew or someone picking through the garbage can on the sidewalk – she knew that you had to have some goodness, and if you couldn't exhibit it just then, she would move on, wagging her tail.
She was also a great sidekick. We hiked, played on the beach, kayaked in our 'dog and person' kayak, together. The most relaxing thing that I could do was take her with me down a stream we had yet to explore. Two years earlier, we lost her Beagle brother to cancer, and Licorice was deeply depressed, until we adopted our current Beagle, Wally. Now, it's Wally's turn to get through the pain of losing your best pal. We'll miss you forever, buddy.
by
Jackie Guzda
Read All Tripawd Tuesday Stories
Your Pet Can Star in Tripawd Tuesday
Each Tuesday, Tripawd dogs, cats and other critters from around the world can enter for a chance to be "Tripawd of the Week." Just share your Tripawd's story and you're entered to win! On every Tuesday of the week, tell us about your three-legged hero. Just follow these easy steps:
In a short paragraph or two (or longer if you'd like!), describe your three-legged hero's story.
Include photos or links to videos already uploaded to YouTube.
Include a link to your Tripawds Forum topic and/or Tripawds blog, social media handles, etc.

Email your story and photos

to us.
All entries must be received by Saturday at 11:59 pm. One Tripawd story will be selected at random to be featured the following Tuesday.