Last December, science gave us the brightest news about canine osteosarcoma in recent memory. It started with the groundbreaking research leadership of Dr. Nicola J. Mason at the University of Pennsylvania and the veterinary pharmaceutical company Aratana Therapeutics. Today, a canine osteosarcoma vaccine that can prolong survival time is coming to over two dozen veterinary oncology centers across the U.S.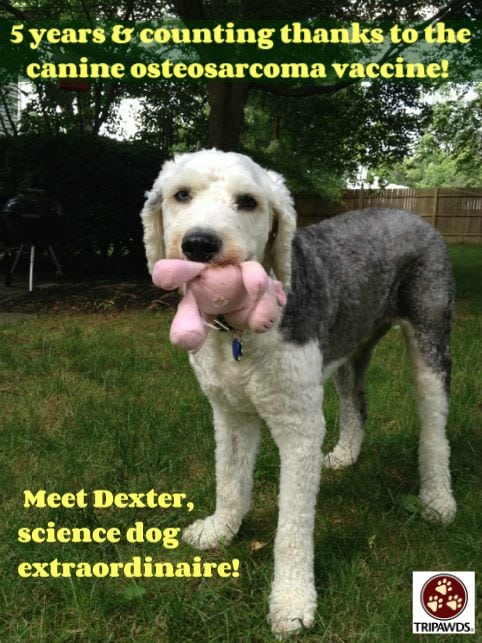 Successful clinical trial results allowed the Canine Osteosarcoma Vaccine, Live Listeria Vector (AT-014) to receive a conditional license by the United States Department of Agriculture (USDA) Center for Veterinary Biologics. In order to receive full licensure, Aratana announced will conduct a larger clinical trial this year. It will take place at about two dozen veterinary oncology practice groups across the United States, locations that currently participate in the study (funded in part by Morris Animal Foundation).
UPDATE!!!
Canine Osteosarcoma Vaccine / Live Listeria Vector (AT-014)
We are sad to report that as of 12/20, this vaccine is no longer available. Dr. Sue Ettinger explains here:
How this Canine Osteosarcoma Vaccine Works
Several years in the making, this vaccine works by using "a listeria-based antigen delivery system that activates cytotoxic T-cells. This directs the T-cells to fight off cancer cells—capitalizing on the dog's immune system and its ability to attack bacterial infections," explains American Veterinarian.
In other words, once a dog has been diagnosed with osteosarcoma and undergone treatment, the vaccine can help the body fight back against metastasis.
The magazine goes on to state that:
"We know that most of these dogs relapse with metastatic disease, so clearly cancer is left after chemotherapy," said Nicola J. Mason, BVetMed, PhD, assistant professor of medicine and pathobiology at the University of Pennsylvania School of Veterinary Medicine and principal investigator of clinical trials investigating the new vaccine. "And we were asking the question: Could this vaccine induce an immune response which would eliminate those remaining cancer cells?"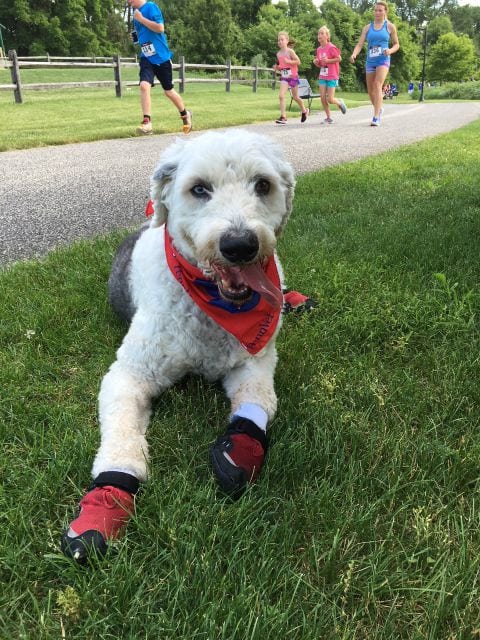 Apparently, it has. Although the vaccine will not prevent osteosarcoma, what it will do is enable more dogs to enjoy longer lives after diagnosis. Dogs like Dexter, who was one of the first to participate in an osteosarcoma vaccine clinical trial and is now FIVE YEARS past his own bone cancer diagnosis.
This pup is so remarkable he even stars in this beautiful video produced by TIAA (Teacher's Insurance and Annuity Association) as part of their "Making a Difference" profile series to celebrate TIAA's 100th year anniversary. Watch Dr. Mason explain how Dexter has been able to thrive while living with the disease.
(Don't have time to watch the entire video? Check out the shorter 2-minute version!)
Meet One Dog Who Helped the Osteosarcoma Vaccine Become Reality
Over the years we've had several Tripawds members participate in Dr. Mason's osteosarcoma vaccine study. Every one contributed to the adavancement of this historical breakthrough. One dog who has beaten all the odds is Dexter. We asked his dad Prakash about their participating in this historical research and here's what he said:
Did you immediately decide to do the trial? What went through your mind when it was presented as an option for treatment?
Yes. Since the chance of survival was low under the standard of care, we had nothing to lose. It was a relief that something was being done to improve the ability to treat dogs with OSA. And if not for dexter, then the work would have helped further the science for other dogs in the future.
What was the biggest benefit about being in the trial?
The biggest pro offers hope and gives us the chance to try something new and revolutionary.
Would you recommend clinical trials to others?
If there is a good outlook, yes. Even if it unfortunately doesn't help your dog, know that the research is invaluable to the future of science.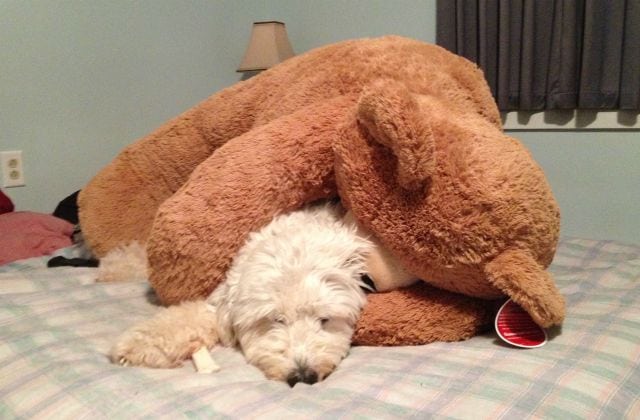 What have you learned from Dexter?
He's so resilient and positive. He never gave up, and showed me that I, too, can endure the challenges life brings.
What would Dexter tell people whose pets have just been diagnosed with cancer?
To have faith. It's difficult and takes a toll on the family. Find a vet you can trust. Get involved. There is help out there and don't give up. If it's treatable go for it.
If your dog has just been diagnosed with ostseosarcoma, ask your oncologist about the new AT-014 osteosarcoma vaccine.
Read More About the Canine Osteosarcoma Vaccine and Clinical Trials
Journal of the American Veterinary Medical Association: Vaccine holds promise for treating osteosarcoma in dogs
American Veterinarian Magazine: USDA Grants Canine Osteosarcoma Vaccine With Conditional License
Video Shows How a Pet Cancer Study Can Help People Too
Can Your Tripawd Cure Cancer?