If your pet is about to lose a leg, be sure to have a chat with your vet about pain relief. Specifically, the kind of pain relief your animal will have. When you have that conversation be sure to ask about NOCITA® by Aratana. It's a new post-op dog amputation pain relief drug for dogs and cats that can make recovery much easier.
Cat and Dog Amputation Pain Relief Without Pills? Yes!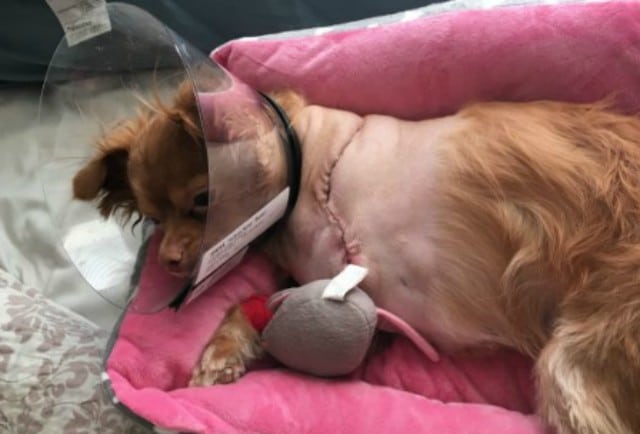 Many pets will show signs of pain long before the next pain relief drug dosage is supposed to be given. It's critical to take time now to learn how to read pain signals in cats and dogs.
If your pet doesn't return home with enough pain medication, recovery can be a nightmare. And even if your cat or dog does have enough pain medication for that first week, you may need to work with your vet to fine tune the dosage and timing of each drug. That's a lot to think about!
What's The Big Deal About NOCITA®?

For many years most new Tripawds have returned home with a combination of drugs such as Fentanyl, Gabapentin, Tramadol and sometimes Amantadine, among others. But recently a new non-narcotic extended-relief option was released into the marketplace. Your vet gives it while a pet is still under anesthesia. Once injected, it gives a cat or dog three entire days of amputation pain relief — and you don't have to do anything to make that happen!
NOCITA® is produced by the veterinary pharmaceutical company Aratana. It's been used in human medicine for a while but in those circles it's known as "bupivacaine." This non-narcotic, local anesthetic is administered in a long-acting injectable formula. In humans it's been proven to give post-op pain relief for as long as 72 hours.
Aratana studied bupivacaine for the use in dogs, and when clinical studies showed similar results for them, the company released it as Nocita, the newest option for dog amputation pain relief. Later it was made available for felines too.
How does NOCITA work?
During surgery your vet will inject the drug, which numbs the amputation site. It's specially formulated to slowly release bupivacaine over time. This slow release makes it possible for Nocita to control pain after surgery for up to three days with just a single dose.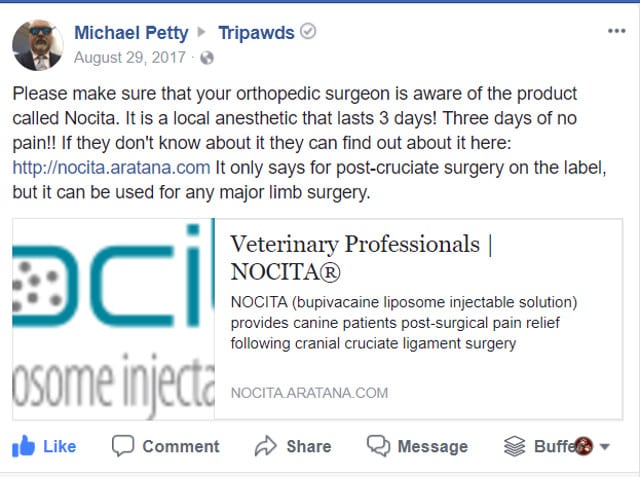 Although it's marketed as a pain management drug for cranial cruciate ligament surgery recovery, it can be used for any major limb surgery according to veterinary pain management specialist Dr. Mike Petty, DVM, CVPP, CVMA, CAAPM, CCRT, author of "Dr. Petty's Pain Relief for Dogs."
Your vet may still prescribe other pain relief such as a non-steroidal, anti-inflammatory drug, but at least you'll have one less type of drug to worry about if Nocita is used. If your vet hasn't heard about it, please direct them to this website for information:
Recommended Reading
Pain Signs in Cats and Dogs: Learn the Symptoms
Post-Surgery Pain in Tripawd Dogs and Cats, Part 1