For many of us, a pet cancer diagnosis is a loud wake-up call to be more vigilant about our animals' health. Suddenly, we get an education we never wanted or expected, and we're thrown into the world of advanced veterinary specialty care before we even learned anything about the basics.
Fact: Pets age faster than we do, so missing even one yearly checkup
can be like us not visiting a doctor for over five years!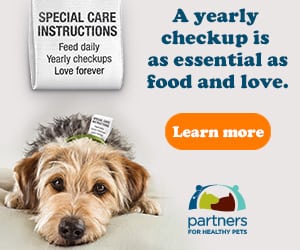 Let's see a show of hands; for those of us whose pets have been diagnosed with cancer, how many of us were committed to annual veterinary check-ups while they were completely healthy?
We'll go first: when it came to our time with Tripawds founder Jerry G. Dawg, he rarely saw the vet until the dreaded osteosarcoma limp developed. His successor Wyatt Ray Dawg has the benefit of our learning curve, and he gets annual check-ups at the Community Practice Clinic at Colorado State.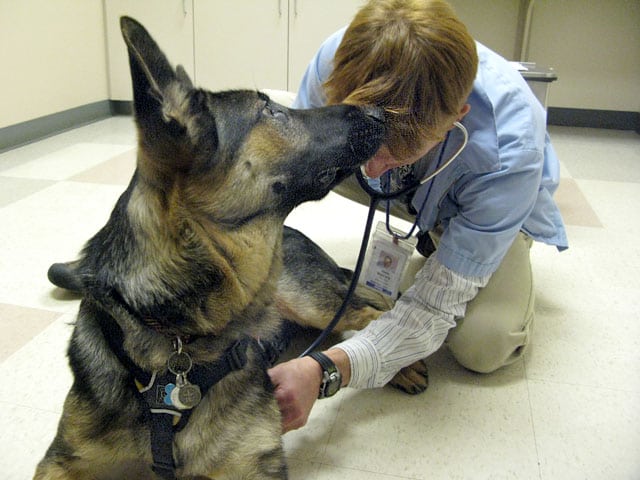 We live, and we learn. And our pets get the benefit of our new-found knowledge. Becoming educated about our pet's health care needs is our greatest responsibility as pet parents.
It's  a process that kinda looks like this:
Learn the basics about your pet's health needs at every life stage
Train yourself to be a better medical advocate for your pet
Develop a strong relationship with your vet through annual check-ups
Report any changes to your vet
Now is the time to commit to an annual check-up before a potential problem appears. It's so much easier to prevent disease than treat it — and less expensive too.
Your Pet Health Education Starts Here
After making the check-up appointment, hop on over to Partners for Healthy Pets' "Healthy Checkup" website to learn
How your vet will examine your dog or cat
What signs of potential problems they'll be looking for
The best questions to ask your vet during the exam, and more!
This fun resource is a great way to learn what to expect at your annual vet exam appointment. Check it out and let us know what you've learned about the state of your dog or cat's health after you see your vet! We'd love to hear your thoughts below.
Partners For Healthy Pets is a committee of the non-profit American Veterinary Medical Foundation dedicated to improving the health and wellbeing of America's pets through regular preventive healthcare.