Join The Discussion
Learn about life on three legs in the forums below. Browse and search as a guest or register for free to take advantage of member benefits:
Instant post approval.
Private messages to members.
Subscribe to favorite topics.
Join the Live Chat and more!
Best Dog Beds for Tripawds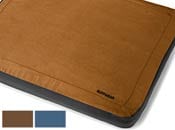 Give Tripawds the comfort they deserve! See which dog beds are best and why.
A
A
A

K & Z
Hi everyone! I've got a new tripawd that is under my care and have a few questions. So far the website has been a tremendous help and i find myself on it a few times a day whenever I need any information. Thank you all for creating and keeping this site going!
Zeni is a 4 year old working line german shepherd. He was hit by a car about 3 weeks ago and taken to the ER immediately. His front left upper leg was completely shattered. After a few X-rays, the veterinary surgeon gave us a choice. Either he can go through a few months of painful surgeries with long recovery times, with no guarantee that he will ever use that leg again, or we can amputate, with a short recovery and virtually no pain compared to the surgery. We were forced to make a quick decision and opted for the amputation.
For the first ten days post op, inside the house he was happy to lounge around, getting up rarely. I would take him outside just to go to the bathroom. He was then taken to see the vet on day ten. They took off his bandage and said that incision looks really good and we can slowly start doing more activity with him. I started with two ten minute walks and each day added a few minutes to work up to three or four 15 minute walks.
Fast forward 22 days post op and he is recovering amazingly. The incision looks good and his fur is starting to grow back. Although now i am wondering about what I can or cannot do with him. Before the surgery, he was EXTREMELY active. Alot of the rehab and core exercises that are posted on this site is something he did multiple times a day because of the amount of obedience work i did with him (sitting up on his hind legs, bending to touch his sides, close quarter turning). Along with that, he played hard frisbee or fetch twice a day, not just on flat terrain but hills as well. He is the type of dog that doesn't really slow down to pick up a ball but digs his nails and feet into the ground to stop himself. So his core strength and athletic ability was very high before the accident.
So my biggest question is how to scale the exercises to him personally. Right now we are doing the three or four 15-20 minute walks a day, plus some nosework games and the occasional ball toss. He still tries to run after a ball or frisbee at the same intensity that he used to and it makes me cringe thinking about his joints or possible injury of his remaining front paw. For this reason, i keep that to a minimum ( toss the ball 3-4 times a short distance away) . I've been adding nosework games to keep him occupied mentally and he seems to really enjoy those. This is of course along with the rehab exercises recommended on this website. We do them at home when he gets restless and wants attention. I'd like to take him swimming next weekend (that would be 4 weeks post op) but not sure how soon after surgery we can allow him to swim in a pond. Does anyone have experience with a very athletic dog that is now a tripawd? I know too much activity is detrimental to him, thats why I am concerned. I don't want his quality of life to go down but I also don't want to make things so much worse when he gets older. Just trying to find the right balance.
He has eaten raw all his life and continues now. I also got him joint supplements when he became a tripawd. So i think we are on the right track with that.
Any information anyone has would be of great help! Thanks again!
-K
Wow Zeni is a lucky dawg to have you for a human! I'm sorry about the accident but you two have really handled everything so well. You do your research and you ask GREAT questions too. Kudos to you!
We know what you mean about managing the needs of a high drive dog. Our Wyatt Ray was the exact same way up until about this year when he mellowed out at age nine! But yes, keeping an active Tripawd happy and content is a challenge. You are doing great by re-thinking activities you do together. Here are my thoughts for what they're worth.
1) Here is the best thing you can do: Get Zeni evaluated by a canine rehab therapist. Having that done is SO valuable, because they can help you tailor exercises to his needs. All dogs have different strengths and weaknesses and what works for one isn't so great for another. We found it super valuable to get Wyatt re-evaluated last year when he was having mobility challenges and he's made huge improvements since then. And as usual, we found that his improvement is directly tied to our ability to keep up with that the therapist prescribed. Big surprise eh? See:
The best part is, the Tripawds Foundation will even pay for your first rehab visit !
2) I know there are Tripawds out there who play frisbee and ball, but honestly it makes us cringe to see those videos and photos (and I'm sure canine rehab therapists would agree). The pressure a four legged dog puts on their joints during those activities is tremendous. But a three legger? It's x3, especially for front leg amputees. Those types of activities are sooo hard on the joints. We once watched a canine sports rehab medicine video that showed what the activity looks like in slow motion, and it was horrifying. I'm not saying don't play them, but definitely ask your therapist how you should approach that. Our own Wyatt never plays frisbee and he loves chasing a ball but it's rare that we allow him to do it. And he's still a happy dog.
3) You are on the right track with nose work! As you probably already know, mental activity is just as tiring and satisfying as physical to a dog. Zeni will excel at this sport, I can tell!
4) I'm not a rehab therapist but four weeks post-op is not a long time, and doesn't seem long enough to recover before doing any open water swimming. See: 
As for tailoring activity to Wyatt's needs. What we learned from rehab therapists is that if a dog sits or lays down during the activity, the dog has already done too much. That's when you know you've gone too far and it's time to stop. And next time, don't let things go that long. Keep tabs on how long it takes him to be a tired, happy dog without laying or sitting down. 
I hope this helps. We look forward to hearing more about Zeni so we hope you'll consider registering as a member!

London, UK

Forum Posts: 1534
Member Since:
15 December 2015

Offline
Hi there, and welcome. You've had great advice from Jerry. I just wanted to add re the ball business, and as Mum to a hyperactive ball obsessive, my Meg fractured her elbow some six years ago now, and has not chased a ball on land since (she finally lost her right front leg two years ago). I do let her play with a ball a lot though, and she gets a great deal of pleasure from dribbling it around like a soccer player, burying it, digging it up again and goodness knows what. She even has a thing where she climbs up on a log and tosses it for me to retrieve and bring back to her, which seems to amuse her immensely. The only time I do throw the ball is into water for her to retrieve and this works really well for us. It means Meg can retrieve to her heart's content without placing any strain on her joints, and get some great exercise too. I would check with your vet re how soon post op it's okay for Zeni to go swimming, but once you get the all clear, if it's something he enjoys, well it's certainly been enormously helpful for us.
This is Meg just last week, playing one of her favourite games:
All best to you and Zeni,
Meg, Clare and Angel Pie xxx
Meg, Mutt, aged around 9, adopted 31/12/2009. Sudden explosive right elbow fracture 06/12 (caused by IOHC), diagnosed with End Stage Arthritis 03/15, Total Elbow Replacement 08/15, problems with healing leading to skin graft & skin flap surgery, Chronic Infection leading to implant breakdown. Became a Tripawd 9th March 2016. 
Lives with Mum, Clare, watched over by Angel Pie and Angel Billie
My life as a MEG-A-STAR 



Great feedback Clare, thank you! And I LOVE watching Meg swim like that. She is one fast girl!

K & Z
Thanks for the info!!
I've contacted a rehab therapist and got an appointment for this Tuesday evening. After reading about Wyatt's experiences, I realized that I've seen Zeni do some things that would probably benefit from rehab therapy.  When he is walking, he seems to be skipping and keeping weight off his left rear leg (the same side as his amputation). It doesnt seem to be painful and he puts weight on it when he is standing. My suspicions are that he just doesn't have the whole three leg gait figured out just yet. I'm sure the rehab will help with that. 
Before the amp, i would take zeni to some lakes and he very much enjoyed water fetch! I live in northern Jersey and the closest place that I have found so far for that is about 45 minutes away. Definitely not an everyday option, but once we have the ok for swimming from the vet, it will probably be a good weekend activity. 
Thanks against for sharing! I will update after the rehab!
And I am a registered member but forgot my password! I asked for an email to get it back but I never received one. I'll figure that out soon!
Oh pawesome! I'm so happy you are seeing a therapist! We can't wait to hear how it goes. Zeni sounds like he will benefit tremendously and it will help him stay in even better shape than before he lost that spare leg.
I thought you were a member. Please check your spam folder for a password reset email, I'll bet it's waiting there. If you request a password reset again and you still don't get an email, private message me and we will look into it.

Canada
Forum Posts: 1063
Member Since:
7 July 2017

Offline
Hi Zeni 
it sounds like you are in fantastic hands and i do hope that you like the therapist! I think if i recall back to Stewie's 4 week recovery mark, he was still on shorter walks only. Of course he is a big lug and doesn't have the same energy as a GSD, but i think that Zeni is right on par for his 4-5 week recovery. As Jerry said, watch for the 'i've Gone too far, so I'm sitting now' and work with what Zeni shows you that he wants to do! He is a young healthy pup and should be back to himself in no time. Especially with the help of a rehab specialist!
All the very best 
Petra, Stewie and his Kittens

Forum Posts: 1
Member Since:
23 March 2018

Offline
I was able to log in! 🙂
So here's the scoop on the rehab visit!
I was amazed when I walked in by how many dogs were already there. I saw many senior dogs but also a few post surgery and they all looked like they were being well taken care of by their specialist. I dont want to sound cliche but it really DID warm my heart. 

I filled out some paperwork for Zeni and then met our specialist, Petra. I told her about Zeni's rear leg skip and she started examining that area. Almost immediately, we got a reaction from him. He started growling and moving away. He really didnt want her to touch his hip in that area. We had to muzzle him as she inspected further. It seems like he overstretched his hip/leg and was in pain, most likely from the car accident still. Since there was so much focus on his forelimb amputation, the vets must have not realized anything was the matter with his rear. His lower back and leg muscles were also very tight, which wasn't helping his hip situation. After being examined, Zeni got some laser therapy to increase circulation in those areas. 
Since he is in pain because of his hip/rear leg, we decided that we should try to heal that up first before continuing with any more advanced treatments or exercises. So we were told to rest him and keep his walks to a minimum. We were given some stretching exercises to do at home a few times a day, basically to stretch out his back and hips when he is in a sit and down position. He also got a muscle relaxant to give him twice a day. We made an appointment for the following week and if he seemed a little better, then we would start doing some core work and underwater treadmill work. It all depends on his recovery!
So its been a few days since going to the rehab center. We've been doing the exercises and keeping his excursions to just a potty break. I THINK I see some improvement. He is putting slightly more weight on his left rear leg and not skipping as much. I'm not sure if its just my wishful thinking or if its really happening yet but we'll see! I'm so glad you convinced me to go see a rehab specialist! I don't think I would have realized that Zeni was having such issues with his leg if I didnt! Excited to go back for the next appointment!
-K

Here and Now

Forum Posts: 11458
Member Since:
25 April 2007

Offline
zeni said
I was able to log in!
Thanks for registering! Your future forum posts will not require moderation.
And thank you for the update. Zeni's rehab session has been reimbursed, and your article will publish in the Tripawds Foundation blog soon.

Canada
Forum Posts: 1063
Member Since:
7 July 2017

Offline
All paws up for rehab specialists!!! You and they know Zeni best! So glad that you got in to see them, great job on being so diligent for your boy!
Sorry Zeni that you had some extra pain there lovey, be sure to take it easy on yourself!
All the best
Petra, Stewie and his Kittens

Virginia


Forum Posts: 16457
Member Since:
22 February 2013

Offline
So glad the Rehab was able to pinpoint what's going on with Zeni.  Most importantly, you have a plan of action and are developing ways to help heal him in a good way.  The Rehab lerson seems to be very tuned into what Zeni needs.  I  really like the slow measurd approach they're taking.
The gentle stretching range of. motion and the laser will bring good results, so it doesn't surprise me at all that you are seeing some improvement.  Remember, on this journey any little imorovement is a huge improvement! 🙂
Thanjs for the update. 
Hugs
Sally and Alumni Happy Hannah and Merry Myrtle and Frankie too!
PS   Check out Novak's threads.  He was…and is…a very athletic dog.   Now,how to find tem…hmmm…some tevhie will come along and do a search.   Anyway, he will inspire you.
Happy Hannah had a glorious additional bonus time of over one yr & two months after amp for osteo! She made me laugh everyday! Joined April's Angels after send off meal of steak, ice cream, M&Ms & deer poop!
Forum Timezone:
America/Denver
Most Users Ever Online: 597
Currently Online: plslistenusnz
46 Guest(s)
Currently Browsing this Page:
1 Guest(s)
Devices Used: Desktop (43), Phone (4)
Member Stats:
Guest Posters: 1005
Members: 12745
Moderators: 2
Admins: 3
Forum Stats:
Groups: 4
Forums: 23
Topics: 15014
Posts: 211381