Today is Thanksgiving in the US. It's a day to reflect on all that we have in our lives, and give thanks for the gifts we receive on a daily basis–especially from YOU! Here in our little community, it's a day on which we feel extra gratitude for the generous people who make this place so special, supportive, and healing.
Each and every Tripawds member makes a difference. Yes, that's YOU! From offering support in the Tripawds Forums, to sharing your story in a Tripawds blog, and all the other ways you help Tripawds, you are offering others more hope and healing in the darkest, scariest time of our Tripawds families' lives.
Thank you so much for all you do to make the world a better place.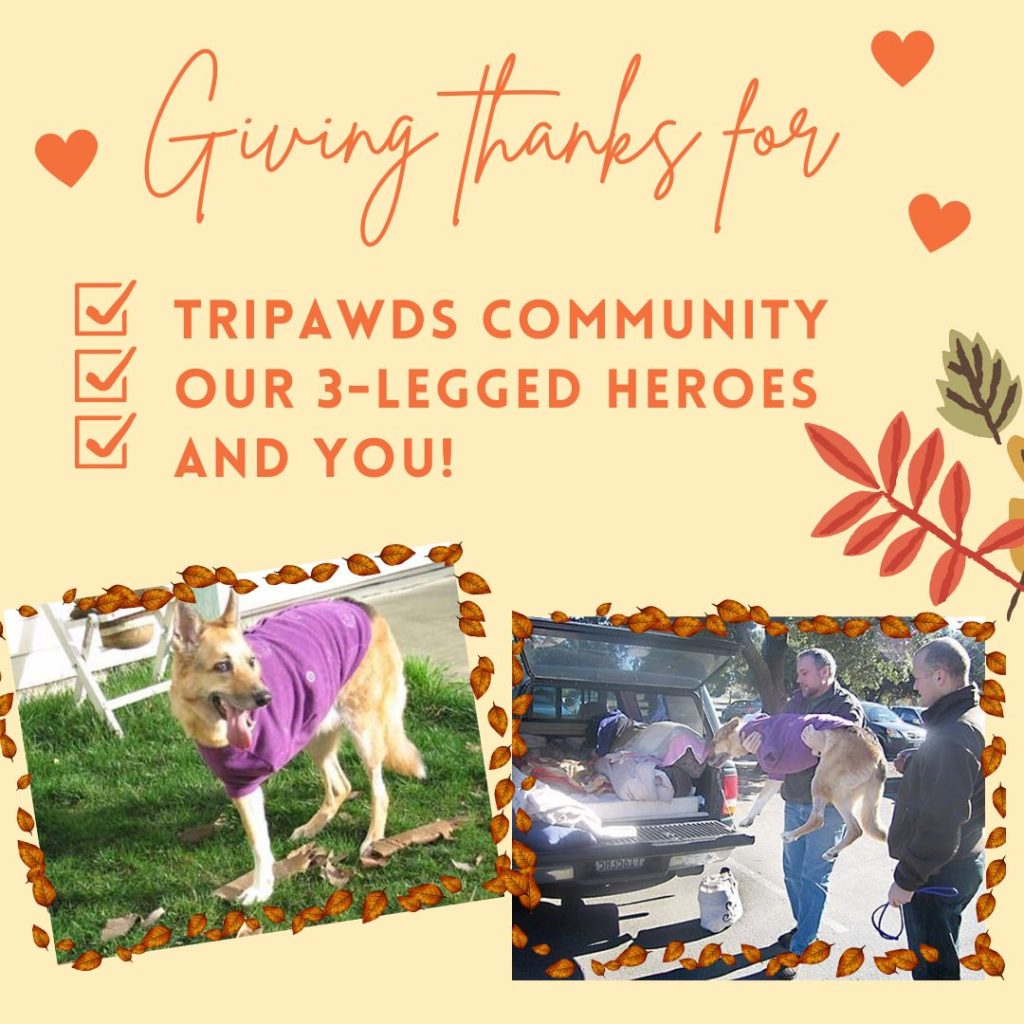 If you are new here, you may not know that this holiday is extra special to us.
That's because on Thanksgiving Day in 2006, Tripawds Chief Fun Officer Jerry G. Dawg was released from the hospital with one less leg. Life would never be the same for him, or for us. As his parents, we grieved the drastic change in his circumstances, but Jerry did not. Still groggy from his surgery, by the time he came home, that dawg was already feeling better. His bad leg was a thing of the past, and he was ready to continue making the most of this big beautiful world. Burdened with our human emotions of guilt, fear, and worry, it took us a while to see that that the worst day of our lives was a gift in disguise. Jerry led the way with his gentle wisdom and guidance. Today, his lessons still ring true.
Every day is a great day. Live each day as if it were your last, because it very well may be.
Don't let adversity slow you down. Enjoy those things you can do, right now.
Take time to smell the roses. Observe the world around you, you never know what you might miss.
Go and Do. Get up, get out and seek adventures.
Simply be. No matter what's going on, where you are, be happy within.
Never give up. Do everything within your power to reach your highest aspirations.
Whether you are in the USA or not, we just want you to know how much your participation and presence means to this special global community. THANK YOU now, and always, for everything you do to help our Tripawd heroes live life to the fullest! May you and your human and furry family have a beautiful holiday.