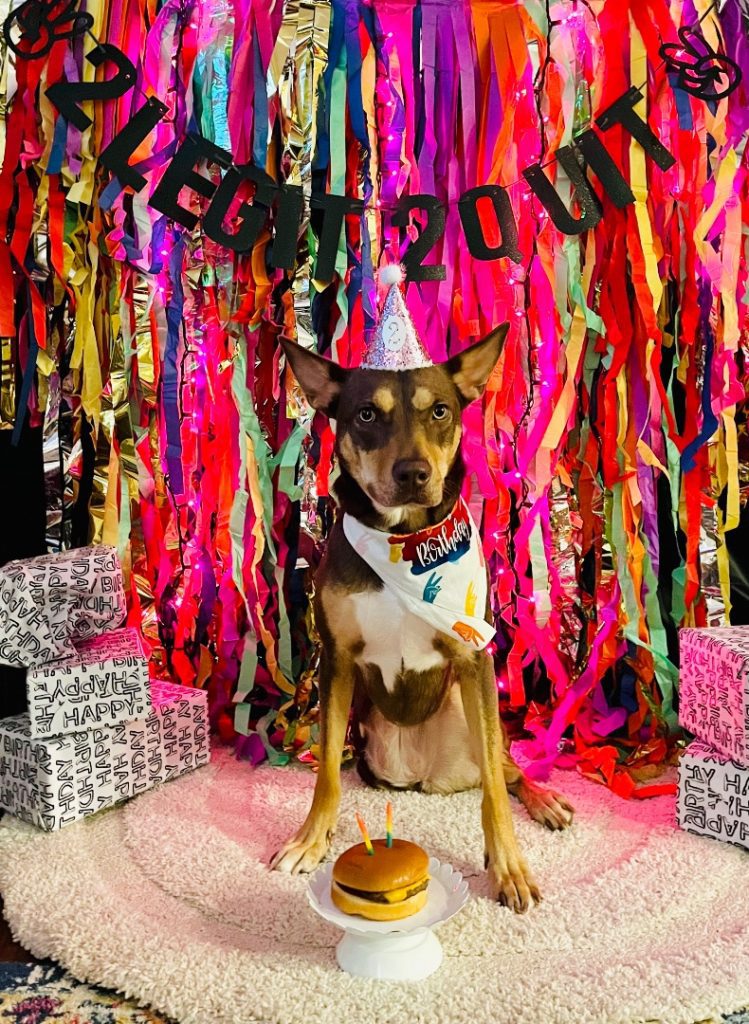 When your Tripawd has bone cancer, the fear of lung mets (cancer spread) is always on your mind. But a new osteosarcoma metastasis surgery study by Ethos Veterinary Health is giving new hope to dogs like Whiskey from Texas.
Whiskey is one lucky Tripawd who is benefitting from this high-tech surgery to remove osteosarcoma lung metastasis in dogs and cats. Formally known as the "Minimally Invasive Metastasectomy in Canines (MIMIC)," this osteosarcoma metastasis surgery technique is called a "thoracoscopy."
MIMIC is very different from the highly invasive lung lobectomy osteosarcoma metastasis surgery. This has always been one of the only options to try to remove lung mets. With a long recovery time, most people (including us) choose to opt out of the surgery when their Tripawd has lung metastasis.
To remove lung metastasis in osteosarcoma Tripawd dogs, the MIMIC surgical technique makes tiny incisions in the chest wall. The surgeon take out lung mets with the assistance of a magnified video camera. There's minimal pain, risk of morbidity, and a fast recovery time. Most patients recover within two days of the surgery, and return to normal life.
The MIMIC study is taking place at the ETHOS veterinary clinic in San Diego, California. But, even dogs who don't live in the area can have the surgery done in San Diego, return home, and follow up at an ETHOS clinic near their residence.
Meet MIMIC Dog Whiskey The Texas Tripawd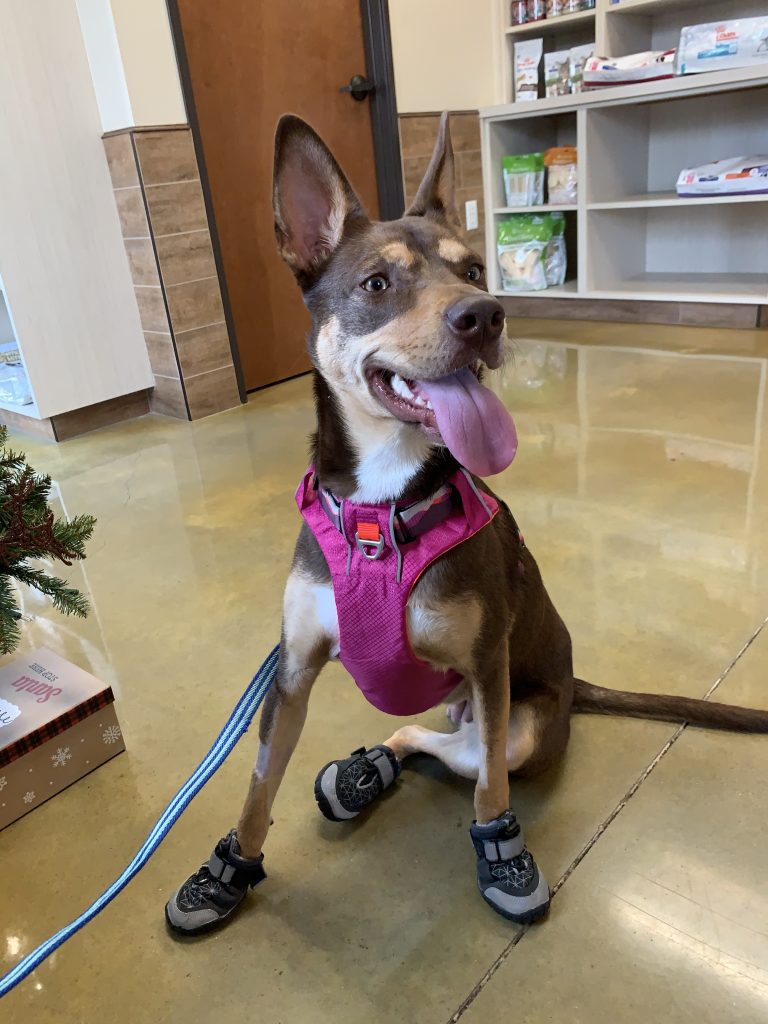 The MIMIC osteosarcoma metastasis surgery study lead Dr. Chris Thomson introduced us to one of his participants, Whiskey. She traveled all the way from Texas from the procedure, and her mom Eleni shared their MIMIC recovery story with us back in October. As of today, November 15, she is still rockin' the Tripawd life! Prepare to be inspired!
Stay tuned to Tripawds News for an interview with Dr. Thomson, lead clinician of the MIMIC osteosarcoma metastasis surgery study!
How did Whiskey come to live with your family? What's her personality like?
Before there was a Whiskey, there was a Wednesday. She was the very first dog I had on my own as a semi-adult. Her and I grew up together. In a time of my life where it seemed like everything was always changing, my one constant was Wednesday. One day in November 2020, at the age of 13, Wednesday laid down for her afternoon nap and just never woke up. When I think about how heartbreaking that moment was, I also think about how peaceful it was. We had no idea she was sick and she never slowed down. She lived her life fully until the very last second of it.
But her sudden absence created a giant hole in our house. I just couldn't take the silence so at the beginning of December we started looking around online at local rescues to see what was out there.
We came across pictures of Whiskey's litter and fell in love.
Being Covid times we weren't able to meet any of the puppies in person before we adopted them, so we were picking a puppy solely based on their picture. We originally requested to adopt her sister (but don't tell Whiskey that!). Her sister was adopted out before we received a call back from the rescue but that Whiskey was still available if I wanted to call them back after we talked as a family. I promptly let them know there was no need to call back. We would gladly adopt her!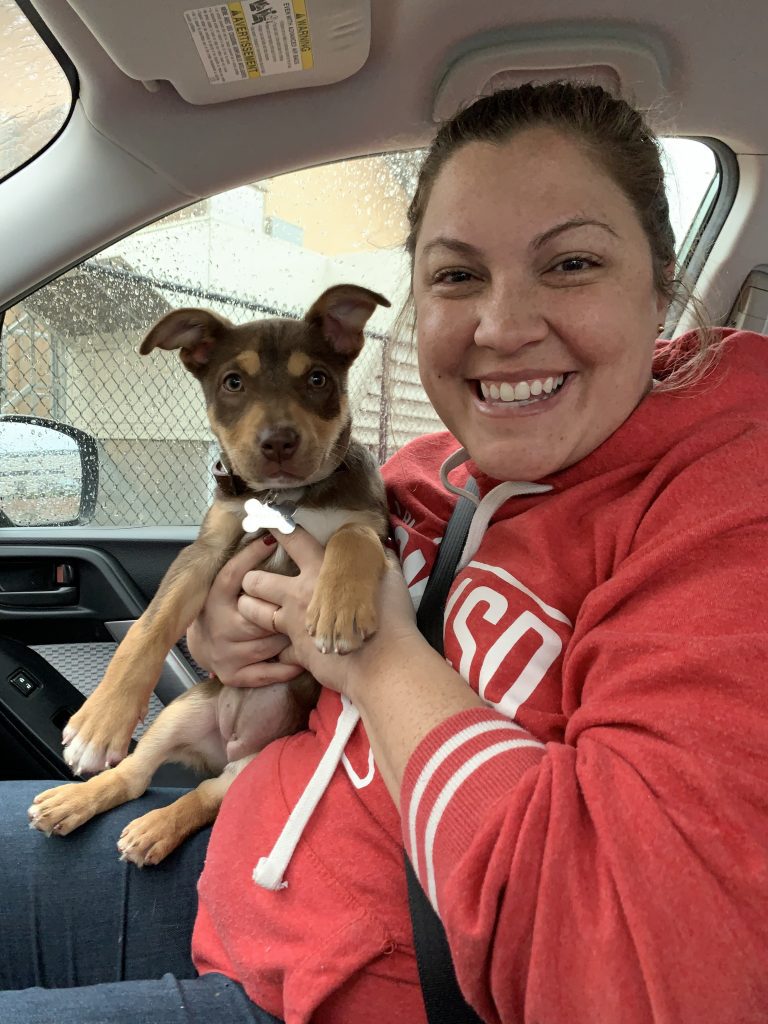 She was 8 weeks old when she came home and she has never had a shortage of personality. She has always been the most expressive and communicative dog I've ever had. She's also the smartest dog I've ever had and it goes beyond her learning to sit the day she came home or to spin within the week she was here. She thinks for herself and can problem solve herself out of any situation. I would spend hours staring at her thinking that something terrible would happen to her because she was too good to be true.
How Did You Discover Whiskey Had Osteosarcoma?
Whiskey celebrated her 1st birthday on October 4, 2021. The first time we ever noticed her limping was October 31, 2021. We had spent the evening trick or treating. When we got home that night and we let Whiskey out of her kennel, I noticed a slight limp. I got her into the vet's the next morning.
With her only having just turned 1 they suspected she might have a CCL tear or strain and sent us home with pain medication and strict bed rest for 2 weeks to see if it would heal itself.
The two weeks passed and her limp seemed to have gotten worse.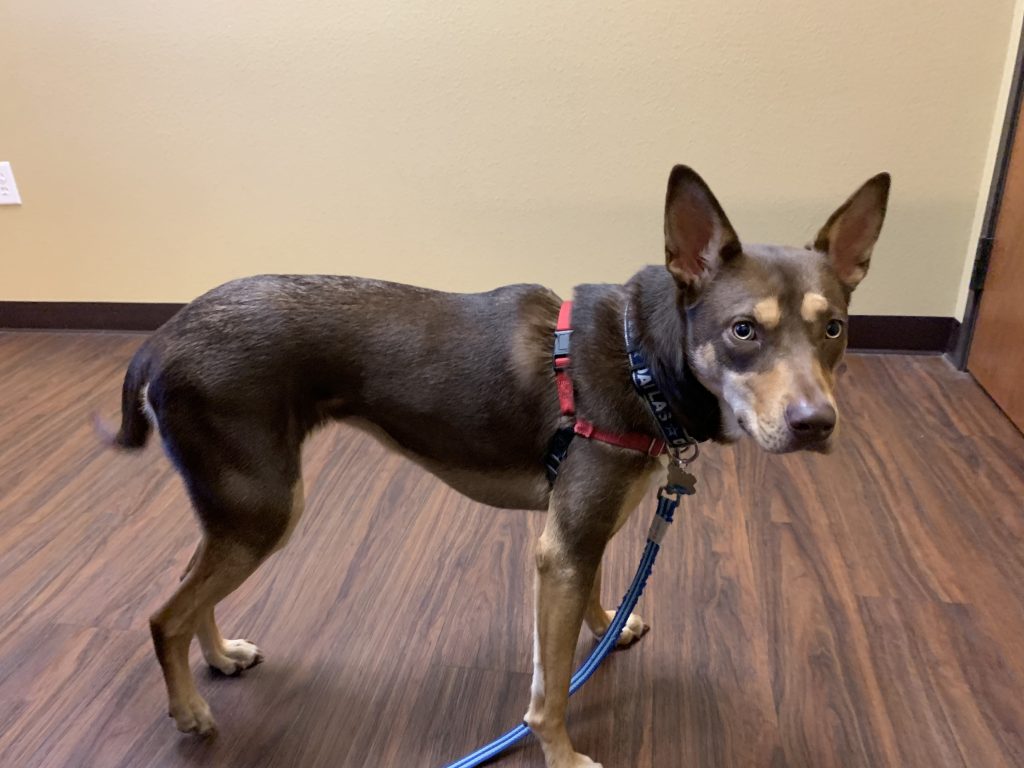 We went back to the vet and I had fully prepared us to hear them tell us she would need surgery to fix the CCL tear I had already diagnosed her with in my head. Our vet took her back for X-Rays to confirm the CCL tear. When she came back into the room we could tell something else was wrong.
She began to explain to us that the X-Rays were showing them that Whiskey likely had bone cancer or a possible bone infection. Every single vet in the clinic was completely taken aback by that. None of them would have thought to suggest she might have bone cancer. She was so young and had no other predisposed markers for it.
She went over our options with us. It was there we pretty much decided we would go ahead with the amputation first and then the biopsy. We didn't want the cancer / infection in her body any longer than it needed to be.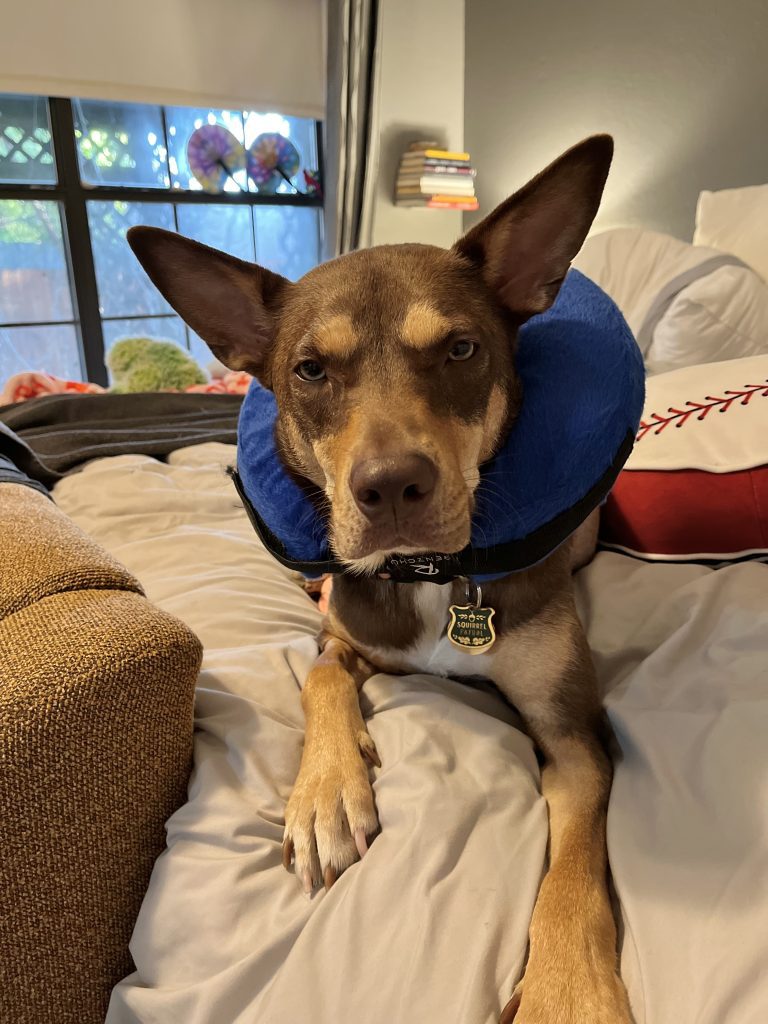 Her amputation surgery was done on December 7, 2021. She had her first of 5 rounds of carboplatin on December 20, 2021. Whiskey never had any side effects from the chemo, had a clear chest X-Ray prior to her 3rd round and she completed her 5th round on March 22, 2022. She had her first post chemo check up and X-Rays done on April 26, 2022. It was at that appointment that her lung mets were first discovered.
Whiskey was 13 months old when she was first diagnosed and she was 18 months old when her lung mets were discovered.
She wasn't showing any symptoms of lung mets. We tried to prepare ourselves going into the recheck appointment that they could tell us she had developed lung mets but the news still caught us completely off guard because from the outside minus the missing leg she looks and acts like a completely healthy dog.
What went through your mind as you researched options for osteosarcoma lung metastasis surgery and other treatments?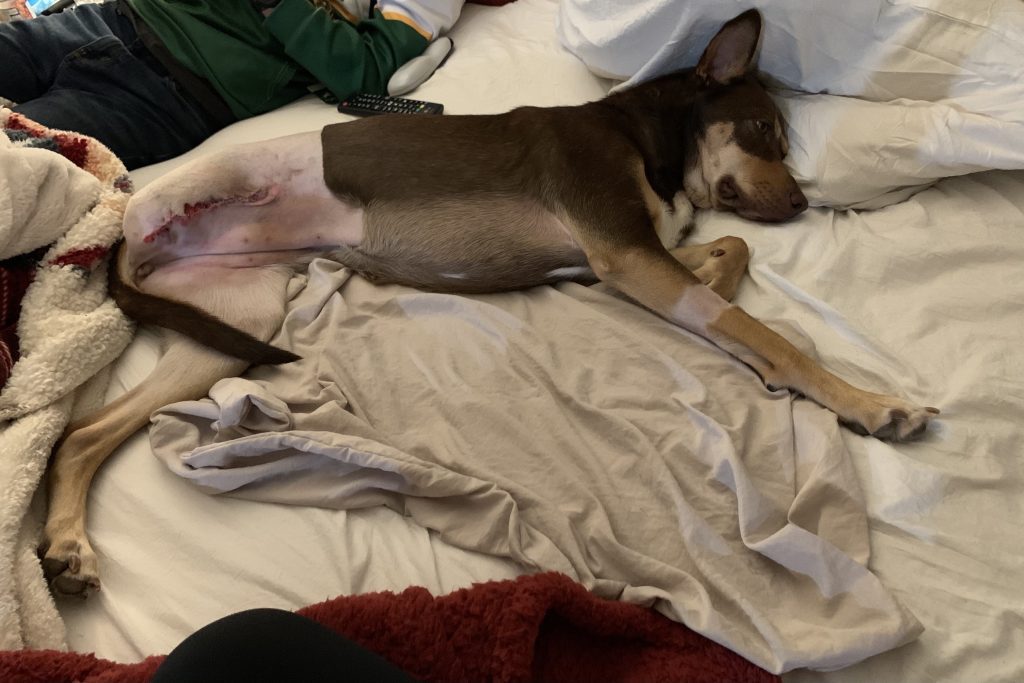 There was a lot of hopelessness, our oncologist is very straightforward and we knew at the beginning of this journey with Whiskey that her age was actually working against us. That with her diagnosis at a young age comes a more aggressive form of OSA and that we were just fighting to slow down the spread. He was surprised to see the lung mets show up so quickly after we finished chemo.
We struggled with what our next steps should be.
She was acting like her normal self, she was playful, eating, running around and getting into things. Did we want to start on Palladia and risk her spending the time she had left now being herself? If we didn't do Palladia did that mean we were giving up on her when she wasn't giving up on herself yet?
As I was researching the treatments for lung mets I just started realizing there weren't very many. Everything told me lung mets are the end of your journey if you chose not to go the route of Palladia. We weren't ready to accept that as the answer.
How did you learn about the Osteosarcoma Metastasis Surgery Study?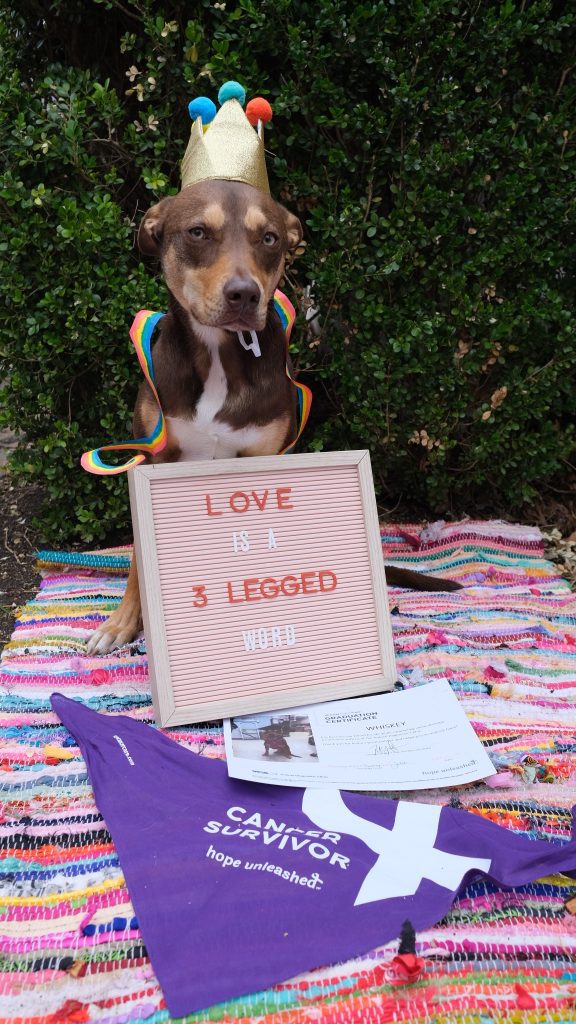 We spent hours searching the internet for options. I wanted to try a clinical study for whiskey but she was almost immediately disqualified from every single one because she already had lung mets. There was one clinical trial for lung mets through Tufts University but it required Whiskey to be located in Massachusetts.
When the MIMIC study popped up in my search results I instantly knew this was the one we were doing. But that is probably because I think with only my heart. And it's why it's such a good thing Whiskey has 2 moms and that Courtney not only thinks with her heart but also her head.
What were your initial impressions of the process? Did you instantly decide to go to California for treatment? How did Whiskey do on the road trip?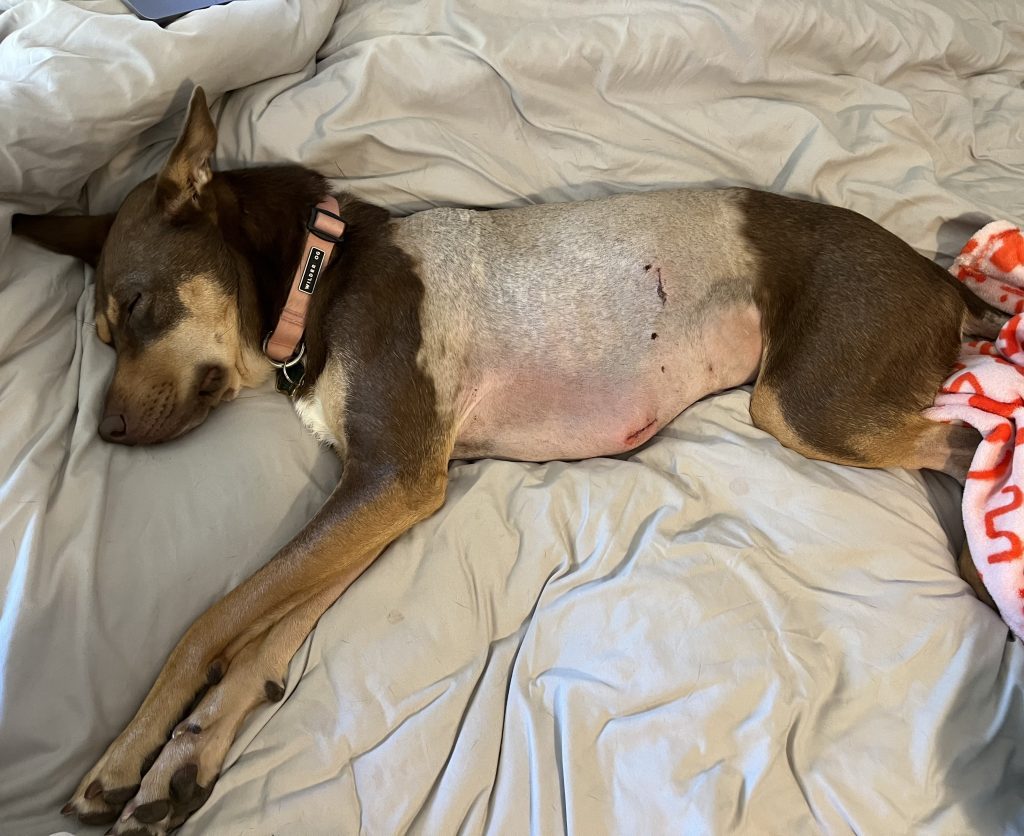 We talked about it and agreed that if they accepted Whiskey into the trial we would get her to CA for the surgery. The process was so easy and Dr. Thomson was so patient and answered every question I had. When Dr. Thomson gave us the greenlight we decided that Courtney would hold down the fort in Texas with our son and that our daughter and I would make the trek to CA with Whiskey.
I have to say that Whiskey and Stella (our daughter) were both champs in the car the whole trip! We tried to make it into a sightseeing trip as much as possible. Stopping in Amarillo, TX at Cadillac Ranch, Los Ojos, NM (where my mom and grandmother live for a quick surprise pop in), Wahweap Bay, UT and Horseshoe Bend, AZ.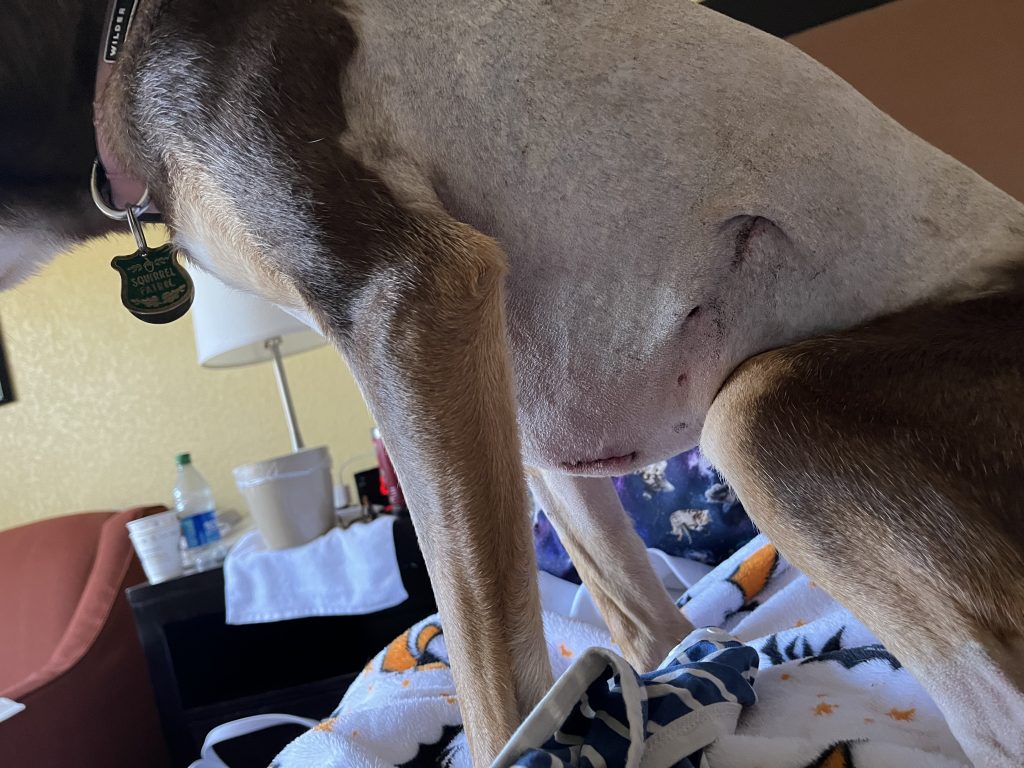 Do you have pet insurance that covered any costs? What were the out-of-pocket costs to be in the MIMIC study?
We do not have any pet insurance, of course looking back, it would have been a wonderful investment but at the time we never would have assumed our puppy would benefit from it so much.
The MIMIC trial covers about $5,000 of the total cost of surgery plus the cost of the CT scans done during the trial. Our out of pocket cost for the surgery ended up being $4,500.
How did Whiskey do after the MIMIC osteosarcoma metastasis surgery? What was her recovery like?
Everyone at Ethos was amazed at how quickly she recovered from the surgery. She was actually released from the hospital a day early. The hardest part about this surgery was just keeping her still long enough for her incisions to properly heal. Whiskey came out of the hospital ready to go at 100%.
What were your greatest concerns about doing the MIMIC treatment? Have those worries come true?
Our greatest concern about doing the MIMIC was putting her through a surgery that would be hard on her body and hard for her to recover from and in the end might not provide us with any additional time. That we would have caused her to spend her remaining time in pain when she was not showing any outward signs of cancer before the surgery.
In April when our oncologist discovered the lung mets he gave Whiskey 1-3 months, she has since fully recovered from the surgery. We are 1 month year past the time estimate we were given. What more could we ask for.
How is Whiskey doing after the osteosarcoma metastasis surgery?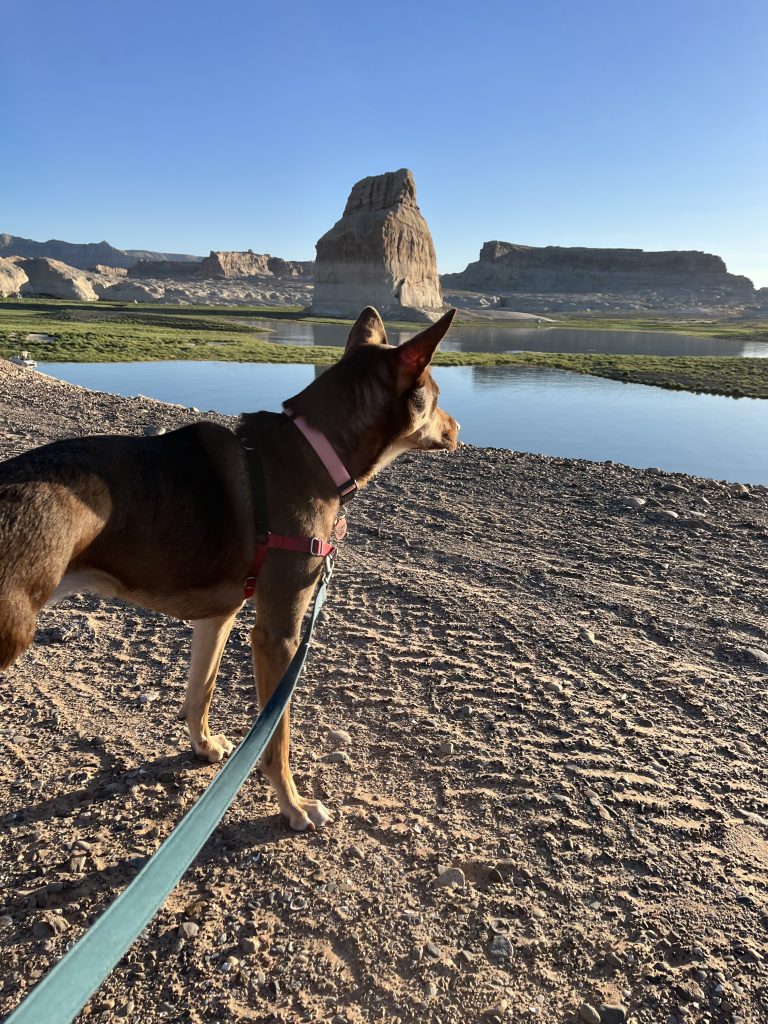 It makes me emotional to think about how Whiskey is doing today. If you were to look in from the outside all you'd see is a very very spoiled dog. Who aside from only having 3 legs, looked completely normal, getting into all kinds of completely normal dog mischief.
But we see a puppy who has no clue she was only given 3 months to live. Four months ago, who is barking at us when we aren't playing with her any given second of the day. She thinks she might want to dart out the front door and run through the neighborhood without a care in the world. While we're running after her screaming her name like crazy people.
She's a dog who thinks she's entitled to at least one bite off of your plate at every meal. Who *might*(definitely did – sorry squirrels!) have caught a squirrel in the backyard on 3 legs. And who couldn't figure out why we were all screaming and shutting the door in her face when she just wanted to bring it inside to show us.
She's living each and every day she is given.
And she isn't grieving the years she won't get to live. That is something I'm constantly trying to remind myself when I get into a funk thinking about all the time we won't get to have her. She doesn't know and she doesn't care about that.
Whiskey just wants us to throw her the ball. Or to hide her toy under the blanket for the 100th time so she can 'find' it like she didn't just watch us hide it there.
What would you say to other people whose Tripawd just got diagnosed with mets?
I would tell them to allow themselves the time to process the information fully. It's ok to feel everything you're feeling. We were angry and heartbroken. And we left the oncology appointment without making a plan or knowing our next step right at that moment. It felt like we had been given a death sentence. But after we took a few days to breathe and assess, we just really started researching any options we had available to us.
I think the most important piece of advice we've been given is that with this journey there is no wrong answer. No one knows your situation or your dog better than you do. Whatever path you choose to move forward will be the right path for your family.