Are you looking for a better veterinary care experience? There's no better time to do it! Learn how to find the best vet clinic for your Tripawd on #AAHADay 2021.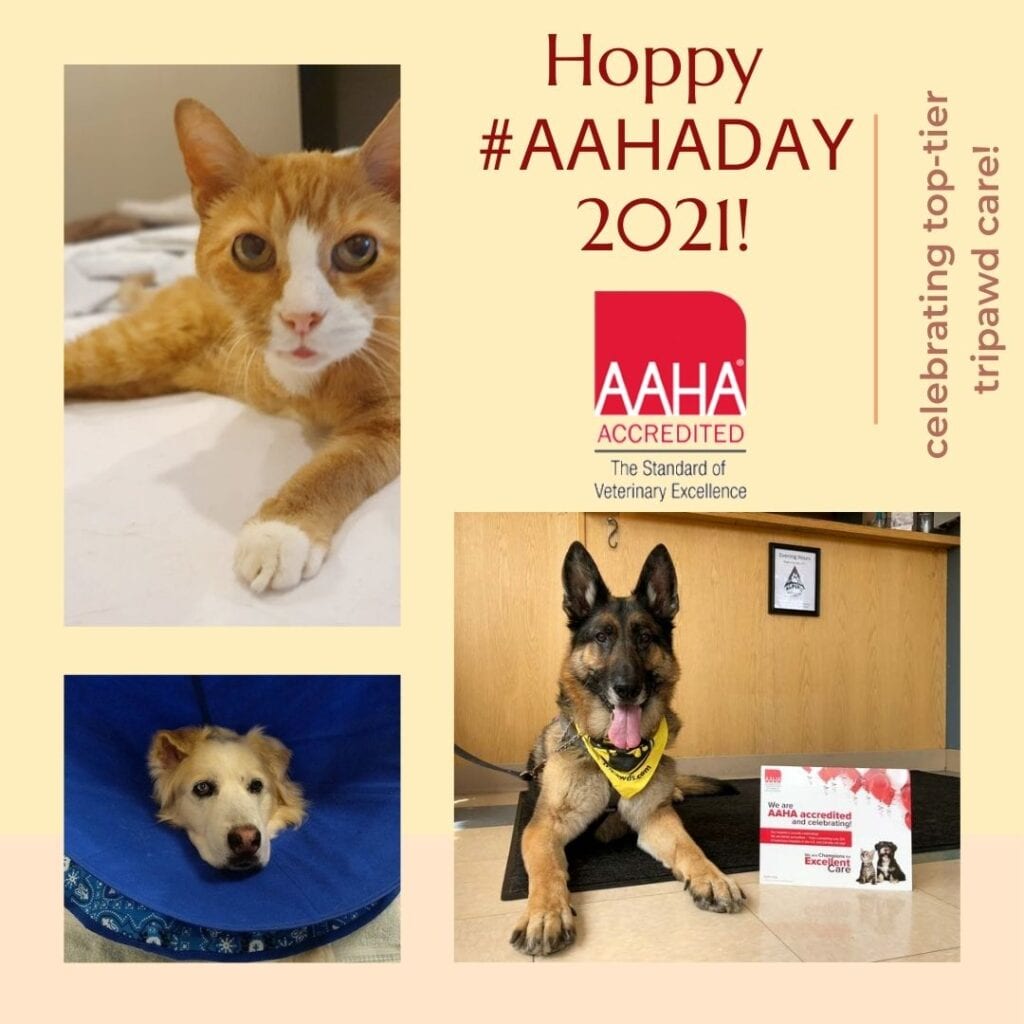 Join our July 22 celebration of the top tier of Tripawd dog and cat care in North America! Here's three things about choosing a new vet clinic that you'll learn today:
1. Know the #1 thing to look for in a veterinary clinic
2. How to find a vet clinic that's accredited by the American Animal Hospital Association
3. Top questions to ask a new veterinarian to decide if you want to work with that clinic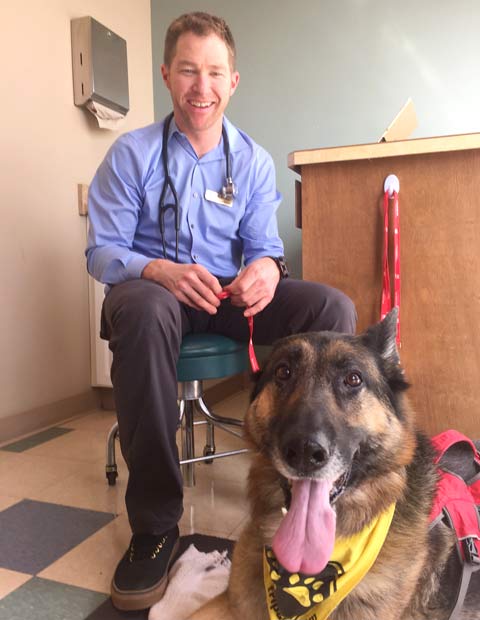 How to Choose a new Veterinary Clinic
Step 1: Look for this logo at your current vet clinic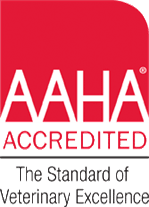 Do you see the AAHA logo anywhere in the clinic? Without this logo, you cannot be certain that your vet is practicing the most modern, safe vet care available. In a nutshell, that's what it means to be an "AAHA-accredited" clinic. If you don't see this logo proudly displayed at your vet clinic, ask your vet why not.
Vet practices can still be great without being AAHA-accredited. But there's only one way to know a practice is going a step further to deliver top-tier Tripawd care. Finding an AAHA clinic is the way to do it.
Did you know: accreditation is optional. Vet practices never need to get inspected or meet requirements of an outside agency to stay open.
It's true! Any vet can hang a shingle over their door and call it good until the day they retire. They never need to prove that their care is safe or effective. That is, until something bad happens. A pet parent's complaint is usually the only time a state veterinary board steps in.
Human hospitals must meet standards set by certain agencies in order to stay open. In 1933, the American Animal Hospital Association began asking "Why not vet clinics too?"
Step 2: Find an AAHA clinic near you
Begin your search for the best vet clinic for your Tripawd and other pets today. Visit the AAHA website's "AAHA Hospital Locator Tool.â€
Asking friends and family for vet clinic recommendations is fine. But we think starting with AAHA-accredited vet hospitals is better. Every three years, AAHA clinics must pass rigorous standards in these areas:
emergency services
pain management
contagious diseases
surgery and anesthesia
radiology services
pathology services
nursing care
diagnostic and pharmacy
dentistry
examination facilities
pet medical records
medical library
housekeeping and maintenance
At an AAHA clinic, everyone is involved in making sure your Tripawd has the best vet care possible.
Step 3: Follow this checklist to find a new vet practice
AAHA-clinic or not, don't commit until you feel 100% certain it's the best vet clinic for your Tripawd, and you! Take time to interview a potential practice. Here are a few considerations when visiting a veterinary practice, as suggested by the American Veterinary Medical Association. This list also includes additions from Dr. Nancy Kay's 12 Things to Expect from Your Vet, and a few of our own.
The Office Team
Are the regular office hours compatible with your schedule?
Will they accept e-mails or do veterinary telemedicine?
Who covers the practice when the doctor is unavailable?
What is the average wait time for making a non-emergency appointment?
Fees and payment

What methods of payment are accepted?
If you have pet insurance or are researching pet insurance, does the hospital accept your pet's insurance plan?
Are payment plans or financial assistance options available if you need them?
The Vet Team
Care and Services
Share your specific pet care philosophies with the team. How receptive are they to hearing about your approach?
What is the range of medical services that the practice provides? Does it suit your needs and expectations?
Does the veterinarian have a network of specialists for referrals?
Can the practice offer or refer to veterinary rehabilitation therapy?
Is the veterinarian able and willing to provide care for all of your pets?
Does the hospital have educational materials for pet-owners on a variety of topics?
Are non-medical services such as boarding, grooming, and training classes available?
Emergency Vet care
How are emergency calls handled during regular office hours and after office hours?
Can your pet receive on-site after-hours care? Or, do they refer evening emergencies to an emergency clinic?
How is care coordinated between the emergency clinic and the daytime practice team?
We know this vet clinic interview checklist seems overwhelming. But the payoff is so worth it! In the end, you'll feel confident you left no stone unturned to find the best veterinary clinic for your Tripawd. Chances are, you'll find it at an AAHA-accredited practice near you!
Are you true blue loyal to your vet clinic? Let us know why you love them in the comments below.