When your new Tripawd keeps you up at night with worry, live vet chat options can put your mind at ease. Vet telemedicine is a new, exciting world for vets and pet parents.
In the Tripawds community, we provide emotional support to one another. But we are not vets, and we don't dare try to play one on TV or the internet. That's why these live vet options are great news for pet parents of new and long-time amputee dogs and cats.
Thankfully, veterinary telemedicine is widely practiced across North America. It started when COVID 19 pandemic forced the closing of clinic doors to the public. It's a movement carried over from human medicine. Telemedicine for people has been around for quite a while. We can go online and consult with a medical doctor about non-emergency health concerns. Now, we can do it for our pets, too!
Note: This post contains affiliate links. The Tripawds community receives a small commission if you enroll with any of these live vet chat options.
Finally, New Live Vet Chat Options Can Put Our Fears to Rest
Veterinary Telemedicine on your PC, Mac, Tablet or Phone
All good pet parents are concerned about the everyday care of their dogs and cats. We have questions about nutrition, exercise, skin conditions, flea control, and other common concerns to keep our pets healthy and strong. When coping with amputation recovery and care, those questions become even more important. During recovery we recommend keeping your vet on speed dial, and having the number of an emergency clinic on hand.
But for those non-emergency questions, telemedicine for pets is now a tap away. Consider these popular live vet chat options.
Schedule Virtual Vet Appointment with Vetster
Vetster is one simple way to schedule on-demand virtual veterinary appointments. The Vetster website and app connect pet parents to thousands of licensed veterinary professionals ready to provide online pet care through video, chat and voice enabled appointments 24/7.
Vetster virtual medical appointments let you consult with a Doctor of Veterinary Medicine, anytime, from the comfort of your home. Your comprehensive medical appointment will include professional advice from a credentialed veterinarian, including any necessary prescriptions where available.
Or, use Vetster to consult with a Licensed Veterinary Technicians during a virtual wellness exam for your dog or cat. Gain valuable insight into your pet's health care with professional advice about nutrition, supplements, training, weight loss, and more. Prescriptions are not available from Vetster Wellness appointments.
Get a virtual vet consult with Vetster.
Live Vet Chat via JustAnswer
Got questions about your dog's health or your cat's mobility? Another veterinary telemedicine option for vet care at home is having a live chat with a veterinarian from JustAnswer.
Connect with a verified veterinarian for a virtual consultation in minutes. With your JustAnswer vet chat, there is no waiting for appointments or scheduling during office hours. You will not pay high fees for a lengthy visit that may result in a simple answer or quick prescription.
JustAnswer vets can help when your dog eats something odd or won't eat anything at all, when your cat starts limping, and for any other issue impacting your pet's health and well-being. Best of all, JustAnswer has a team of board-certified veterinarians is on call 24/7 who you can speak with from anywhere.
Chat with a vet on JustAnswer.
Airvet App Offers Instant Virtual Vet Visit
With Airvet, you can do a live vet chat on video anytime for 24-hour virtual veterinary care. In a hurry? Airvet promises to connect you with a licensed veterinarian in seconds. Get your questions answered fast, with no appointments, and no wait time.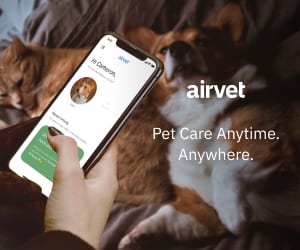 Emergency vet visits can cost thousands of dollars, and many turn out not to be emergencies at all. Visit the website or download the Airvet app for instant answers from a professional you can trust, from the safety and comfort of your own home.
Get Support from Someone Who Understands
Got questions about using the Tripawds Community website? Want to see what assistance programs are available from the Tripawds Foundation? If you have non-emergency questions about common concerns, or want to know about the best gear for Tripawds, call our toll-free Helpline anytime! If no host is available at the time, please leave a message and we'll return your call within 24 hours. Finally, the Tripawds Live Chat is also available to connect with other members anytime!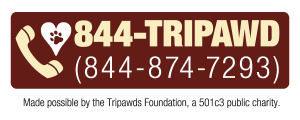 Technically speaking, the Tripawds Helpline does NOT offer veterinary telemedicine. Our volunteer Helpline Hosts are not veterinary professionals. But all hosts are well experienced with dog and cat amputation recovery and care for dogs and cats before, during, and after amputation surgery. Call anytime!
These and more live vet chat options allow you to consult with a vet about your pet's health from home. Consider making a virtual appointment or starting a live chat with a veterinary professional, and post in the discussion forums with your feedback to let others know how it went.