Today's Tripawd Tuesday celebration is a two-fer: a rescue and a reunion story! It started when a vet told Nonnie that Indiana the Husky Malamute mix who won her heart should be euthanized. Her instinct said otherwise. She's so glad she listened to it! In today's Tripawd Tuesday, we are happy to share the remarkable rescue and reunion story of this sweet girl and her momma, Dakota.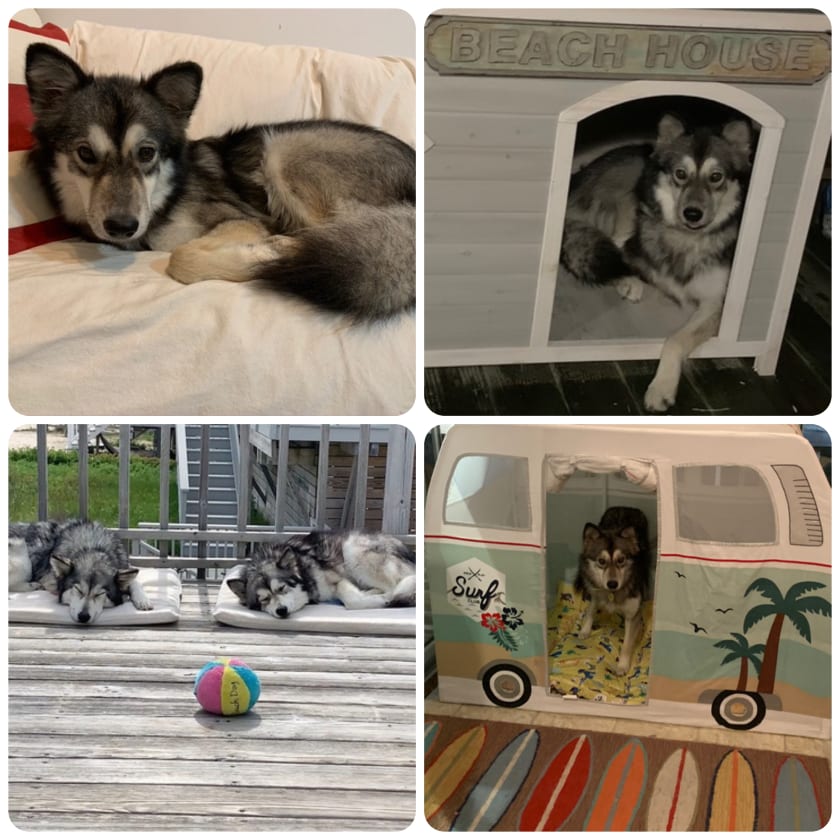 The following is an excerpt from Nonnie's Reader's Digest story she wanted to share with us, "1,000 Miles Couldn't Keep this Dog and Her Pup Apart." Follow the link for the full story.
For four months, little Indiana miraculously survived in the woods with a shattered shoulder . . .
The puppy had been mistaken for a coyote and shot while running wild with her mother. After rescuers found the two, they determined that Indiana would lose her leg as a result of the wound. She'd also lose her mother, Dakota, as the deeply bonded pair were picked up by different rescues and split apart. The animal control officer who captured them said they were the most intensely bonded pair he'd ever seen, that they'd never had a home, and were feral dogs who'd always lived on the run.
While Indiana was learning to walk on three legs at a rescue down south, Dakota was at a different rescue almost 1,000 miles north in New England. She'd been on the run her entire life.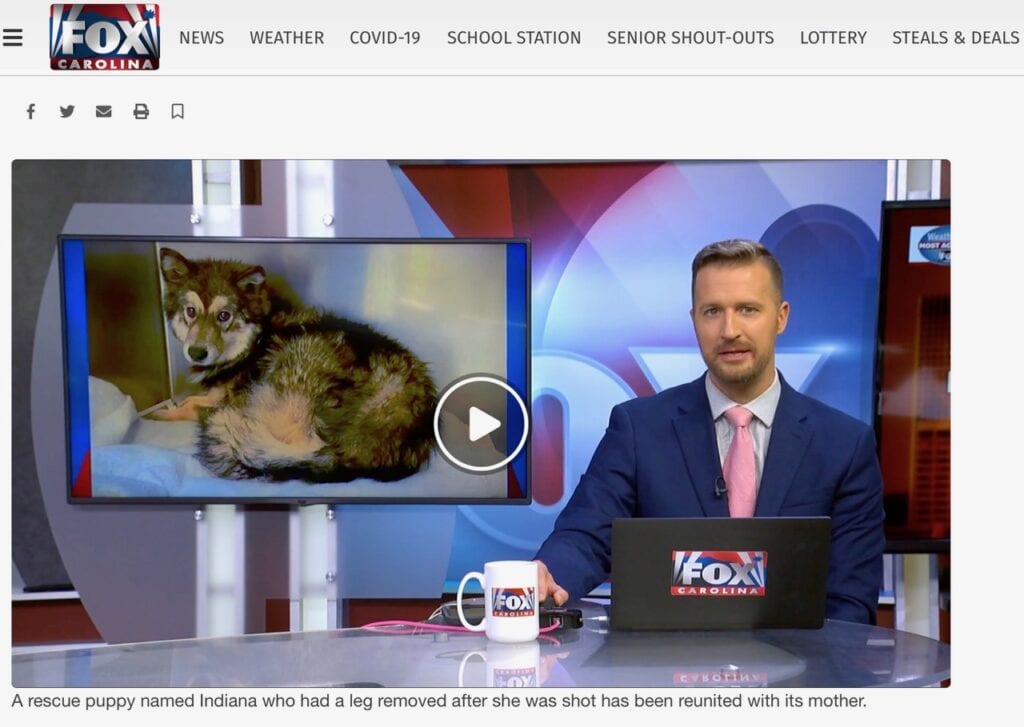 The beautiful Tripawd husky malamute mix and the heartbreaking story of her pup who was shot (and I believed, at the time, killed) tugged at my heartstrings. Dakota found her forever home with me.
In my on-line quest to see if Indiana was possibly still alive, I came upon a TV news story online about a puppy who was shot. The little puppy whimpering on the screen was Indiana. There was no mistaking it. She was the spitting image of Dakota. I vowed right then and there to stop at nothing to bring the three-legged puppy home to her mother. It was a long road home, but six months later, I was finally able to adopt Indiana and bring her north with Dakota, where she belonged.
Their reunion was magical. Their bond is nothing short of extraordinary. Dakota couldn't stop licking her pup's face. The love between them is as heartwarming as their story is heartbreaking.
They hug. They howl. They wrestle. They play. They sleep. Together.
They are truly inseparable. They sleep entwined with their noses resting on the other. If one rolls over for a belly rub, the other rolls too. Today, Indiana runs and plays with Dakota as if she still has four legs. When she's tired, Dakota lets her pup rest her one front let on her back.
For the entire story, hop on over to Reader's Digest!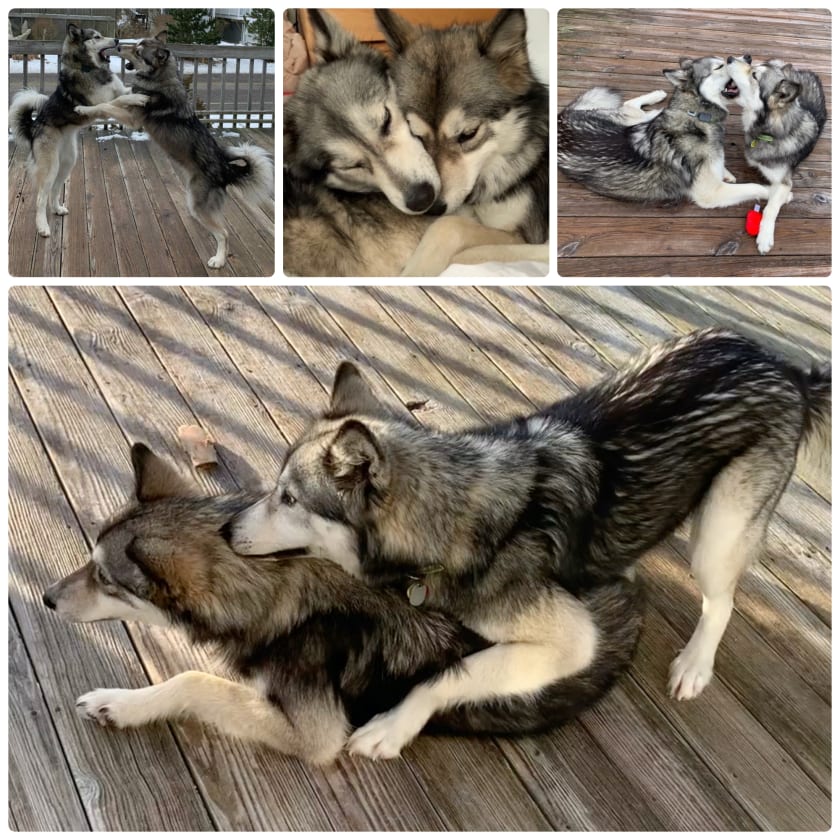 We Want YOUR Tripawd Tuesday Story!
Did you like today's Tripawd Tuesday spotlight on Indiana the Tripawd Husky? Whether you have a cat or dog, share your three-legged hero's story with the world and inspire others! Send your Tripawd Tuesday shout-out now. Each Tuesday is the best way to celebrate Tripawd amputee pets from around the world. Enter for a chance to be "Tripawd of the Week." Just share your story in a few words and you're in!
Whether you are a bonafide registered Tripawds member, or part of our Facebook, Twitter and Instagram communities, we want to tell the world about your three-legged cat or dog.
Send Your Love Story in 3 easy steps:
In a short paragraph or two (or longer if you'd like!), describe your three-legged hero's story. Share a photo, video or both.
Got a Tripawds Forum topic and/or Tripawds blog that you started? Be sure to include that link too! Of course let us know any social media handles that feature your Tripawd.
Then send your story to us

via email,

Facebook Messenger, or direct message us on

Twitter

or Instagram

@TripawdsCommunity.
We want to publish a new Tripawd story each week. It's time for yours to get featured!