Acupuncture for a Tripawd cat's pain is worth looking into if your cat is showing post-amputation discomfort. Pixie's about to demonstrate why.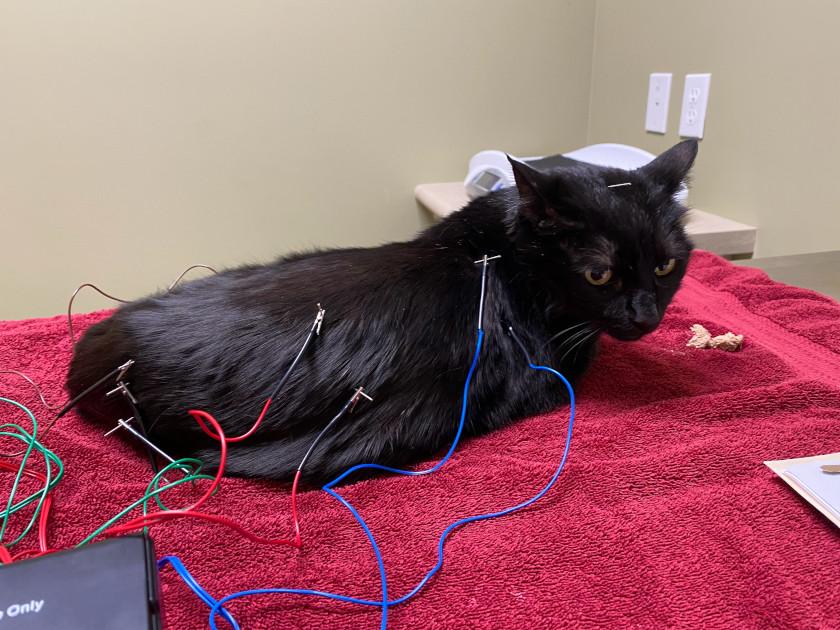 Why Acupuncture for a Tripawd Cat Helps with Amputation Recovery
It's no secret that cats can be challenging patients at the vet clinic. In our Three Legged Cats Discussion Forum topic, you'll find many examples of Tripawd cats who get stressed out during vet exams. Going there is the last thing a parent wants to do! But when a cat's amputation pain is a mystery and won't go away, veterinary acupuncture may be a good option for treating it. Just ask Pixie if it was worth the effort.
Pixie was diagnosed with feline osteosarcoma in late 2019. She had her amputation in January 2020. Her current veterinarian is Dr. Deena Leong of Tustin Care Animal Hospital. Shortly after Pixie's amputation surgery, she appeared uncomfortable and in need of different pain management. Since relieving post-amputation pain often takes a multi-pronged approach (such Medication, manual hands-on therapeutic exercise, and other modalities like laser therapy and acupuncture), Dr. Leong recommended adding acupuncture into the mix.
Pixie's Acupuncture Treatments on Spaw Day
Here's what Pixie's mom wrote in our Veterinary Specialist Referrals Discussion Forum topic:
Pixie is the 2nd one of my cats to have needles. Pixie right-hind leg got amputated on 1/6/2020 due to osteosarcoma then started her chemo journery, two IV chemo and currently on Palladia. In order to reduce the discomfort (i assumed) from the surgery and chemo, I took her to Dr. Leong for a try.

Surprisingly, she tolerates the needles so good (i would say that she is enjoy it) and no needs of hand controls. does the acupuncture help her? i don't know because the cancer is not curable but prevent spreads or slow down the spread through medical treatments. However, as long as she is enjoy the "spa", i would take her to acupuncture.
Learn All About Veterinary Acupuncture for Cats
Curious about how acupuncture for a Tripawd cat can help with pain relief? As Little Man (below) found out, it can work great!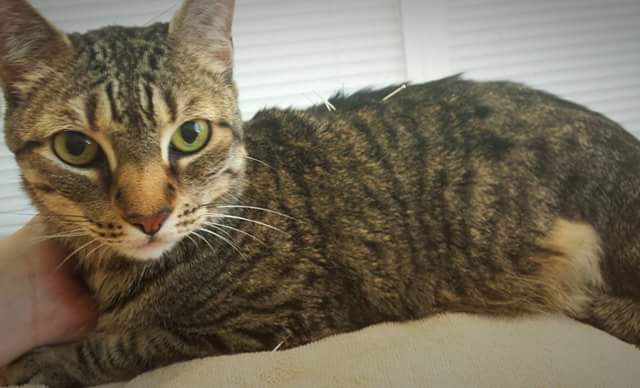 In our Tripawd Talk Radio interview with Dr. Nell Ostermeier, a Certified Veterinary Acupuncturist and co-owner of Lombard Animal Hospital in Portland, Oregon. In the episode we learn why veterinary acupuncture for cats, dogs, and other animals is so beneficial. We learn things like:
The health conditions acupuncture can help
How placing needles in the body helps a patient feel better
The types of Tripawds who are good candidates for acupuncture
How acupuncture can be combined with other pain relief
The different types of acupuncture available
What a veterinary acupuncture session looks like
Treatment times, and success rates
How to find a qualified veterinary acupuncturist
Our episode, All About Acupuncture for Tripawd Cats, Dogs, Rabbits and Other Pets, has tons of information about how it can help. You can also tune in below and listen to Dr. Ostermeier share her knowledge about this helpful therapy for all animals and people too.