If your veterinarian believes your dog has mast cell cancer, you need to know about the biggest canine mast cell cancer treatment breakthrough in years!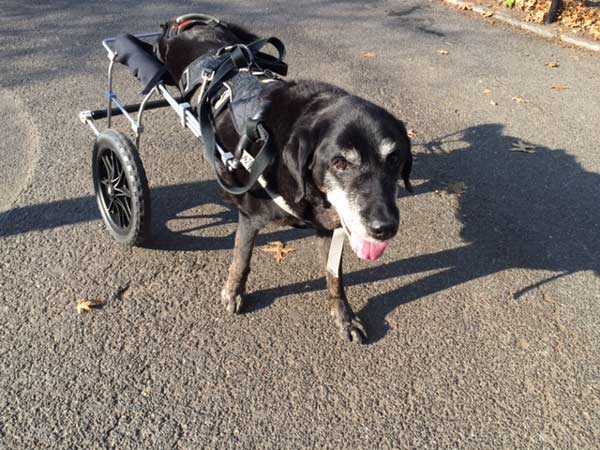 Dr. Sue Shares Canine Mast Cell Cancer Treatment Breakthrough News
Canine Mast Cell Cancer (MCT) is common. But that doesn't make it any easier. This cancer accounts for about 21 percent of all skin tumors in dogs. And about 40 percent of those tumors happen in the limb or tail. Many Tripawds like Maggie the TriPug joined us because they lost a limb to it. Usually amputation is a last resort after many failed surgeries to extract the tumor.
Mast Cell Cancer can be one of the most treatable but frustrating dog cancers for pet and parent. In our Tripawd Talk Radio interview with veterinary oncologist Dr. Ann Hohenhaus, she referred to mast cell cancer treatment as like playing Whack-a-Mole. In The Dog Cancer Survival Guide, authors Drs. Demian Dressler and Sue Ettinger say:
While long-term survival is more common with MCT that with other dog cancers, MCT is a tricky cancer to predict.
Until now, the best hope for treating Mast Cell Cancer in dogs has been a combination of tumor resection (removal) surgeries, and an immunotherapy treatment called Palladia. This excellent Mast Cell Cancer in Dogs article gives a great overview of the first first anti-cancer Mast Cell Cancer therapy approved by the FDA:
In a clinical trial of dogs with mast cell tumors, Palladia helped nearly 70% of dogs to destroy, reduce, or halt the growth of tumors. In certain mast cell tumors, Palladia can "turn off" the abnormal protein signal (c-kit) that often plays a role in their growth and development. Interestingly, the drug has also been shown to reduce/slow the growth of other types of cancer by decreasing a tumors blood supply (by inhibiting both VEGFR and PDGFR) and limiting its nutrients.
Look Out Mast Cell Cancer, Here Comes STELFONTA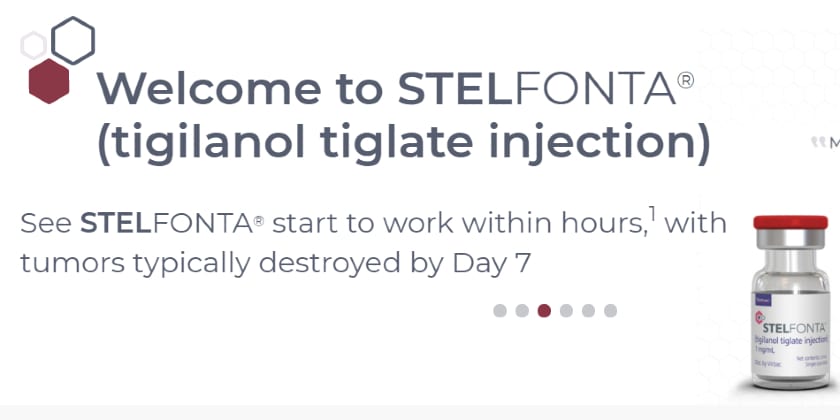 Today, we are thrilled to announce there's a new non-surgical Mast Cell Cancer therapy for dogs: Stelfonta. That's right: NO SURGERY is required to kill non-metastatic Mast Cell Cancer tumors in dogs! Treatment is given with a needle injection, usually without anesthesia. STELFONTA shrinks, and dissolves the tumor in a matter of days. It is derived from berries of the Australian native blushwood plant (Fontainea picrosperma). The anti-cancer properties of blushwood berries have been known for many years. Now, the FDA agrees.
According to Veterinary Practice News,
For both the animal and its owner, it's a pathway to preserving a better quality of life, particularly since a single treatment is sufficient to destroy the tumour completely in 75 percent of observed cases. — Virbac launches STELFONTA, a ground-breaking new treatment for canine mast cell tumours (MCTs)
Since we aren't veterinary oncologists, we'll leave it up to the amazing Dr. Sue Ettinger to discuss:
Why STELFONTA for canine Mast Cell Cancer is so exciting
What you need to know about STELFONTA for Mast Cell Cancer in dogs
And how the treatment helped Dr. Sue's first STELFONTA patient be done with Mast Cell Cancer!
Leave no doubt about it, cancer in dogs sucks. But this is an exciting time for veterinary oncology breakthroughs! Ask your vet about STELFONTA for your best friend. If you try the treatment, let us know how it worked in the comments below.
Recommended Reading