Tripawds members come and go through the years, which is understandable. But a few have stayed on-board for years and become integral parts of our community. Karen Riley, aka "krun15" is one such member.
Meet Your Tripawds Pal: krun15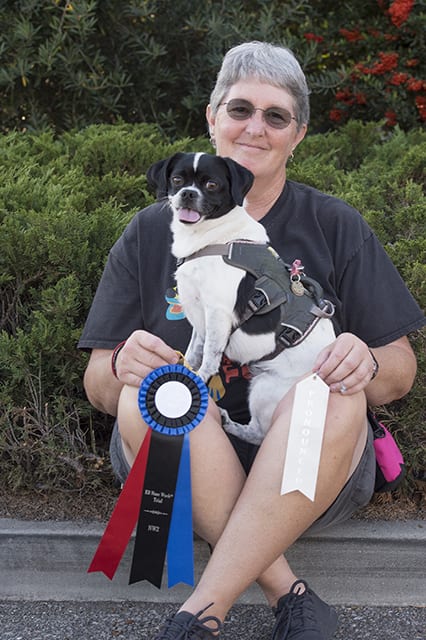 Pet parents facing amputation for their dogs and cats find lots of help by joining the Tripawds community. They often make quick friends with others who understand exactly what they're going through. These Tripawds Pals point new members to helpful resources, while offering advice, comfort and support. Karen is one member who has been there for others for almost a decade.
In the first edition of our new "Meet Your Tripawd Pals" Tripawd Talk Radio podcast, you'll meet this paweseome pet parent, Tripawds Forums moderator and Tripawds Helpline host. Karen is a California dog mom who has been an exceptionally supportive member of our community since October 2009! That's when her senior Pug Maggie needed a mast cell tumor amputation.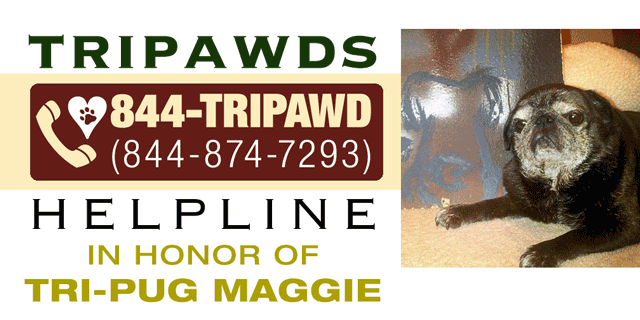 Today, Karen is mom to four-legged Obie the Pug, and Elly, a "Tri-Puggle" Rescue Mutt who is becoming a world-class canine nosework champ.
Tune in to Tripawd Talk Radio below, to find out how Karen made it through Tri-Pug Maggie's mast cell cancer tumor amputation. And you'll learn how that experience helped her prepare for life on three legs with Elly.
Share Your Tripawds Story!
If you want to share your Tripawds story to help new members going though the amputation journey, contact us! We would love to feature you on our next "Meet Your Tripawds Pals" episode.