To help a Tripawd live better on three, we must learn the best ways to prevent and manage pain. Today kicks off a seven-part Tripawds Pain Management video series, with world-renowned veterinary pain management trailblazer Dr. Robin Downing.
Stick around for all seven videos. You'll learn about:
Video 1: Why we must advocate for our Tripawds
Video 2: How to know if your pet is in pain
Video 3: The truth about phantom leg pain in Tripawds
Video 4: How to Treat Amputation Recovery Pain in Pets
Video 5: Help manage Tripawd phantom pain with Gabapentin
Video 6: Pet pain quality of life tips
Video 7: How to help a Tripawd age well
Whether your dog or cat is a new amputee or has been hopping on three for a while, Dr. Downing has important tips for all of us.
Tripawds Pain Management Video #1: How to Help Your Tripawd Live Better
The world is full of amazing, talented veterinarians. Sadly, too many pets are still under the care of old-school practitioners who don't follow modern pain management protocols.
But as the saying goes, "you don't know what you don't know." It can be hard to tell when our Tripawd or other pet is or is not getting the kind of care that makes life better. And if we suspect our pets are not getting that care, then what?
Your next step is to take the advice of Dr. Downing! In this video, she explains how to help a Tripawd live better by advocating for better vet care.
Watch this space next week, when we present more ways to help your Tripawd live better, with Tripawds Pain Management Video #2: How to Know if Your Pet is In Pain.
Meet the Trailblazer in Veterinary Pain Management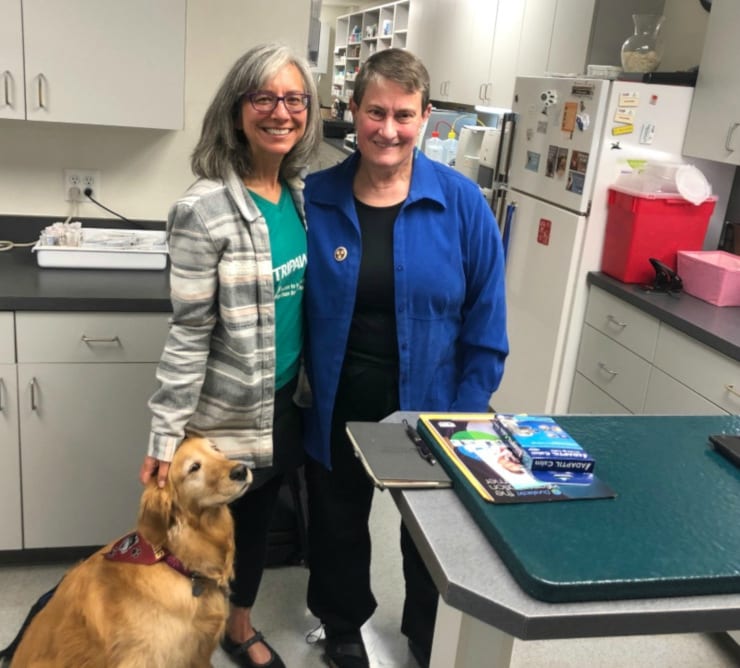 What an honor to spend time with one of the world's leading dog and cat pain management experts! Dr. Downing gave up an entire Saturday to share Tripawd dog and cat health tips with the Tripawds Nation. Here's why we are so excited to present this Tripawd Pain Management video series with you: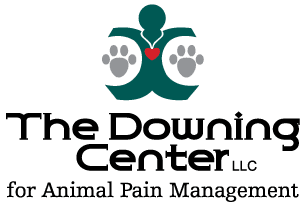 Dr. Robin Downing, DVM, MS (Bioethics), DAIPM, DACVSMR, CVPP, CCRP, is owner of the AAHA-accredited Windsor Veterinary Clinic in Northern Colorado, a Fear-Free® and Feline-Friendly certified practice for dogs and cats. She is also founder of the Downing Center for Animal Pain Management.
Dr. Downing is also founder and past-president of the International Veterinary Academy of Pain Management, holds multiple credentials in pain management fields like animal chiropractic care, canine medical massage and medical acupuncture for animals.
As a clinical bioethicist, Dr. Downing is also at the forefront of studying the practices, procedures and outcomes of modern medical care decisions and scenarios that pet providers, caregivers and pets confront. She is the first veterinarian to earn a Masters in Bioethics, with the goal of transferring human medical bioethics practices to veterinary practice.
Video Transcript:
How to Advocate for Your Tripawd
Speaker: Dr. Downing
So one of the things that makes me so excited about really becoming better acquainted with your organization as an advocacy organization for animals that are only wearing three legs is that my profession has been really slow to adapt to advocacy on behalf of beings who cannot advocate for themselves, beings who become altered in some way because they lose a limb or even some animals that lose two limbs.
Great Vets = the Best Tripawd Health Tips
Here's my advice to your constituents. If you have an animal that needs to have a body alteration by losing a limb and becoming a Tripawd and you have a veterinarian who is not trying to stay ahead of the pain curve or a veterinarian who is not actively educating about how we need to adapt activity or how we need to adapt a home environment, it's time to fire that veterinarian and get yourself a different one because those days are gone.
When we have an animal who has a body alteration by losing a limb and we sit and we say, "Oh, look at how sad this is. They don't really want to be here anymore," well, I got news for everybody. What happens with animals is they adapt. They lose a limb and they say – as long as we take care of them and we take care of their pain, they say, "Hmm, I must move through the world differently."
That's their mindset. I must learn to adapt. I must move differently. I must interact with my world differently. And if you don't have a veterinarian who's willing to work with you and work with that Tripawd to help that Tripawd live the very best life they can live, then it's time for you to find another veterinarian.
[End of transcript]