Tripawd pain management has come a long way, but it still has room for improvement. Too many of our members are not given the most current treatments to avoid it before and after amputation surgery.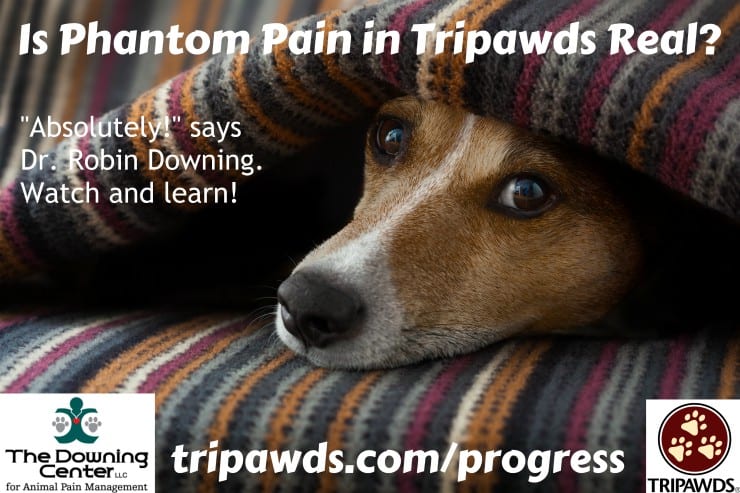 Dr. Robin Downing is changing that, thanks to her never-ending pet pain management crusade in the veterinary community.
Identifying and Treating Phantom Leg Pain in Amputee Cats and Dogs
Today, we are honored to have her in another helpful Tripawd video, "The truth about phantom leg pain in Tripawds." Scroll down to learn her tips for identifying and advocating for your pet's treatment.
For more Tripawd pain management tips, catch all our videos with Dr. Downing. Watch this space for videos four through six, coming in the next few weeks.
Video 1: Why we must advocate for our Tripawds
Video 2: How to know if your pet is in pain
Video 3: The truth about phantom leg pain in Tripawds
Video 4: How to treat amputation recovery pain in pets
Video 5: Help manage Tripawd phantom pain with Gabapentin
Video 6: Pet pain quality of life tips
Video 7: How to help a Tripawd age well
Video Transcript:
The Truth About Phantom Limb Pain in Pets
Tripawds: Do you think animals get phantom pain?
Dr. Downing: Absolutely, absolutely. How do we get phantom pain? When there is damage to the nervous system, damage to a nerve and then that nerve tries to regenerate itself. That's the genesis of the phantom limb phenomenon.
And how am I convinced that this happens? Well, I had a patient named Peaklee and little Peaklee was run over by a car in of all places Bucharest, Romania and he ended up here in my pain management specialty hospital.
His spinal cord was severed because his spine was fractured and dislocated. So his rear legs were completely numb, completely non-feeling.
So months into his recovery, they looked over at the bedroom where he was hanging out with my Cavalier King Charles Spaniel and Peaklee had blood all over his mouth, blood all over the cage because he had eaten the toes off his right foot.
His right rear foot, this paralyzed dog who had no feeling, when we pinched his toes, had abnormal sensation in that foot at a level that caused him to eat the toes off his foot.
Yes, Phantom Limb Pain is Real
What it taught me was that dogs can and do develop phantom limb phenomenon. So we finished the amputation that he had started, closed the stumps of his toes surgically, increased his gabapentin dose and about three months later, the same thing happened on the other leg.
So we did another dose escalation after we repaired those toes and at the end of his time with me, when he went to his forever home, this 10.5-pound dog was taking 3000 milligrams of gabapentin a day in order not to eat his feet.
But what that really provided to me as a pain practitioner was context for me to understand that I have to pay attention when there's damage to a nerve and in an amputation of course, we are cutting a nerve. So there is absolutely no reason to believe that a dog would not have that same potential for developing phantom limb that a human with a similar amputation would experience.
[End of transcript]