Whether you have a dog or cat, learning how to manage pet amputation recovery pain is one of the trickiest parts of the Tripawds journey.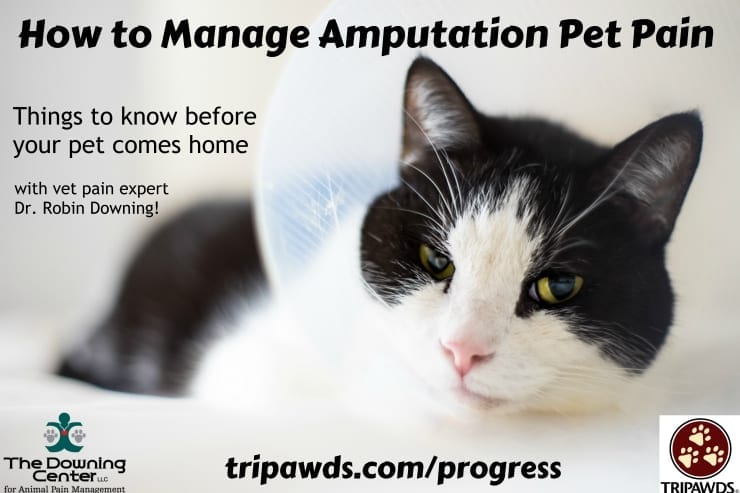 Your pet is much better off if you know the difference between modern pain management protocols and inadequate, outdated ones. Our next video interview with vet expert Dr. Robin Downing dives into the nitty gritty of the newest ways to approach amputation surgery recovery pain.
Tips to Manage Pet Amputation Recovery Pain
What is the ideal medication protocol protocol for post-amputation pain management in dogs and cats? Watch pet pain expert Dr. Robin Downing share how to make sure your pet is getting good post-op recovery relief of acute pain. She also explains the newest methods to deal with pain management by reducing inflammation and addressing nerve pain.
Last but not least, you'll learn Dr. Downing's tips on how to advocate for better pain management with veterinarians who may not be providing the current standard of care. We hope you find it as useful as we did.
Don't miss all

seven videos with Dr. Downing!

Video 1: Why we must advocate for our Tripawds

Video 2: How to know if your pet is in pain

Video 3: The truth about phantom leg pain in Tripawds

Video 4: How to Treat Amputation Recovery Pain in Pets

Video 5: Help manage Tripawd phantom pain with Gabapentin

Video 6: Pet pain quality of life tips

Video 7: How to help a Tripawd age well
Video Transcript:
How to Manage Pet Amputation Recovery Pain
Tripawds: Dr. Downing, what is the ideal combination for amputation recovery pain medications that a member should come home with?
Dr. Downing: So for the acute pain associated with immediate recovery from the amputation, we need to think about decreasing inflammation and decreasing that inflammation in a way that creates sustainable comfort.
One of the things we know about acute pain is if we don't manage it appropriately or aggressively enough, it can turn into a self-sustaining, chronic, maladaptive pain state. So we need to approach that pain from a multimodal perspective. That means a non-steroidal anti-inflammatory drug if it is appropriate for that patient to have it. We also want to compliment that strategy with gabapentin. Why gabapentin? Because gabapentin works on the dorsal horn of the spinal cord and it is good for nerve pain and in an amputation, we have cut a nerve. So we need to address the nervous system.
The non-steroidal anti-inflammatory drug and gabapentin are usually the only two tools that I need for most of my patients.
But that said, I have some patients that have chronic pain before they have their amputation. So those are patients who will benefit from additional tools like some of the neutraceuticals that have been proven in clinical studies to be effective like the UC-II-containing compound that is in the product called Flexadin, the milk protein called MicroLactin that is present in the branded product Duralactin and EPA which is an omega-3 fatty acid at a therapeutic anti-inflammatory dose. All of those pieces work in complement with one another to create a balanced pain approach.
Tripawds: So what is the best way to advocate for the ideal pain relief combination with a veterinarian who may not be as familiar with it?
Dr. Downing: So it's really challenging to think about how can we advocate for an appropriate multimodal pain management strategy with a veterinarian who is not yet enlightened on what that actually means. The good thing is that there are now resources available to help us as pet owners actually advocate on our pet's behalf.
We have for instance the American Animal Hospital Association, American Association of Feline Practitioners, Guidelines for Pain Management in Dogs and Cats, recently updated, updated in 2015. We have the World Small Animal Veterinary Association that has published its guidelines of how to appropriately manage companion animal pain.
These are resources that are readily available to any veterinarian and any pet owner who really wants to take their own learning to the next level. In addition, we have the IVAPM, the International Veterinary Academy of Pain Management, which has great resources for veterinarians and for non-veterinarians to access.
[End of transcript]