We're kicking off Tripawd Tuesday 2020 in a big way: meet seven year osteosarcoma survivor Dexter!
You may remember this handsome Sheepdog from article "AT-014 Canine Osteosarcoma Vaccine Helps Dogs Like Dexter Beat the Odds." That was published in February 2018 and we are thrilled to say that this boy is still going strong. He is one of the longest-lived osteosarcoma survivors that we know about (if not the longest). We are elated that he has beaten that terrible disease.
Meet Dexter, the Incredible Seven Year Osteosarcoma Survivor
We asked his dad Prakash to send a story about Dexter and here it is. Please join us in giving a 3-paws up to Dexter and all the hope he gives to others fighting canine cancer. Yeah!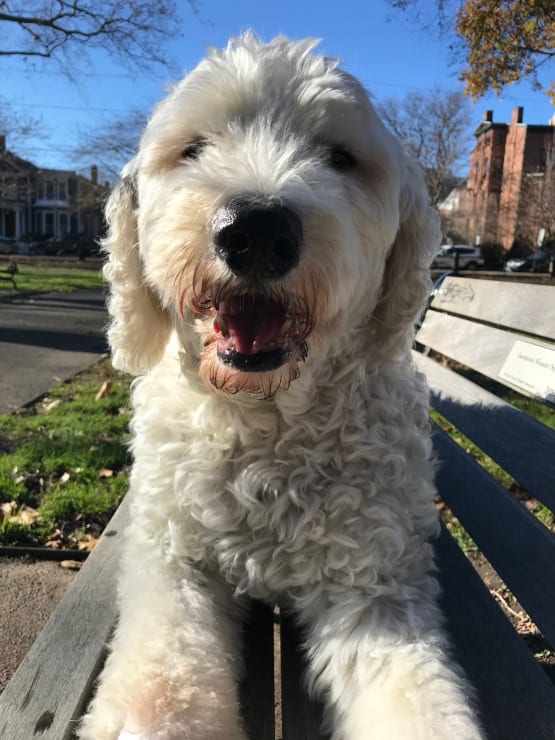 Dexter, an Old English Sheepdog, was born January 11, 2007 in the Poconos, son of Chai and Sammy. When I picked him up at 12 weeks, he was a 38 lb. puppy. He was the oldest and naughtiest of the litter. I knew I was in for a journey.
Dexter went on to go school to be trained where he graduated to serve as a working dog. Dexter had a lot of friends, both humans and dogs. He was adventurous and loved showing up at the neighbors houses sometimes snagging a treat. He loved fall and would run through the leaves to play hide and seek. He loved winter, too. Going out and sitting in the snow for hours. He tried to swim, but didn't like that.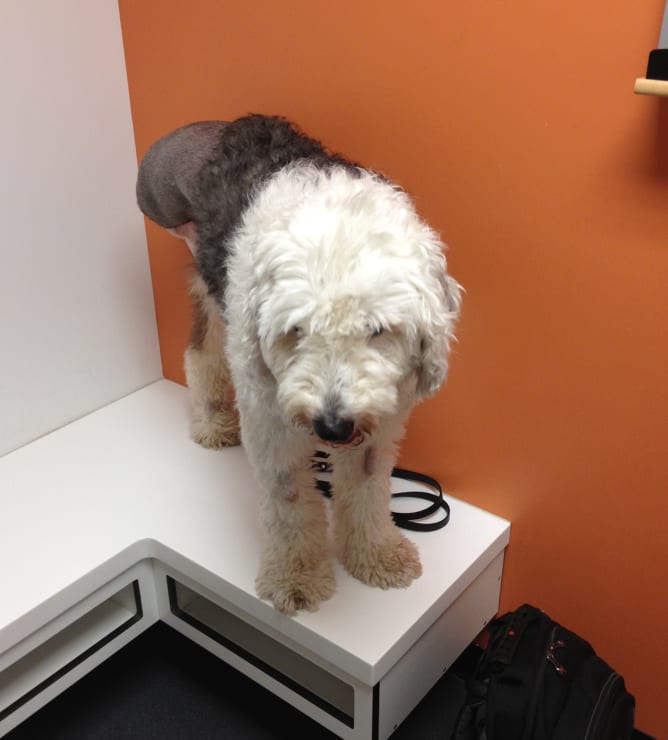 One day in November 2012 he started limping after his walk. Our local vet told us he could have a torn ACL, and the worst case could be osteosarcoma. After a battery of tests at PennVet and a biopsy, he was diagnosed with osteosarcoma on Christmas Eve. His only course of treatment was amputation and chemotherapy with a life expectancy of a few months.
I was in disbelief. We were devastated. We spent a quiet holiday together, reminiscing of the good times and lots of prayers. We had so many good days and didn't know the days ahead. That following January, a week before his 6th birthday, his right hind leg was amputated.
We brought him back home and he played with his football in the back yard. He didn't want any help. I knew he would fight this. By March, he could walk and started running a little. It was like he never lost his leg. We put his shoes on and it helped. His red shoes became his signature style.
Seven Years in Remission, This Osteosarcoma Survivor Turns 13
Chemotherapy followed and he was fortunate to be accepted into an immunotherapy clinical trial at PennVet. As taxing as the trial was, Dexter was also becoming more independent and regaining his strength and stamina. He was running and playing dogs half his age as he had never lost his leg. He enjoyed his daily walks of up to 3-4 miles a day and chasing squirrels.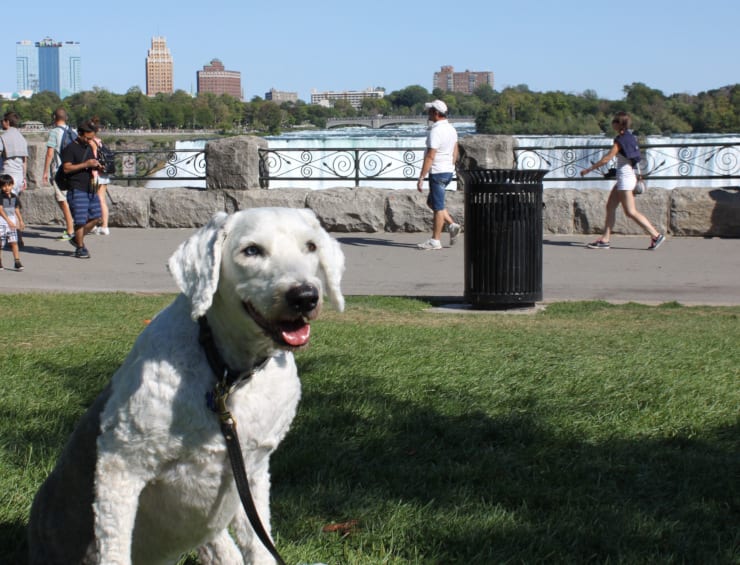 Every day he never ceases to amaze us. He attended our wedding in 2018. We've taken him on many trips from camping in Vermont to Philadelphia. He's been to Niagara Falls in Canada and has his own passport. He loves car rides and even thinks of it as a magic carpet ride.
This Christmas Eve we will be celebrating 7 years in remission. He will be 13 years old January 11, 2020. Even though age has started to catch up, he still doesn't want any help. He tries to do it all himself. These days he's a sleepy sheepy and loves laying in the big bed and gazing out the window. He loves to be with his mom and dad, snuggling and offering plenty of kisses. Slowing down, he needs help walking, and sometimes has to use a walking harness.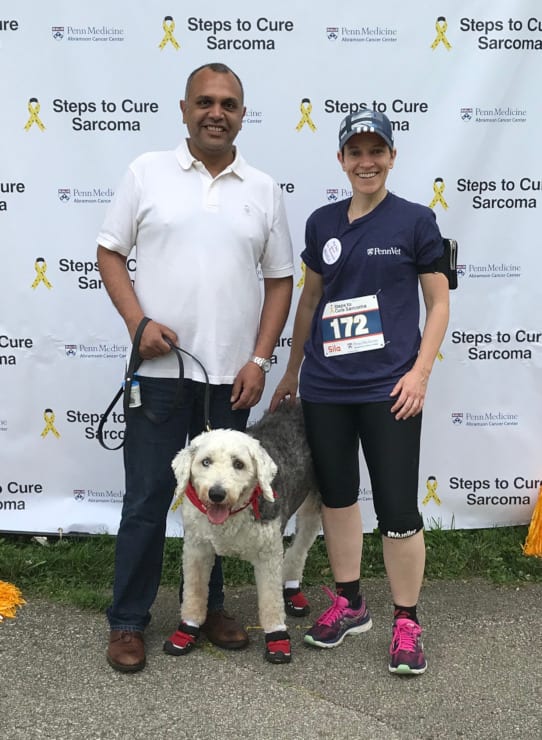 Dexter still loves to go for rides and sit in the park by the house. He loves his weekly salmon and is particularly loving this year's Christmas Tree with the fresh pine needles. Dexter's next big adventure starts in a few weeks when we take a road trip to Texas, our new home.
Your Pet Can Star in Tripawd Tuesday
Each Tuesday, Tripawd dogs, cats and other critters from around the world can enter for a chance to be "Tripawd of the Week." Just share your Tripawd's story and you're entered to win! On every Tuesday of the week, tell us about your three-legged hero. Just follow these easy steps:
In a short paragraph or two (or longer if you'd like!), describe your three-legged hero's story.
Include photos or links to videos already uploaded to YouTube.
Include a link to your Tripawds Forum topic and/or Tripawds blog, social media handles, etc.

Email your story and photos

to us.
All entries must be received by Saturday at 11:59 pm. One Tripawd story will be selected at random to be featured the following Tuesday.