Have you ever had a Tripawd-related question that you wanted to ask but were too shy to post in our Discussion Forums? Do you ever wonder who the heck is behind the scenes at Tripawds.com? Well, now's your chance to find out. Starting in January 2020, a new feature we are calling "Tripawd Tuesday Live!" will air every Tuesday on Facebook.
What is Tripawd Tuesday Live?
We never expected to spend most of our days managing the world's biggest support community for three-legged pets and their people. But that's exactly what Jerry G. Dawg had in mind when he inspired us to start a little blog called "Tripawds."
Today Tripawds is a resource for pet parents around the world whose dog or cat is becoming a Tripawd or has already joined the club. We are endorsed by veterinarians, and we even have the Tripawds Foundation to keep this community going and directly assist Tripawds members.
Many people think that Tripawds is run by a "real" company with staff, but the truth is, it's still just the two of us. Oh, and Wyatt Ray Dawg, your loyal Tripawds Spokesdog! And now, we think it's time to get out into the public to chat and interact on a more personal level. You might even have a chance to meet Wyatt!
Ask Us Anything Tripawd-Related (But Remember, We Aren't Vets)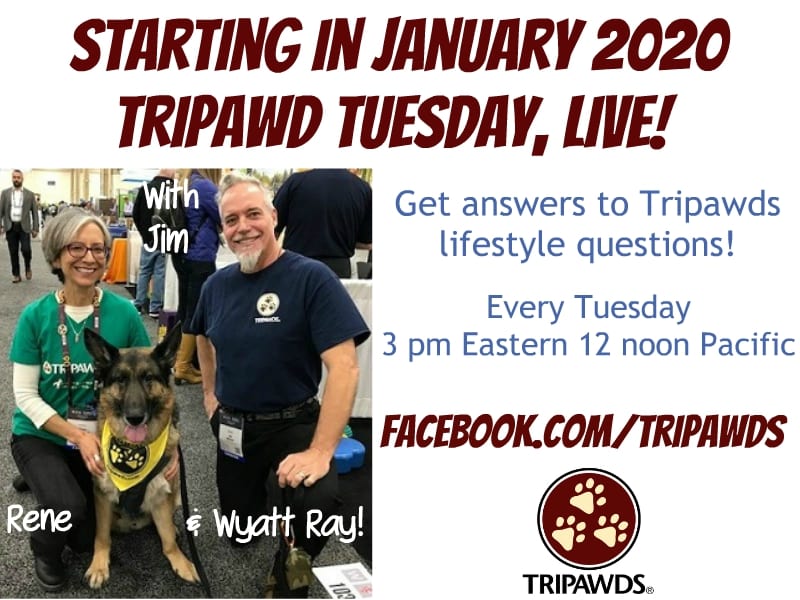 After twelve years as the brains behind Tripawds, we've learned quite a bit about the three-legged lifestyle. From what to expect during amputation recovery to managing the mobility challenges of a senior Tripawd like Wyatt, we've not just gone through it ourselves but we have interviewed dozens of veterinary experts to get answers.
And now, we'll share what we know with you via a live interactive discussion every Tuesday. Starting January 7, 2020, join us for "Tripawd Tuesday Live!" at 3 pm Eastern, 12 noon Pacific.
Just hop on over to the Tripawds Facebook Page for a ten to fifteen-minute chat about all-things Tripawd.
We'll do our best to answer your three-legged lifestyle questions. And remember, we aren't vets, so please save those specific medical questions for your veterinary team.
UPDATE:
Bookmark and subscribe to this Tripawds forum topic for updates and post your questions for Tripawd Tuesday Live Q&A sessions…