Amputation for bone cancer isn't the answer for all pets, and that's OK. Sometimes other types of palliative care needs to be considered. Today we re-examine one such option in a bisphosphonates bone cancer treatment update with Dr. Jeannette M. Kelly, DVM Diplomate ACVIM, Oncology, of the Veterinary Cancer Care clinic in Santa Fe, New Mexico.
Dr. Kelly Gives a Bisphosphonates Bone Cancer Treatment Update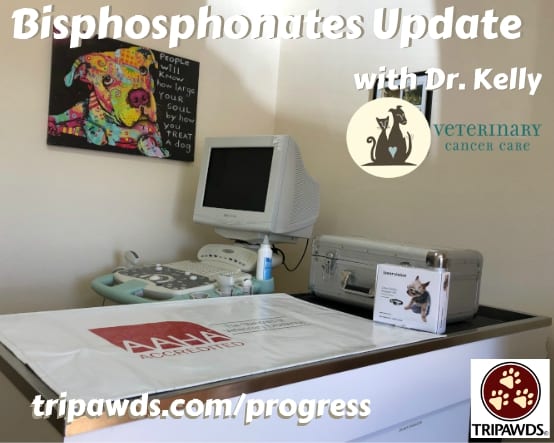 First, if you missed our two previous pet cancer treatment news updates with Dr. Kelly, don't forget to check out:
and
Today we are pleased to bring you another discussion with Dr. Kelly. As an enthusiastic advocate for unconventional but proven pet cancer therapies, she has also led the way in bisphosphonates bone cancer treatments.
What is a Bisphosphonate?
Zoledronate, a bisphosphonate drug, is given to help slow or prevent bone lysis, thereby strengthening bone. Bisophonates have been shown to provide pain relief in up to 50% of dogs. These drugs are usually used in combination with chemotherapy and/or radiation therapy, but may occasionally be used alone. — University of Florida College of Veterinary Medicine Small Animal Hospital, "Osteosarcoma in Dogs."
We discussed this palliative therapy with her back in 2010. Here's what she says in the blog post:
Bisphosphonates: When Amputation isn't an Option
When we interviewed her this year, we wanted to check in to learn if bisphosphonates are still a good therapy for dogs and cats who are not undergoing amputation for bone cancer. The good news is: yes! It can also be used to treat osteoarthritis in some patients. Here's what Dr. Kelly told us about bisphosphonates today in 2019:
How are Bisphosphonates used in Veterinary Cancer Care?
We are so happy to know that bisphosphonates are still viable for pets with bone cancer. Cats can also receive this treatment, according to Dr. Kelly.
If you are in a situation where your own bone cancer dog or cat is not a good candidate for amputation, ask your oncologist about this helpful therapy.
Transcript: How are Bisphosphonates used in Veterinary Cancer Care?
Tripawds: So how do you use bisphosphonates in your practice?
Dr. Kelly: They're nice. We use Zoledronate regularly. Dogs with bone cancer or bone metastasis, right? And they're uncomfortable. Once a month, once every two months. Slow infusion over 30 minutes. It's nice.
It helps relieve their discomfort and bone pain is a horrible type of pain and there's only so much you can do with non-steroidals or morphine types of drugs and a bisphosphonate and we do know that bisphosphonates can help build bone, strengthen the bone.
We do know that it has anti-cancer properties as well. They've shown that in the petri plate. So it's – it can hurt the kidneys and you can have side effects. We don't see side effects. So we use it regularly and people's dogs can do what they like to do when they're on Zoledronate.
Tripawds: Is that your preferred drug to use?
Dr. Kelly: There's Pamidronate. It's cheaper by far but it's a long infusion time and it's – the Zoledronate, you just come in and you get it and you're out the door and it's a much kinder, nicer way to go.
Tripawds: What about for cats? Can they get an infusion?
Dr. Kelly: Oh, yes. I don't have any cats that I've given Zoledronate to. Interesting.
[End of transcript]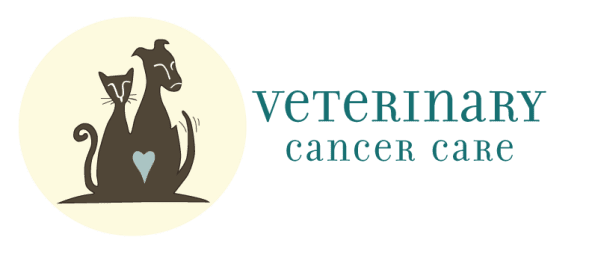 Many thanks to Dr. Kelly and the terrific team at the Santa Fe Veterinary Cancer Care clinic for helping us share this information with you. Stay tuned for next week's Tripawds News blog post about the intralesional chemotherapy pet cancer treatment option!