Cats and dogs aren't the only animals who can be happy Tripawds. From sea turtles to ponies, many different critters can have a great quality of life on three legs. Today's Tripawd Tuesday is one of the most adorable Tripawds we've heard about: Mason the Lamb.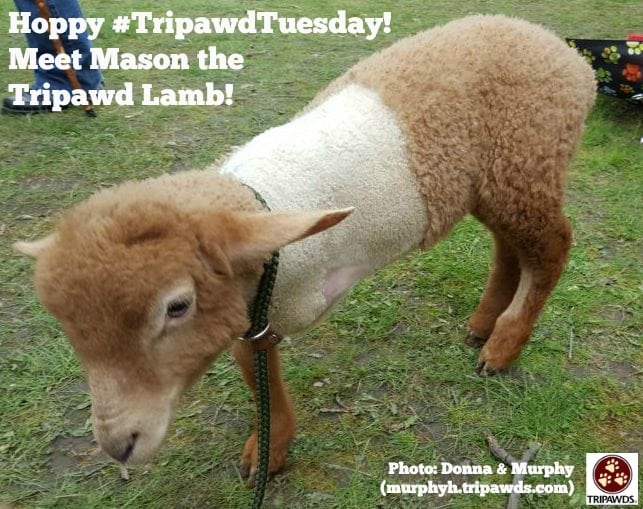 Tripawd Murphy wrote about Mason recently.
He had his surgery on April 16th out at Michigan State University – now, we were at MSU on April 16th for their Celebration of Life ceremony with Murphy.  During our tour of the facility, someone came around a corner just as we passed by and walked down the hall the way we had just come and they were carrying a little lamb!
This little sweetheart was saved by the amazing humans of The Devoted Barn, an animal rescue organization in Newport, Michigan. This unique organization works with at-risk youth and special needs adults to help care for animals saved from terrible conditions. The fine vets at Michigan State University College of Veterinary Medicine help the Devoted Barn with medical care.
Mason's case was a dramatic one. He was unable to stand on his left front leg, which was extremely swollen. Clinicians at the Hospital performed radiographs, which showed that Mason had a serious infection in the bone and joint.– Read More
Mason's condition eventually required amputation. Thankfully MSU raises money for a "Big Babies Fund" that helps offset some of the costs of care for groups like the Devoted Barn. Mason had his surgery in April and is clearly doing great! Check out the Devoted Barn's Facebook page for updates.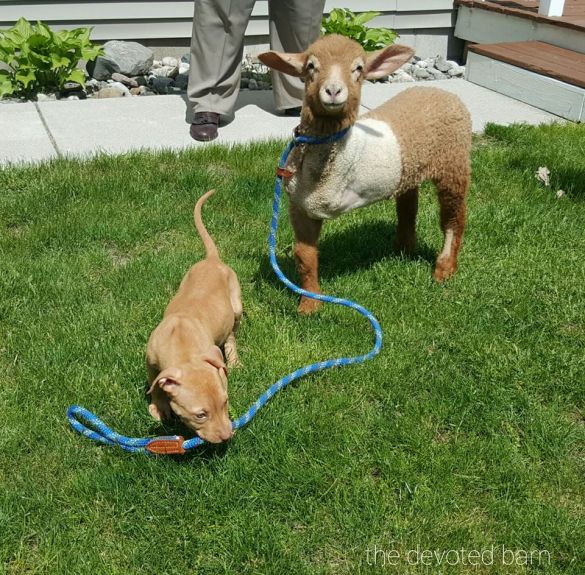 A big 3-paw salute to Murphy and Donna for sharing this great news with us!
Read All Tripawd Tuesday Stories
Share Your Tripawd Tuesday Tale
Each Tuesday, Tripawds from around the world can enter for a chance to be "Tripawd of the Week." Just share your Tripawd's story and you're entered to win! On every Tuesday of the week, tell us about your three-legged hero here in the Tripawds Discussion Forums or on the Tripawds Facebook page. Just follow these easy steps:
In a few short sentences, describe your three-legged hero's story.
Include a photo or video.
Include a link to your Tripawds Forum topic and/or Tripawds blog, social media handles, etc.

All entries must be received by Saturday at 11:59 pm. One Tripawd story will be selected at random to be featured the following Tuesday.