The 2016 AAHA Conference enabled the Tripawds Foundation to reach more vets than ever before. As a bonus, we got to attend educational sessions about veterinary topics near and dear to us, like oncology and pain management.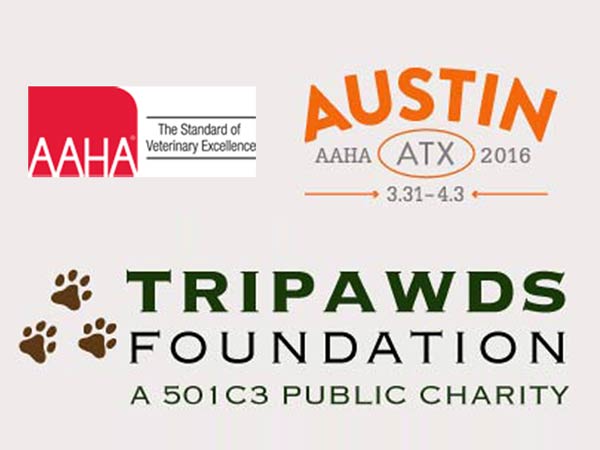 Today, check out what we learned in the seminar called "Osteosarcoma in Dogs: New Therapeutic Advances."
Osteosarcoma in Dogs: New Therapeutic Advances
We're biased: osteosarcoma hits home hard with us because it's the reason why Tripawds began. Paws down, this was our favorite session. It was presented by Dr. Nicole Ehrhart, DVM, DACVS, Professor, Surgical Oncology at Colorado State University's Flint Animal Cancer Center and Nicola Mason, BVetMed, DACVIM, Associate Professor of Medicine & Pathobiology, University of Pennsylvania School of Veterinary Medicine. Dr. Ehrhart kicked it off with osteosarcoma news such as:
Osteosarcoma Biopsies: FNA versus Bone Biopsies

According to Dr. Ehrhart, it's understood that a Fine Needle Aspiration (FNA) "will frequently yield enough cellular information to differentiate between neoplasia versus inflammation." FNAs are preferred over bone biopsies for typical presentations. This biopsy method has about a 95% accuracy rate in determining the presence of osteosarcoma cancer cells, without the painful recovery from a bone biopsy. Dr. Ehrhart added that a bone biopsy should be done when osteosarcoma presentation isn't in a typical limb location, such as the distal radius or proximal humerus.
Osteosarcoma Staging: PET-CT Scans

A CT of the chest is much more sensitive than x-rays for picking up metastatic disease before amputation surgery. However, the newest gold standard technology for staging osteosarcoma is a PET-CT scan. This diagnostic tool combines both a whole body scan and a CT scan, with costs that are similar to a regular CT or MRI. Colorado State's Flint Animal Cancer Center has a great explanation of the PET-CT scan diagnostic.
Here are some important facts Dr. Ehrhart shared about the current status of treating osteosarcoma:
Osteosarcoma Palliative Care Options:

No Amputation / Pain Management Only: Average survival time 3-5 months. Pain management includes oral medication and bisphosphonates.
No Amputation / Limb Salvage Surgery

This is a

viable option for the right candidate. Unfortunately it comes with a 50% infection rate, "but if the animal gets infected they can live longer," explains Dr. Ehrhart. Numerous limb sparing studies she's led prove this finding.
No Amputation / Stereotactic Radiation Therapy for Pain Management: Stereotactic Radiation Therapy (SRT) to alleviate pain is becoming more widely available for dogs who aren't amputation candidates. The advantage of SRT is that pain relief can be achieved in just three high dosage treatments, versus 18-25 low dosage treatments for conventional radiation therapy. According to Dr. Ehrhart, if SRT is given along with chemotherapy (and no amputationd), SRT can still boost average survival times similar to dogs who did undergo amputation and chemotherapy.
Osteosarcoma "Definitive Intent" Treatment (Chemotherapy):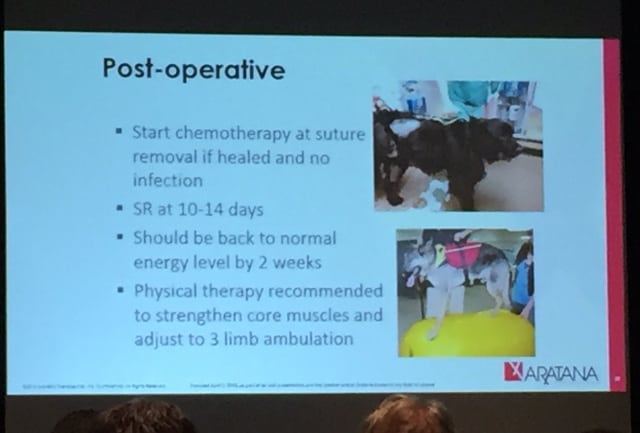 For osteosarcoma, it's still agreed that the current gold standard of chemotherapy treatment is still four to six treatments of carboplatin, given three weeks apart.
Sadly, over the last 25 years survival rates have remain unchanged, even for dogs who undergo chemotherapy. Less than 15% of dogs will make it to two years post-diagnosis before metastasis occurs in common places such as the lungs, with other bones being the second most common site.
"We really seem to be stuck at that 300 day survival time mark," says Dr. Ehrhart. "We're not making improvements no matter how we slice it."
Novel Therapies for Canine Osteosarcoma
But take heart: the news about canine osteosarcoma wasn't all bad. In fact, things are about to change for the better. Dr. Mason's groundbreaking immunotherapy research, which includes the Her2/neu vaccine that Tripawds member Bentley and Sasha the Bulldog participated in, is leading the way.
Dr. Mason's vaccine work is explained in more detail in this PDF but in short the Her2/neu osteosarcoma vaccine has shown remarkable survival rates for dogs who have already been diagnosed with osteosarcoma and underwent limb amputation and chemotherapy. Here's how Dr. Mason explains the vaccine:
"The vaccine is composed of a genetically modified bacteria called Listeria that expresses a tumor marker known as Her2/neu. The concept behind the vaccine is that the bacteria will stimulate the patient's immune system to kill the bacteria and also to kill cells that express Her2/neu. This target is expressed on approximately 40% of canine osteosarcomas. If the immune system is appropriately 'awakened' by this vaccine, then it is expected that immune cells will find and eliminate any remaining cancer cells that have avoided the standard chemotherapy" (READ MORE)
The Her2/neu vaccine study showed an astonishing median survival rate of 956 days for 18 dogs with osteosarcoma. Yes, that's a 956 day average survival rate!
Thanks to the generosity of pet parents who participated in this clinical trial for Dr. Mason's work, 67% of those 18 dogs in the osteosarcoma vaccine study reached the two year survival milestone!
Dr. Mason is also currently studying how to help dogs who aren't good candidates for amputation, by combining the osteosarcoma vaccine with traditional palliative radiation therapy. The goal is to see if the vaccine can affect the primary osteosarcoma tumor. It's looking very promising as a palliative treatment for dogs who aren't amputation candidates.
The Her2/neu vaccine is definitely a game-changer. Along with the amazing, visionary support from Aratana, an animal health company dedicated to developing novel therapeutics for cancer, pain management and other animal conditions, the Her2/neu vaccine will become a reality very soon.
After the #AAHA2016 osteosarcoma breakthroughs presentation we had the honor of briefly meeting Drs. Mason and Ehrhart. They are such brilliant, groundbreaking scientists! When Dr. Ehrhart discussed the osteosarcoma vaccine and said "This is the first time I've had this much hope," our hearts soared with joy! Thanks to the dedication of these awesome veterinarians and Aratana, more dogs with osteosarcoma will thrive longer than ever before.
Stay tuned for more news from #AAHA2016!