What a week! The amazing response we received from the veterinary community at the American Animal Hospital Association Conference was beyond our wildest dreams! We met and reconnected with so many great people from the vet community.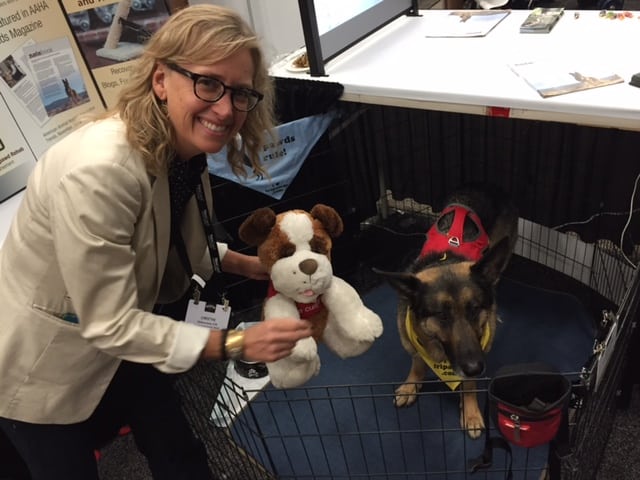 For three days, hundreds of vets, vet nurses and practice managers stopped by our booth to ask about what we do or just give us 3-paws up because they already had Tripawds Outreach Brochures in their lobby. We even met a veterinarian from Bejing, China who was so excited to tell her clients about this community!
In almost a decade as Tripawds, we've never been able to reach so many in the veterinary community at a single given time. We had long, thoughtful conversations with people, all who understand the value of providing education about life on three legs for cats and dogs.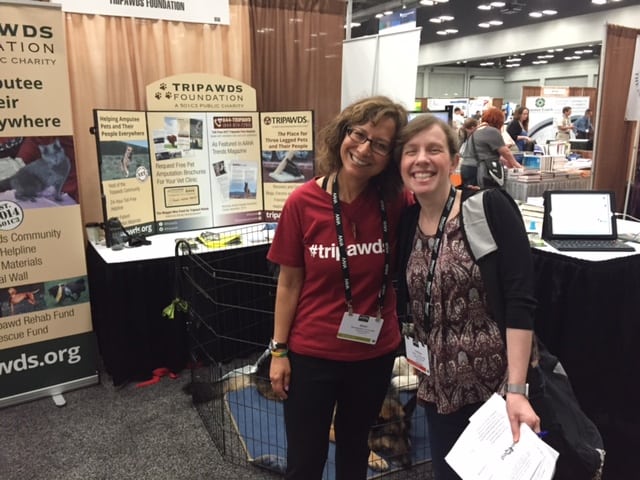 A great big SHOUT OUT to everyone in this community who helped with donations that allowed us to exhibit at AAHA 2016. We couldn't have done this without your help!
Spirit Jerry Was In Charge
Even more incredible, we had unexpected reunions with three key people who treated Tripawds Founder Jerry during the early stages of his osteosarcoma diagnosis. We haven't seen these folks since 2007 and if it weren't for them, who knows if Tripawds would even exist? Clearly, Jerry was orchestrating these crazy reunions.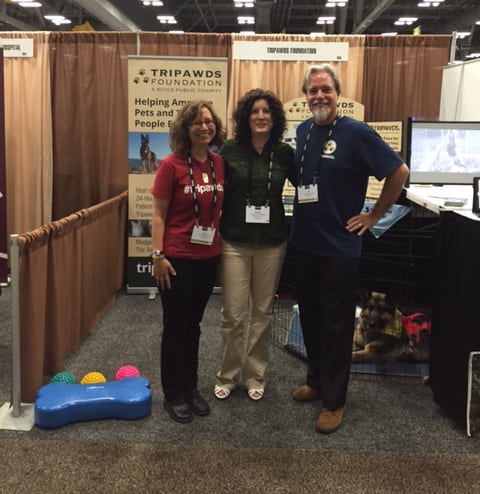 For example, what a surprise to bump into Jerry's first vet, still practicing in Eureka, California. This man taught us the value of getting a second opinion. Then we had a joyous reunion with Dr. Andrea Christenson (pictured above) now at Woodinville Vet in Washington State. Dr. Christenson was that awesome, forward-thinking "second opinion vet" who urged us to visit her alma mater, UC Davis, for amputation and oncology care. We love her to pieces!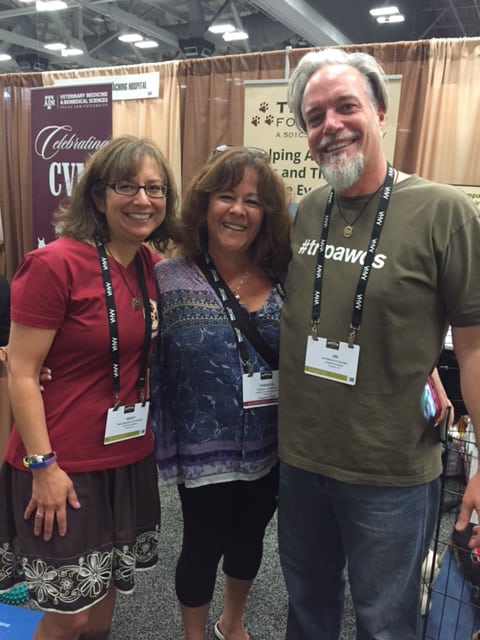 Last but not least there was an unexpected visit from our dear friend Theresa, who we've known for decades but lost touch with in 2007. Theresa has always worked at the UC Davis Vet Teaching Hospital. In November 2006, she was able to get Jerry into diagnostics and surgery at a moment's notice. Even better, she was at the AAHA conference with her boss, the UC Davis hospital manager, who is excited to get the Tripawds Outreach Brochures into the hospital lobby!
We met so many folks whose lives were touched by YOU, Tripawds Nation. You helped make their journeys easier…thank you! We'll share one very special story in an upcoming news blog post, because their video deserves a special spotlight.
Tripawds Education and News, Coming Up!
Beyond the outreach we accomplished, we also filled our heads with the latest news in amputation surgery, pain management, oncology and rehab therapy.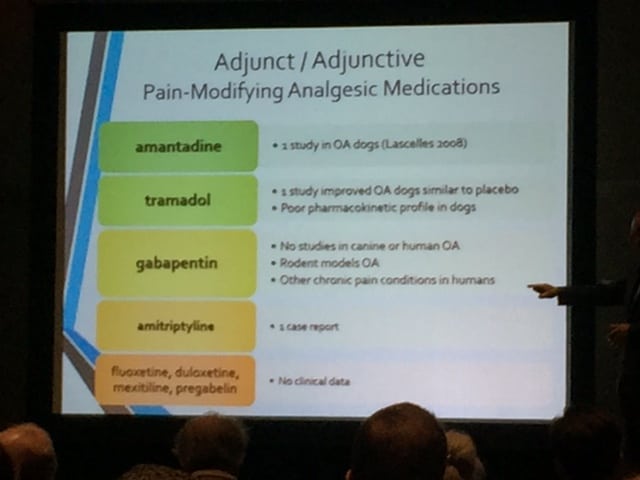 Classes were led by some of the world's leading vet scientists and care givers from major institutions like Colorado State, University of Pennsylvania and private practice oncology treatment centers. Here are just a few classes we attended:
"How Do You Know They Hurt? Assessing Acute Pain in Cats and Dogs"
"Osteosarcoma in Dogs: New Therapeutic Advances"
"Metronomic Therapy: When a Little Goes a Long Way"
Imagine our surprise when on more than one occasion, presenters gave the Tripawds Nation a shout-out and recommended that vets refer their amputation candidates to our community.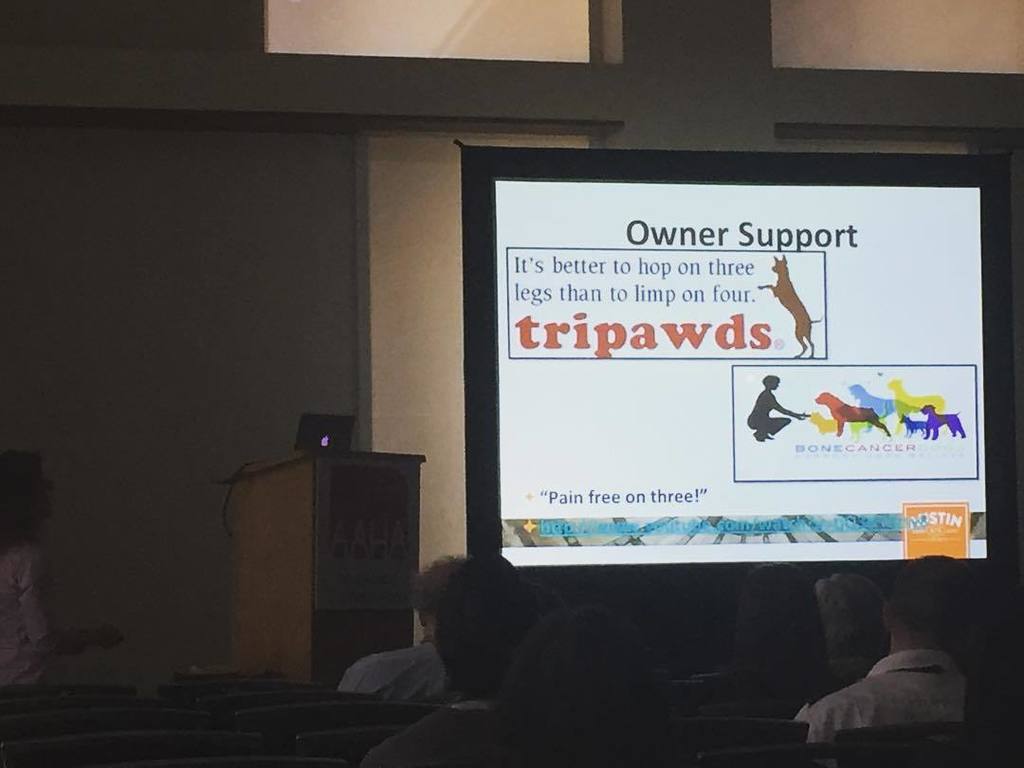 This marks a huge accomplishment in Tripawds Community history. Thank you everyone! In the coming months we'll share key points about surgery, recovery and rehab from all of the informative sessions, so stay tuned!