Veterinary oncology is a relatively new field in animal medicine, and there less than 500 board-certified oncologists in the entire U.S. Recently, Tripawds was lucky enough to spend time with one of the first and most knowledgeable veterinary oncologists, Dr. Mona Rosenberg.
Dr. Rosenberg spoke to us about a recently published study which has changed the recommended standard of care for treating canine osteosarcoma. This study was presented at the October 2009 Veterinary Cancer Society conference and was conducted by UC Davis' Dr. Katherine Skorupski. The study's abstract states:
"Results: 36 dogs received carboplatin alone, 18 were randomized to receive carboplatin AND doxorubicin. Carboplatin alone is 535 days compared to 200 days for dogs receiving Carboplatin and Doxorubicin (p=0.013). The median survival for dogs receiving Carboplatin alone is 572 days compared to 229 days in dogs receiving Carboplatin and Doxorubicin (p=0.007).

Conclusion: These preliminary results suggest that 6 doses of Carboplatin may be superior to 6 total doses of Carboplatin and Doxorubicin as adjuvant chemotherapy for appendicular OSA. Continued enrollment and data maturation is necessary to confirm these findings."
UPDATE (July, 2014): Please see this more recent Tripawds News blog article for more relevant information regarding the effective number of chemotherapy treatments, based on more current clinical studies.
How Many Chemotherapy Sessions are Best for Osteosarcoma in Dogs?
In this 2010 video below, Dr. Rosenberg briefly shares the history of her groundbreaking practice, the Veterinary Cancer Group of Southern California, and she also discusses the new recommendation for treating canine osteosarcoma.
Dr. Rosenberg's practice is the largest private practice veterinary oncology group in the U.S. Step inside of a Veterinary Cancer Group office, and you'll see how their welcoming staff and bright, sunny decor can help take the fear out of cancer care.
Every staff member takes an interest in the animals who walk through the door, showing compassion and love from the time the patient arrives until they go home. In our previous Tripawds News post about VCG, you can watch Dr. Rosenberg's staff in action as Daisee gets her first chemotherapy treatment.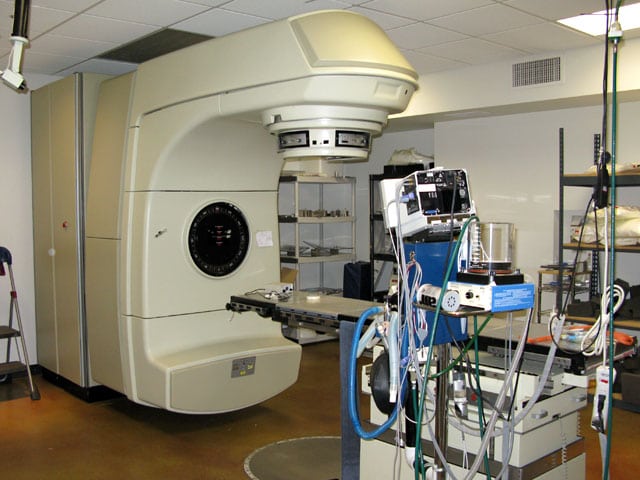 Patients like Daisee who are treated at VCG clinics have their own personal team of specialists to help them fight cancer.
Each morning, doctors, residents and technicians at all three clinics hold conference calls to discuss individual patients, and provide valuable feedback and support to each other.
This ensures that every patient receives the most comprehensive, cohesive and effective care possible.
With three different locations throughout Southern California, Dr. Rosenberg's practice has staff, technology and resources that are unrivaled in most of the country. They are also only one of a handful of oncology centers with a private practice American College of Veterinary Internal Medicine (ACVIM) Accredited Oncology Residency Program, which attracts only the best and brightest veterinarians.
Stay tuned for another conversation with Dr. Rosenberg about the Metronomic Protocol for treating canine cancer, as well as her thoughts about immune boosting supplements after a cancer diagnosis is made.
Tripawds sincerely thanks Dr. Rosenberg and her staff at the Veterinary Cancer Group for allowing us to bring this important information to you.
Since 1992, the Veterinary Cancer Group of Southern California has been committed to taking the fear out of cancer and providing in-depth information and access to the latest treatments.
The Veterinary Cancer Group is the largest, most comprehensive and sophisticated veterinary oncology practice in the world, staffed by leading board-certified medical and radiation oncologists, oncology residents, technicians, assistants and client care specialists. Learn more about the Veterinary Cancer Group of Southern California by visiting their website at vetcancergroup.com
See More Current Information:
(2014) How many chemotherapy sessions are best for osteosarcoma in dogs?
Catch the other two parts of our visit to the Veterinary Cancer Group:
(2010) Chemotherapy Session for Daisee Dog
(2010) Dr. Rosenberg's Thoughts on Metronomics and Supplements