Pictures are worth a thousand words, which is why having your own Tripawds blog is so helpful for anyone considering amputation for a cat or dog. This is why today on Tripawd Tuesday we're sharing Millie's Amputation Recovery Story with a few photos that say it all. Enjoy!
Millie Recovers from Amputation, the Early Days
The first few days after bringing your cat or dog home from surgery are scary. We can't help but wonder if things will be OK.
But slowly, that little sparkle comes back and before you know it, our new Tripawd is hungry and getting around.
Nothing comes close to the feeling you get when you know for sure that you made a good decision for your furry companion. A sense of relief prevails as they get on with the business of living life. We have so much to learn from our Tripawds!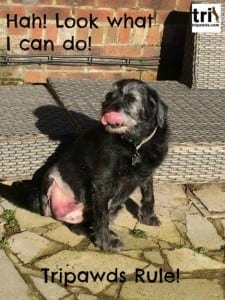 We haven't heard from Millie in a while so we're hoping she will see this and update soon. 3-paws up to Millie, Tripawd heroes and pawrents everywhere!
Share Your Story on Tripawd Tuesday
Each Tuesday, Tripawds from around the world can enter for a chance to be "Tripawd of the Week." Just share your Tripawd's story and you're entered to win! On every Tuesday of the week, tell us about your three-legged hero here in the Tripawds Discussion Forums or on the Tripawds Facebook page. Just follow these easy steps:
In a few short sentences, describe your three-legged hero's story.
Include a photo or video.
Include a link to your Tripawds Facebook page, Forum topic and/or Tripawds blog (if applicable)
All entries must be received by Saturday at 11:59 pm. One Tripawd story will be selected at random to be featured the following Tuesday.