OK folks it's really happening! This Sunday at 9:30 AM Pacific Time, you can register for the Tripawd Fitness and Conditioning Class, which starts April 1 – but we need at least six participants to enroll to make this happen.
Every Tripawd dog needs to take this fitness  course, which you can do at home for a fraction of the cost of on-site canine rehab therapy. You'll learn from the experts in canine conditioning, Fenzi Online Dog Sports Academy and world-renowned canine fitness expert, Dr. Debbie Gross, DPT, MSPT, Diplomat ABPTS, CCRP.
Learn how to safely and effectively keep a canine Tripawd lean and strong, all from home in a go-at-your-own-pace online class. The class will cover topics like:
Beginning Exercises for Tripods
Forelimb AND hindlimb Amputations and Considerations
Weight Management
Considerations for Allowing the Tripod to Live the Best Quality of Life
Check out the entire syllabus here. Register as soon as possible to ensure participation in the class!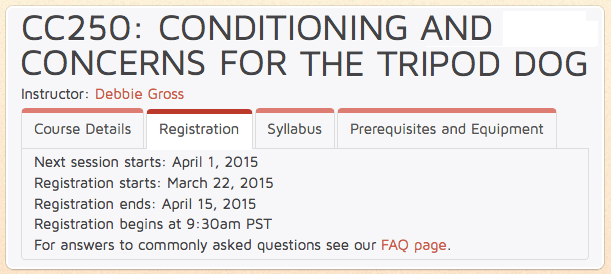 Recommended Reading
Plan Ahead for the First Tripawds Fitness Course
First Online Tripawd Fitness Course Starts Soon!
Conditioning and Concerns for the Tripod Dog
The Tripawd Conditioning School Supply List
FitPAWS Balance Discs
FitPaws Peanut
FitPAWS K9FitBone