When a dog or cat must undergo a limb amputation, a good rehabilitation therapy program is key to a healthy, strong life on three legs. Take Flash, for example. He made a great recovery after a hemangiopericytoma diagnosis with lots of canine rehabilitation therapy. Today for Tripawd Tuesday, Flash's mom Jennifer Mohammed-Stanley graciously shares his amputation recovery and rehab story with us. We know you'll find it as inspawrational as we do!
Flash just recently turned 10, and the best American Bulldog we have ever come across. His spirit is unfaltering, and he does his very best to make everyone smile that comes into his life.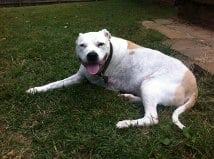 He was first diagnosed with a hemangiopericytoma back in 2009. What started as the size of a pea on his front left leg, after three surgeries, became the size of a grapefruit. We removed the tumor three times over three years, but kept coming back, each time more aggressively.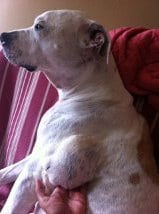 After an unexpected incident, we decided to have an MRI, we made the difficult decision at that point to remove the leg, and rid him of the cancer that had haunted his body for almost four years. We were happy to hear the wonderful news that Flash is now cancer free after the surgery in April this year!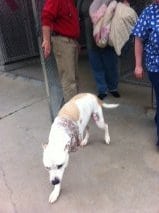 Flash has developed severe arthritis in his remaining front leg, and the best option for him now was to undergo rehab. The wonderful staff at the University Of Tennessee vet hospital rehab department in Knoxville, is doing wonders for him.
He started therapy with the water treadmill, and has actually starting small laps in the pool at the hospital. This will help rebuild his strength and mobility.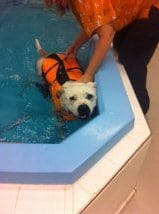 He is even losing a few pounds to aid with his mobility as well. We are so very proud of Flash for coming such a long way. His tail is always wagging, even if he is completely exhausted from his therapy.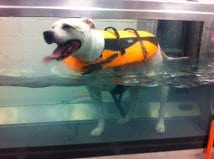 Flash still has no problem running to the kitchen to get an ice cream treat, and running with our two other pups playing in the yard. He loves to lay in the sun, and loves to sleep on his back with legs in the air.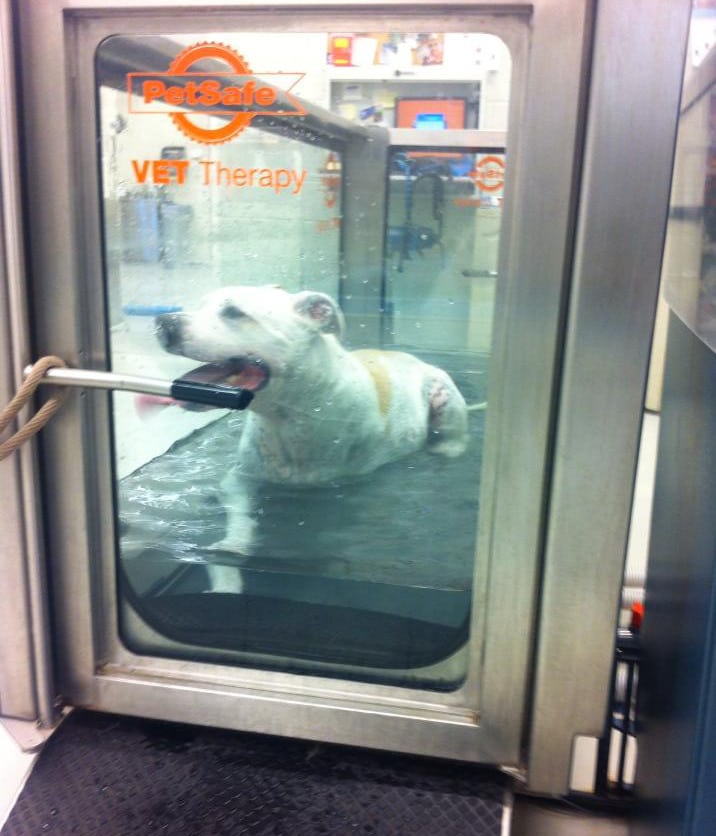 We love this pup, and so very glad to have him around. He has an amazing spirit, and has most certainly taught us humans a lesson in never giving up.

How to Get Featured on Tripawd Tuesday
Each Tuesday, Tripawds from around the world can enter for a chance to be "Tripawd of the Week." Just share your Tripawd's story and you're entered to win!
On every Tuesday of the week, tell us about your three-legged hero here in the Tripawds Discussion Forums or on the Tripawds Facebook page. Just follow these easy steps:
In a few short paragraphs, describe your three-legged hero's story.
Include a photo or video.
Include a link to your Trpawds Facebook page, Forum topic and/or Tripawds blog (if applicable)
All entries must be received by Saturday at 11:59 pm. One Tripawd story will be selected at random to be featured the following Tuesday.
Recommended Reading
Tripawds Gear Blog: Libby Goes for a Swim
Tripawds Gear Blog: K9 Float Coat Helps Dogs Become Better Swimmers
Tripawds Downloads Blog: Loving Life on Three Legs Rehab Book Helps All Tripawds