Tripawds is proud to announce we are now part of the Pet360 network of pet parents dedicated to sharing the best information and resources for dog and cat lovers. As a Paw-tastic blogger, we enjoy the benefits of forums, chats, advice, pet food and product savings and much more.
As a member of the Pet360 community, you too can:
Get alert & recall info about your brands 24/7
Connect & share your with other Pet Parents
Receive custom news, articles & tips
Learn about products specific to your pet's needs
Why Join Pet360?
The Safety Center in your pet's profile is reason enough to create a Pet360 account. Simply enter your dog's or your cat's favorite pet food and treat brands to be automatically notified of any recall notifications or other safety alerts. Add as many profiles as you need for each of your pets to make sure everypawdy is safe!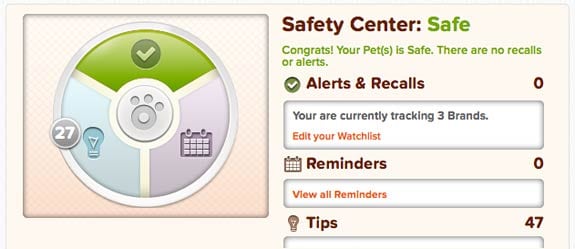 Visit your Safety Center Dashboard anytime to review current notifications and learn tips from pet professionals from veterinarians to animal behaviorists and trainers. Use the calendar feature and set reminders to get notified when you need to order food or medications, or send yourself a notice about upcoming events.
The Pet360 community features so much more!
Read important pet industry articles or subscribe to your favorite pet blogs about topics ranging from helpful pet parenting tips and animal welfare to health and wellness or pet celebrity news.
Participate in forums or chat with others to talk about anything from breed specific issues for cats and dogs, to senior pet health, pet loss, and more.
Discussion forums, message boards, Q&A, behavior and training, health and wellness, and did we mention shopping?
Pet360 is your one stop shop to save on all major brands for cats and dogs. Find the best food, medications, treats, furniture, toys and everything for the home or traveling with your pet. Fine tune your search to items Made In The USA, only those that are GMO-Free or with natural ingredients. Select items specifically for a cancer diet or many other special conditions.
Pet360 is also a licensed online pharmacy in most states. Take advantage of auto-ship programs, frequent special offerss and always enjoy free shipping on any order over $49.00 — every day, with no promo code required.
We've just begun to scratch the surface of this pawesome pet parent community. Join for free to discover the amazing benefits of the Pet360 community!