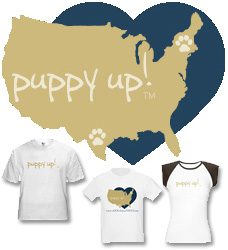 The Big Dog at 2Dogs2000Miles.org has just launched a web store featuring the new Puppy Up!™ brand on apparel for dogs, and people too.
Puppy Up! Now isn't that just brilliant? I'd like to consider that the new "Live Strong" battle cry for us canine cancer survivors. But what's even better is that proceeds from the Puppy Up! store will go to the 2 Dogs 2000 Miles Foundation for Canine Cancer Prevention and Awareness.
And now you can tell everyone you know to Puppy Up! with a T-shirt for your dog, or one for yourself. You'll also find sweatshirts, ornaments, mugs, bumper stickers, and much more!
If you missed my post about this walk for a cure, you can read all about this incredible journey and the memories of Malcolm on the Puppy Up! blog.
As you may know, I have my own Tripawds Gift Shop complete with three-legged dog merchandise and gifts.