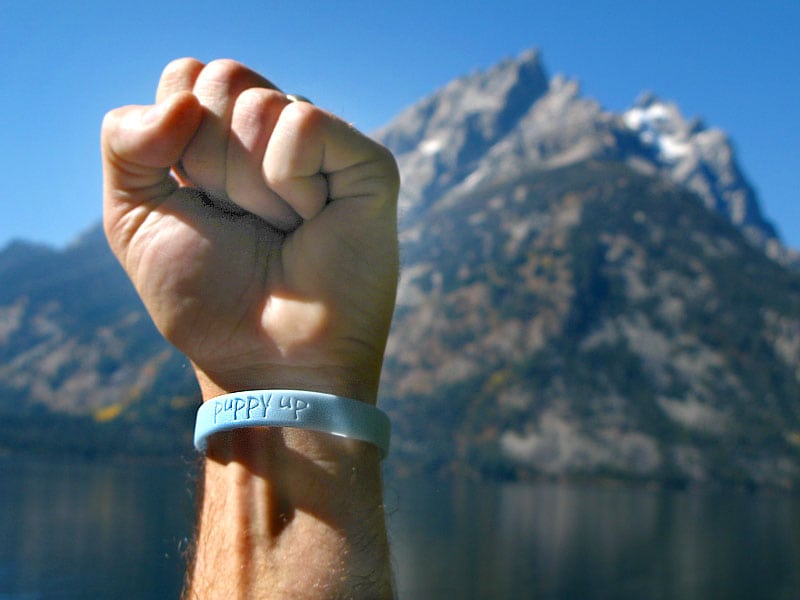 Something that always kept me and my people going was the thought of all the other dogs out there fighting their own cancer battle, and all their wonderful people supporting the cause of cancer awareness.
One such incredible pack is Luke Robinson, Hudson and Murphy.
If you don't know about the Big Dog and the Boys – or haven't checked on them in a while – drop by the  2 Dogs 2000 Miles Blog to find out where they are now. And don't forget to Puppy Up!
Puppy Up! is the motto they came up with for their walk, and Luke and the boys are doing just that. By walking from Austin to Boston in memory of Malcolm, they are raising awareness of cancer and funds for research.
Since leaving Austin, they have made it to Jackson, Tennessee (so far). They have already encountered many challenges along the way, made many new friends, and gained lots of support. But they have a long way to go. Check out the Puppy Up! store for apparel and gifts to help spread the word and support the cause.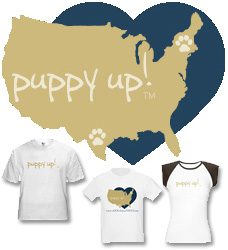 My people proudly wear their Puppy Up! wristbands. And whenever I was feeling tired, I would think of that motto and quickly remember that every day is a great day.
While I couldn't walk with the Big Dog, I'm glad I got to meet him and the boys. And I hope he knows that Malcolm and I are right their by his side in spirit every step of the way.
Since we're on the 2 Dogs – 2000 Miles topic … be sure to submit your dog and  story for their 2009 Canine Cancer Calendar.
This calendar will not only help get the word out about canine cancer, but also be a lasting tribute to beautiful cancer dogs – perhaps yours!
And if you happen to see a couple big shaggy dogs – and an even shaggier dude – hiking through your town, stop to give them some water and a pat on the back. And tell them Jerry is looking out for them.