Some people wonder if big dogs have it ruff when they join the Tripawd club. Well, all you need to do is look at a stunningly gorgeous lady like 5-year old Darcy Deerhound, and you'll see how much pure strength and resilience a statuesque gal like her has, and how easy it is for dogs of any size to bounce back from amputation and chemo.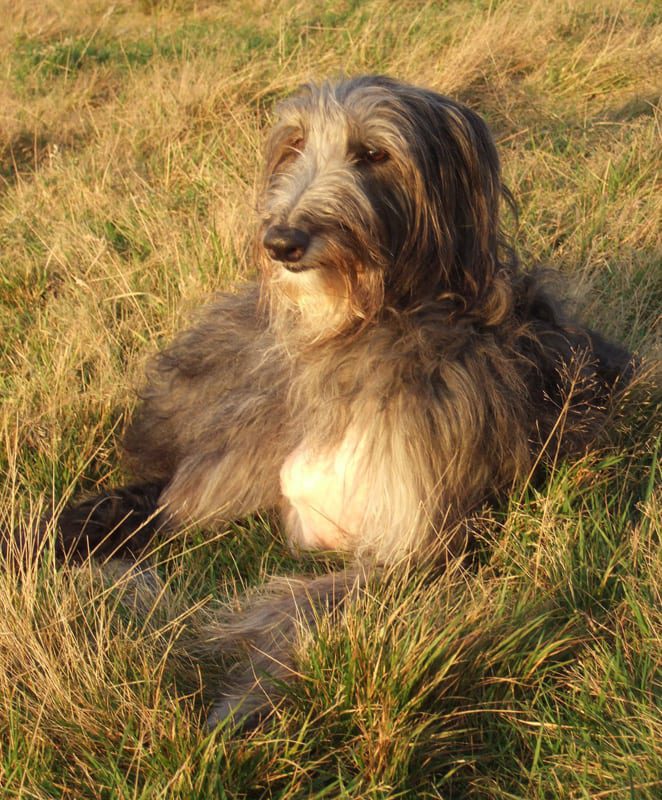 Here is her story:
Hi Jerry! My name is Darcy and I'm a Deerhound from Manchester, in the UK. I had my front right leg amputated on 16th October (which was the very day they found I had what turned out to be osteo). I'd not had any limp of any other symptom AT ALL until thay day when I put my foot down and my leggie broke.

Anyway, my Mum and Dad did opt for Chemo for me and I had my second treatment on Thursday of last week. The reasons for my people deciding to go ahead with the chemo were that from advice they had taken from specialists and from doing a lot of reading whilst waiting for my biopsy results to come back, they felt that giving me chemo *may* help me stay here for a longer time. Also, the chemo is being done at my normal vets and its very close to home (about 10 mins) and I like everyone there and I'm a very easy patient. I just lay on a blanket on the floor and the vet people wear silly green suits and goggles and gloves (they look *so* stupid) and they do what they have to do and I just have a nap and wonder what Santa is going to bring me this year!

My first chemo was with a drug called Carboplatin and I had no side effects at all. My second chemo (last Thursday) was with a drug called Doxorubicin and although my Mummy is touching wood as I type this, so far, I have had no side effects at all. I do hope it continues that way!

I have had a diet change and am about to start taking something called Artemisininininininin (or something like that) and I am getting rather spoilt. A girl could get used to all this 🙂

I have a very big family. There are two humans (my Mum and Dad) and then there's Duffy (he's a Deerhound too and he's 2.5 years old) and there are three greyhounds (ex racers) called Stanley (12), Wallace (9) and Sally (13.5). Then there's the mixed breeds starting with Sprout (14), Mokka (13), Radar (12), Buddy (12) and Tetley (7). And finally, there's Ella who is a Westie and she's 18 months old.

This picture shows me with Duffy. Most people say that Duffy doesn't have too many brain cells but he certainly used the ones he has on this particular day because I was tired and I leaned against him and he stood still until I was ready to carry on with the walk. (For some reason, my Mums eyes leak each time she thinks about this).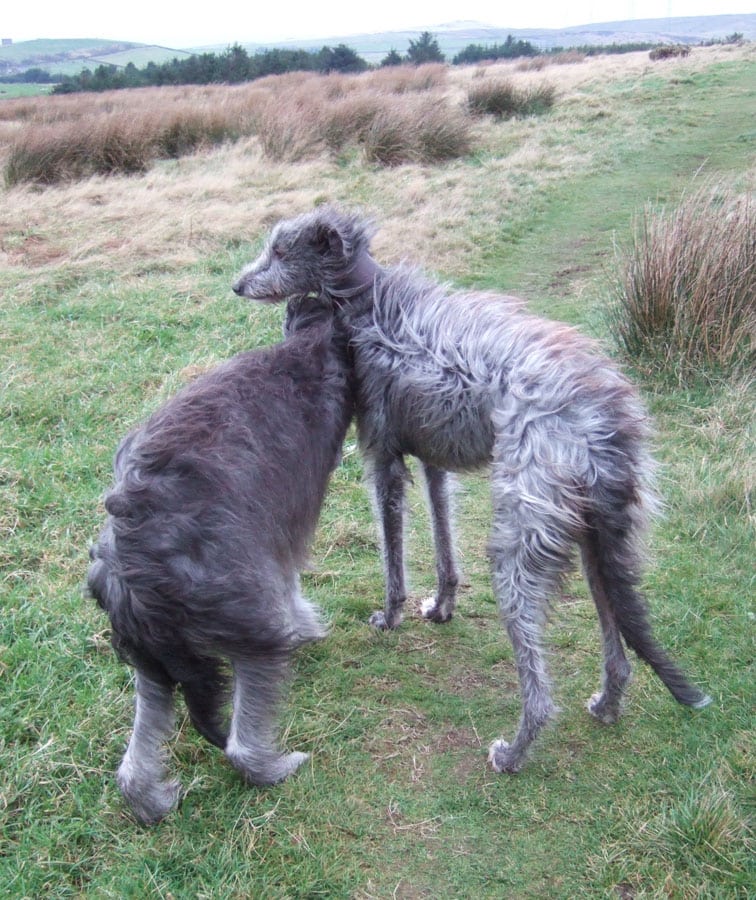 Boy, I'd sure love to visit Darcy over there in England, and hang out with that wonderfully huge pack. Congrats Darcy, for beating the odds and showing the world what a giant three legged dog can do!