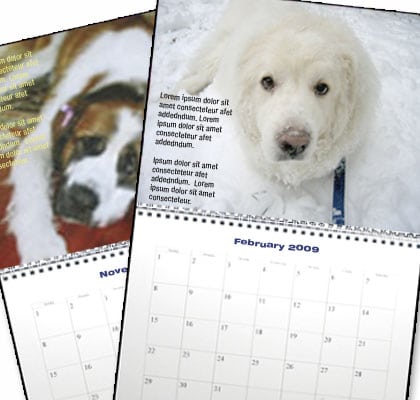 If you have not yet submitted your photo and story for the 2 Dogs 2000 Miles Cancer Dog Calendar, be sure to do so soon! The deadline has been extended until November 16.
If you have not heard about the first canine cancer calendar, here's the scoop: you're dog can be a calendar girl! Or boy … tripawds.com is proud to support 2 Dogs in the continuing effort to raise awareness and funds for cancer research with the 2009 Canine Cancer calendar.
If you – or someone you know – has or had a cancer cancer survivor, we'd love to share his or her story in this 2009 calendar featuring beloved cancer dogs. Simply submit a high-resolution photo and a brief story to calendar@2dogs2000miles.org then wait for the voting to begin.
Voting? That's right, the final twelve calendar dogs will be selected by all. Once all submissions are in, they will appear online at 2Dogs2000miles.com where visitors will be able to cast votes for their favorite dogs. The cost will be one dollar per vote, and you can cast as many votes as you like, so tell a friend!
Proceeds will help fund canine cancer awareness and research. The top twelve fund-raising dogs will have their own month in the calendar, and all the dogs will be featured in the back pages. So everybody wins!
Submit your photo and story today. Simply submit one high resolution photo per dog along with a couple paragraphs about his or her battle with cancer. Be sure to include your dog's name, your name, and contact email address. Then stay tuned for our announcement of when the voting has begun.
This is your opportunity to honor your canine cancer hero in the first 2 Dogs tribute calendar. If you have had more than one dog with cancer, please feel free to submit each dog's photo and brief story separately. Just email your photo and story to calendar@2dogs2000miles.org or use the convenient form below.
There is no entry form here because the submission deadline has passed. Thank you to all who entered! Stay tuned for the voting announcement …
Read the 2 Dogs 2000 Miles Cancer Dog Calendar blog post for complete details. And don't forget to Puppy Up!