Join The Discussion
Learn about life on three legs in the forums below. Browse and search as a guest or register for free to take advantage of member benefits:
Instant post approval.
Private messages to members.
Subscribe to favorite topics.
Join the Live Chat and more!
Tripawd Heroes Book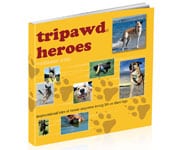 Tripawd Heroes books feature inspirational stories and photos of dogs loving life on three legs!
A
A
A
Hi everyone.
My husband and I found a wound on our cat's leg on New Year's Eve. It was open and bleeding and appeared to be an infected abscess. All of our cats are indoors and while they do have the occasional squabble over a favorite seat or toy, they never fight at all let alone viciously enough to create an abscess. We were so confused. After a trip to the vet, who kept her to clean and debride the abscess, it was discovered that the abscess was in fact a fibrosarcoma that had outgrown its blood supply and created a terrible wound. Her fur is thick and fluffy, so we hadn't noticed the swelling from the tumor until the fur was shaved away. At that time the tumor was smaller than a ping pong ball and the wound was about as big around in diameter as a nickel. Our vet confirmed that due to the location of the tumor, surgical removal of the tumor was not possible and we were faced with amputation or euthanasia.
Our cat, Pepper, is a rescue. She is semi-feral and my husband and I are the only two people she will allow to get near her (though our of fear, she does pretty well at the veterinarian). We found her living in the dumpster at our condominium several years ago and after feeding and caring for her for some time, we took her in. Due to the conditions she lived in before we found her, she had acquired infectious anemia, which stays well under control as long as she is healthy and unstressed. Thanks to the tumor, she had a major flare up with the anemia. Our vet prescribed antibiotics and steroids and left us with a decision and a warning: her leg needed amputated but because of the anemia, her blood levels may never stabilize enough to make her a candidate for surgery. He told us that we had some time to try and get her well as the location and growth rate of the tumor gave us a few weeks to try before moving forward.
Fast forward to the end of February and lots of prayers and meds later; her last check up confirmed a miraculous rise in her blood counts and she had even managed to gain a pound and a half of weight, which pleased us and our vet (he was amazed that she is actually getting healthier while battling cancer). Her surgery is scheduled for Monday.
I am still struggling to accept this situation and find peace with it. It's so drastic and so sudden. I'm riddled with guilt as this is likely the result of a vaccine-related cancer. She has had one vaccination, a rabies vaccine, almost 3 years ago when we first adopted her. That's it. Our vet told us this happens often as a result of dirty vaccines and is especially prevalent when those vaccines are administered to feral cats (he was not the veterinarian who administered the vaccine). I am absolutely shattered. We adopted her to rescue her from the life she led previously, to keep her safe and healthy. To protect her. And now I feel that I have let her down in a way that is unforgivable.
My husband and I have both shed so many tears and have analyzed and considered this course of action from the minute she was diagnosed. We considered euthanasia because of her feral nature and her athletic lifestyle. We are still afraid she won't properly adjust. I am afraid she will not understand and feel that we did this to her. I am afraid her quality of life will not be the same. In the end we can't justify euthanasia as aside from this tumor, she is healthy, happy and thriving.
I understand that most of my concerns will likely fade after this is over and settled. It is just such a tremendously difficult situation and is not nearly as cut and dry and one may think. If any of my friends or family were making this decision I would support them fully and feel confident in their decision, I just struggle to do the same for us.
As we have progressed, Pepper's tumor has grown to the size of a chicken's egg and the wound is about the diameter or a golf ball (and has necrotic tissue). She fails to use the leg normally sometimes and we know she is in pain. She receives daily doses of pain medication and does better with that. I know the leg is beyond saving. I know that she needs help and it is our responsibility to help her. I know that we would never have allowed a vaccine or anything else that would harm her had we known. Yet still we struggle and feel such guilt. And I am just so afraid for her now and in the long-term.
If anyone has any prayers or advice for us all moving forward, we would all appreciate it so very much. Thanks for listening.

Here and Now

Forum Posts: 11270
Member Since:
25 April 2007

Offline
Hello and Welcome,
We are sorry you find yourself here and Pepper is dealing with a Vaccine associated sarcoma.
You guys did not do this to Pepper! You did adopt her to rescue and keep her safe and healthy ! That is exactly what your doing and going to do ok!
We all do what we are told is best with Vaccines , you have not done anything wrong!
They inject these vaccines in the rear leg for that reason. Its a side effect that can happen .
It's sickening and I am so sorry you are dealing with this! We have had several members join for the same reason.
Kerren Mona's Mom will chime in soon. Her kitty Mona also had a VAS.
Our kitty Purrkins is 6 years old he had a soft tissue sarcoma on his front left leg. He is 7 months post amputation and doing fantastic!
Pepper can most certainly have a quality of life on 3 legs! She can thrive on 3 legs!
Purrkins can do everything he did on 4 legs on 3!
Being a back leg. I do believe it would be easier. Back leg kitties have a easier time getting down and a harder time getting up to places. It's the opposite for front leg kitties.
Either way they still can go up and down !
Just think safer jumping and safer landings now. 
Pepper will be the same kitty on 3 legs! She already is on 3 legs now and in pain,  know you are getting rid of the painful leg and helping her! This is giving Pepper extended life! She won't hate you, they do not think like we do.
Recovery is not easy, make sure to have a good pain protocol in place before bringing Pepper home.If you are not familiar with medicating Pepper ask the Vet to show you how.
Will Pepper be staying overnight , will there be someone there with Pepper thru the night?
Stock up on some favorite foods of Peppers, if she eats any wet food thats great! If she doesn't buy some anyway she just might eat it for you.
Some people have problems getting kitty to eat after surgery , its the pain meds doing that. You kind of want to be prepared and have smelly foods on hand.
We got some smelly fishy canned food for Purrkins for recovery, not something I normally feed him, but I knew he would eat it. Tuna and Salmon, chicken and Herring etc. The stinkier the food the better , thats what worked for us.
Most cats come home and want to hide. Thats normal and their instinct . 
We set up a spare bedroom for recovery. Some people use cages. Its about restricting their movement . You want to be able to access her easily for her meds!
If Pepper is going to recover in a  bedroom make sure to block off under the bed. Stuff pillows, comforters anything under the bed so she wont get under there and hide. We took our mattress off and put it on the floor. Purrkins chose the closet to recover in.
We were restricted movement for 14 days , 14th day the stitches were removed and Purrkins was free to do whatever he wanted to.
You will see the biggest change in Pepper when stitches or staples are removed.
Take some time and Look in our back leg kitty forums, all of our back leg kitty bloggers are listed , this will help you feel more prepared and read some of their stories .
http://tripawds.....leg-kitty/
Hang in there you are helping Pepper you are not doing this to her but for her!!! 
Please do not hesitate to ask anything, we are here to help you guys thru this!
Hugs!
Holly & Purrkins


Forum Posts: 1160
Member Since:
27 July 2014

Offline
I'm sorry to hear that yet another cat got a vaccine associated sarcoma. It is not your fault. It is the fault of the pharmaceutical companies who are not producing safe vaccines. Please let your guilt go and turn it to anger at the pharma companies. Better yet, put this energy into helping Pepper heal quickly.
I discovered a small bare spot on my cat Mona's front leg on a Friday night. The tumour grew quickly and she had the amputation by the next Friday. Mona gets around very well. Initially she had no fear and would fly down off high places but probably discovered it hurt to land. I placed boxes, small tables and chairs for her to up and down. She knows they are for her and gets annoyed with my other cat if he decides to sleep on them.
Mona had her amputation in June 2014 and I believe she is cancer free. I would never have expected her to adapt so well but my vet said that cats are very resilient. They are. They just want to enjoy life, eat, sleep and be loved.
Holly/Purrkins has given your a lot of great information. Read some of the blogs. Come back and ask any questions. 
No matter what you decide it will be the right decision for Pepper and your family. By the way if you can find out the vaccine information (make and lot number) from the vet who administered the vaccine then your vet could probably help you get all or part of the amputation costs paid for by the pharma company.
Hugs to you and Pepper,
Kerren and Tripawd Kitty Mona
Thank you all so much for your kind words and excellent advice. Even without advice it really is just nice to have other people around who have done this and understand. The support is worth its weight.
I'm still reading through all of the blogs and pages you three have recommended and as I do, I know I'll have more thoughts and questions. Several of the blogs are about cats with similar temperaments to Pepper and it has already made me feel a bit better about her adapting.
As of now, my main questions regard what to do after we bring her home. Pepper's surgery is Monday, and barring any unforeseen circumstances she will be coming home Tuesday. We're both pretty good at medicating her as long as she'll eat (syringe meds and Pepper are a no go EVERY TIME). Her doctor already told us she'll receive the pain patch, so I don't know which other medications she will need otherwise aside from further antibiotics for anemia.
We are deconstructing our master bedroom to make it her recovery room. All elevated spaces will be removed and we plan to put mattresses on the floor, storing the bed frame for the time being. She has already had to use a makeshift/adapted litter pan as she has been wearing an e-collar for a month and couldn't get around in a traditional litter box. As far as I can see, the only big adaptations we'll need to do beyond this are once she is released to climb and jump again and we'll have to add levels and platforms to various areas to make access easier for her.
How involved is the aftercare once we bring her home? My husband will be home with us on her release day, but has to return to his job the following day. He works pretty long hours through the week so the bulk of her immediate aftercare will be up to me. This isn't our first pet with a major medical issue so I'm not really a rookie in terms of having to kind of get in there and do unusual and/or unpleasant activities, but I am both curious and a little nervous about what those first few days typically entail. I'm honestly most nervous about actually watching her adapt, as watching any of them struggle to do anything (from big struggles right down to just watching them try to figure out a puzzle feeder) always makes me feel bad and want to jump in and save them lol.
Thank you all so very much again for your support. I really don't know what we would do without you!
I just want to join in to send you love and support! It just stinks that we have to make these kinds of decisions. Once we do though, there is actually some relief in getting on with things that will DEFINITELY benefit Pepper once recovery is over!!
You have gotten GREAT insight from two of our kitty hero moms, Kerren and Holly! They truly have invaluable first hand experience to help you. I don't think there is a hurdle they haven't figured out how to overcome! 🙂
You are doing an EXCELLENT job of prepping the house, so no worries there, okay?
As far as setting things up for the future...stepping up platforms, etc, you also have that under control perfectly!
Every recovery is different. Every cat is different. Every pain reaction and med doses can be different too. Just remain calm and confident and knkw that some thi gs will just have to be figured out as you go. It IS major suregy and it does hurt. And adjusting to three legs while doped up can be a bit daunting too. Recovery doesn't last forever though!! You will be amazed at how well Pepper adapts!
Others can give you better insight on pain meds. I know the pain patch can make them quite whacky and disoriented sometimes. But that's better than being in pain.
Many cats are on a pain med that starts with a "B"...bu..something...and that seems to work well for cats. Just make sure you have plenty of pain meds thst work for Pepper!
STAY CONNECTED!!! You are doing this FOR Pepper for extended QUALITY pain free time!!
Hugs and love
Sally and Alumni Happy Hannah and Merry Myrtle and Frankie too!
Happy Hannah had a glorious additional bonus time of over one yr & two months after amp for osteo! She made me laugh everyday! Joined April's Angels after send off meal of steak, ice cream, M&Ms & deer poop!


Forum Posts: 1160
Member Since:
27 July 2014

Offline
You are well on your way for the recovery period. Some cats are not keen on eating when recovering but my vet sent Mona home with canned kitten food which she loved. It turns out dogs love it too! So you might want some canned food available for when she gets home. The advantage from wet food is that they don't need as much water and it's high in fat and protein.
I think Mona went a little crazy from the medication. She went from flopping around like a worm to racing and jumping. How ever Pepper moves I would just suggest praising and encouraging her. She'll get it. Once the stitches are out then you can look at stretching, strengthening her core, etc.
Mona liked warm and cool facecloths on her incision site.
I worked from home in the same room where Mona recovered. Because cats like hiding dens when not feeling well I put a bathmat under a shelf in an open closet. Mona slept there and if I needed access to her I just pulled out the mat to slide her out. I slept in the same room and she started to join me after the second or third night.
The main thing for aftercare is administering the medication. One thing I learned (after the fact) is to stay ahead of the pain. If the pain meds are 3-4 times a day, I suggest going with 4 times a day rather than 3 times. The biggest worries are pain, infection, and the cat pulling out the stitches.
Hope this helps,
Kerren and Tripawd Kitty Mona

The Rainbow Bridge

Forum Posts: 23087
Member Since:
25 April 2007

Offline
Just now catching up on your story and am so happy to see our wonderful members have given you some great tips. You really have it together overall, I love that you've got a plan for Pepper's recovery.
I agree, every cat is different when it comes to recovery and whether we're talking about a dog or cat, in general they all adapt so much better than we think they will. Generally they don't need nearly as much care during recovery as we think they do. I don't have a cat, I've seen very few here have really tough recoveries.
What I can tell you that it really helps to put a strong, pawsitive attitude on when you're watching Pepper get around. It's human instinct to want to protect our animals from spills and such, but it does pay off to be strong and watch as they figure things out because animals do absorb our emotions and project them right back to us. 
Keep those puzzle feeders handy and let Pepper go at 'em. They are so good for alleviating boredom and stimulating their mind. I like that you already know what a puzzle feeder is, as many people still haven't been introduced to them. Good job!
And it does sound like your vet is on top of the pain medication but yeah, get a list of the medications and ask about potential side effects for every one. They may need some adjusting at first but after a few days you should have it dialed in.
We're all cheering you and Pepper on so keep us posted!
Sounds like you have a excellent plan for your recovery room! Fantastic Pepper is already used to the cone thats huge!
You are thinking exactly right as far as further adaptations after recovery period.
We provided steps for Purrkins to all his favorite spots. We moved furniture closer together to make a graduated ups and downs , we added some foam mats and rugs to our hard floors.
Being a back leg I do not think you will have so much flopping if any?
I have a friend who recently just had her kitties back leg amputated and he did great. He has not had any flopping or any mobility issues. Back legs seem to adapt even quicker.
We were sent home with Buprenorphine and Gabapentin.
Pain management is key to your recovery. Check out what signs to watch for in our forum ,
http://tripawds.....s-in-pain/
Make sure to have your Vets number and emergency contact information just in case you would need one.
Pain meds can make them crazy or sleepy! Purrkins went thru both stages.
How old is Pepper?
As Sally said this is major surgery, all animals and recovery seem to vary. 
We will be here if you encounter anything and will do our best to help you thru! Or your hubsnd ok. We aren't Vets of course , just people like you who have gone thru this experience. 
Hugs !
Holly & Purrkins
P.S. You can check out Purrkins blog , he is a front leg kitty, that might still help you see how things went for us. We have video's on there too.
Hi everyone.
We believe Pepper is somewhere between 5 and 6 years old. It's hard to tell because we weren't around when she was a kitten but we know she couldn't have been more than two-years-old when we adopted her. She was anemic, underweight, pregnant and very traumatized but has turned around remarkably both psychologically and physically. (And yes, we kept the kittens too lol).
Tomorrow is her big day and aside from prep, I'm just not thinking about it. We're letting her eat until she has to fast, play in the house and get lots of run around time and attention. I'm sure we'll feel better once it's all said and done but right now its hard.
I have a notebook ready to jot down anything her vet says over the next few days and to keep notes of anything we have questions or concerns about. Finishing up her room today and arranging our smaller closet for a hiding spot if she needs one. Other than that I guess we just wait.
My husband and I do very much intend to dig into this VAS issue quite aggressively in the near future. I want right now to focus my energy and heart on Pepper and getting her recovered and settled and once we're through this hurdle, we both want to know more about this and why it's still happening. I can't put into words how angry I am, angry isn't strong enough honestly, but again right now I just want to focus on our girl and getting her well.
I'm referencing all of your advice as we go along and trust me, I'll be back with questions and plenty of them. It's so good to have real life advice from people and pets who have/are living this. Our vet is wonderful and has great advice but also doesn't parent a cat or dog who has been through this, so the practical side is important to get from you guys.
I'll keep everyone posted through the upcoming days and ask questions as we have them. Thank you so much again for all of your support, encouragement and advice. Prayers and hugs back to all of you -- we appreciate you so much.
You guys are doing great preparing and taking care of Pepper.
You have every right to be angry! I would be digging into the VAS also! There will be time for that when you get Pepper thru this and recovering. Something definitely needs to change.
We are sending pawsitive energy and strength for you guys tomorrow, we will be thinking of you!
Update us when you can and let us know Pepper did great and is in recovery.
Hugs to you guys and chin and ear scratches to Pepper and the kitties;)
Holly & Purrkins

Continuing to add to the pawsitive energy and healing thoughts!!
Grrrreat idea keeping notes of everything!! The waythe incision looks, any bruising coloration changes, estingw, drinking, pooping, peeing....you get the picture! Most importantly anytimenyiu seenthe tiniest "improvement", write it down and ccelebrate it! The sparkle will come back, just in tiny increments at first.
Update us tomorrow when you can! You're doing great!
HUGS!
Sally and Alumni Happy Hannah and Merry Myrtle and Frankie too!
Happy Hannah had a glorious additional bonus time of over one yr & two months after amp for osteo! She made me laugh everyday! Joined April's Angels after send off meal of steak, ice cream, M&Ms & deer poop!
Hello Everyone,
Pepper has come home from the Vet and she did great. Doc says he is very confident that we got all of the cancer by taking such a wide margin.  We have antibiotics for two weeks until stitches come out. We will keep you all updated on her progress. 
She has eaten like a champ and is learning to walk on her 3 good legs. She is currently napping on the bathroom floor and has gotten over the excitement of being home again. Thank you all so much for your support.
I will post a picture as soon as I can figure out how to load one in. 
John
WELCOME HOME PEPPER!!! 🙂 Sounds like you are quite a tough kittle champ!!
May have some ups and downs for a few days, but you'll get through all this recovery stuff in no time!
Hugs
Sally and Alumni Happy Hannah and Merry Myrtle and Frankie too!
S...Hop over to "Technical Support" and you'll see titiles/threads on how to load pictures. You need something kike Photobucket to get started.
Happy Hannah had a glorious additional bonus time of over one yr & two months after amp for osteo! She made me laugh everyday! Joined April's Angels after send off meal of steak, ice cream, M&Ms & deer poop!
Ditto Welcome Home Pepper!
Fantastic news on getting it all! She is doing great eating and up and going! 
Go Pepper!!🎉🎉 Keep healing and try no overdoing .
Thanks for the update! Look forward to pictures.
You can start a free blog and load pictures there. I see your in technical support already you''ll figure it out in no time;)
Hugs, Holly & Purrkins
Forum Timezone:
America/Denver
Most Users Ever Online: 597
Currently Online: vohman821
49 Guest(s)
Currently Browsing this Page:
1 Guest(s)
Devices Used: Desktop (45), Phone (5)
Member Stats:
Guest Posters: 993
Members: 11808
Moderators: 2
Admins: 3
Forum Stats:
Groups: 4
Forums: 23
Topics: 14626
Posts: 205529