Caring for a Three Legged Dog or Cat
Tripawds is the place to learn how to care for a three legged dog or cat, with answers about dog leg amputation, and cat amputation recovery from many years of member experiences.
JUMP TO FORUMS ↓

Join The Tripawds Community
Learn how to help three legged dogs and cats in the forums below. Browse and search as a guest or register for free and get full member benefits:
Instant post approval.
Private messages to members.
Subscribe to favorite topics.
Live Chat and much more!
Find out in Be More Dog: Learning to Live in the Now by Tripawds founders Rene and Jim. Learn life lessons learned from their Chief Fun Officer Jerry G. Dawg! Get the book and find fun gifts in the Be More Dog Bookstore.
Tonka - my beautiful Gentleman - 88 pounds 11 yrs old - Australian Bull Arab Cross
Add Reply
Add Topic
I think we're there - I think we've decided.  It's been a week of tears and discussions and decisions and changing our minds daily, but I think we're going to opt for amputation - there I've said it.....
Now to back track - I've been stalking the site all week, I've been researching, I've been discussing, I've been crying, I've been stoic... I've been all these things, but what I haven't been is smart enough to figure out how to post a photo of one of the most beautiful furry beasts that ever lived... My gentleman Tonka.
He's been diagnosed with Osteosarcoma in his front leg, in the smaller of the two bones (technical aren't I).  He's had biopsy following lameness and diagnoses confirmed.  Not in a joint, not in other bone yet. Lung X-ray was clear (although I am aware this is somewhat inconclusive) but I see both of those as positives.  We thought due to his age and size amputation would be a cruel and selfish option, he loves ball with his siblings (another giant hound, Zephyr, and annoying older sister Staffy, Gypsy) and is very active and a big woofer!!  But vet called tonight to confirm pathology and has convinced us that it is us humans that hold all the emotions of the limb loss, and in about 3 weeks Tonka will be "what leg?"
I am so nervous about caring for him during recovery, but I have two adult children, along with my husband, we are all in lockdown here in Aus, so we will be home from work and able to spoil him rotten.  I know it's not a long term solution, I know the shitty cancer will get him eventually, but I feel like this will give us more control of the pain he has to endure to see it out.  We are going to go with chemo also, we are quite rural where we live, our vet has said he can possibly help us avoid travel with a more 'generic' protocol to keep it local which sounds like an amazing option - despite Tonka's size, he no likey the vetman. So reducing stress is a goal where we can.
I guess I just want to reach out at the beginning of this rollercoaster - I am scared for him, anxious and unsure.  I think I want to know that there are others out there that have been through it.  I won't ask if I'm making the right decision - I really don't think there is a right one - just that we HAVE to make one, and this is the one we're making.  What I might need is just somewhere to reach out when he's doing it tough... or tougher than now.
I hope you all get it...
DOGS... why do we do it???  Wait till I figure out how to post photo's of my little crew - you'll see why.
Thank you for reading - Shannon.  Mum to Tonka (11) Gypsy (12) & Zephyr the brown fool (6)
Hi Shannon, welcome. Your future posts won't need approval so please post away. And of course you are smart in all aspects. Many people have challenges posting photos here. This is how adding images to the Forums works.
Upload pics to a photo sharing site like imgur.com or your own Tripawds blog (https://tripawd...../supporter). Pictures and video have to be hosted (live) somewhere other than in the forums.
Once the photo is uploaded somewhere, right click and copy the Image URL or just copy the image if you're on a phone
Return to your Tripawds Forum post and paste the image URL (or the image itself) in your post. It should automatically appear. 
If you'd like help figuring out the process let me know. We can't wait to see what Tonka, Gypsy and Zephyr look like! Meanwhile ....
YES, we GET IT! Anyone here who has been handed the crappy cancer diagnosis they never expected, understands what it's like to go round and round trying to decide, wondering if we are considering it more for us than for them. But your vet is so right...limb loss is not a big deal to a dog or cat or any other animal. Once recovery is over they just get on with life. That's not to say there won't be challenges. Sometimes recovery can be ruff. But overall the majority of dogs do great on three legs, even bigger and older ones. In fact, the world's best surgeons have told us that neither size nor age should exclude a dog as an amputation candidate if the dog is otherwise healthy. So it sounds like things are all in favor of Tonka kickin' butt and having a great life on three.
Bone cancer is sooooo painful. Amputation gets rid of the pain as you know. It won't get rid of the cancer, but oftentimes dogs will go on to outlive the prognosis they are given. You never know! The important thing is to make the most of whatever time you have together. Sounds like your crew definitely knows how to do that.
I don't know if you've seen Jerry's Required Reading List , the Tripawds e-books library, or the What to Expect articles , but do check them out when you have time. And whatever questions you have, please don't hesitate to ask. We are here for you!
Thanks so much for the welcome - appointment is made, this Friday - 10th Sept our journey begins.   I am confident with our decision and terrified of the next few weeks - but with lockdown we are in a good position to get him through this and I am sure that, like he always does, he will be a trooper.  I have added some photo's for everyone to see this incredible big boy!!  And his pesky sisters.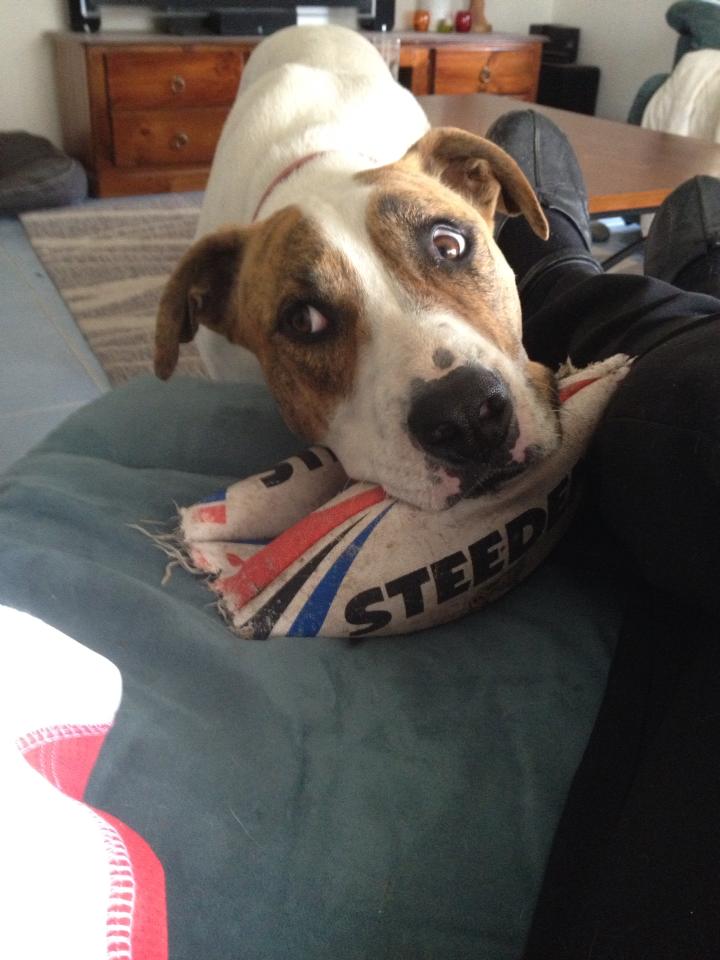 Livermore, CA
Member Since:
18 October 2009
Offline
Hello and welcome.
Jerry gave you some great info and links.  What a great looking pack!
I just wanted to share my experience with amp recovery.  One thing I will mention first though is that we often see here that the bigger and more 'mature' dogs sometimes take a little longer to get their sea legs.
So- my little Pug Maggie lost a rear leg to mast cell cancer.  I was of course devastated with the diagnosis and the recommended amputation, how would she cope? How would she get around?  Mag's diagnosis and surgery predated Tripawds so we went through this only with the vet's input.  All the vet's told me that all dogs do great on three- Maggie was relatively young (7.5 years old), small and would be losing a back leg which can be a bit easier.  Her pain we well managed and there were no medical complications yet Maggie spent 6 weeks in her bed!  She could get around, she would go out to do her business and she did eat most of the time but she wouldn't play and didn't seem interested in doing anything.  I was sure I had made a terrible mistake- I convinced myself that I had the only dog who wouldn't cope!
In hindsight I realized that Maggie was really being true to herself.  She was stubborn and set in her ways, she hated any change to her routine.  She finally got used to her new normal and hopped happily though life for almost 4 more years.
Be patient and positive with Tonka, he will heal and deal with his new normal on his own time line.
Good luck on Friday- keep us posted.
Karen and the Spirit Pug Girls
Tri-pug Maggie survived a 4.5 year mast cell cancer battle only to be lost to oral melanoma.
1999 to 2010
Love, love, love your pack♥️♥️♥️. They each know how to melt our hearts with their soulful eyes.  And your Tonka is a very handsome fella'.
The way you articulated all your fears, your uncertainty, - certainty,  indecisiveness,-  decisiveness,  crying - stooc, rock solid confident,  - shaking with fear.  Yeah, we understand  it all!!!!    Trust us, you are not alone in your feelings  and emotions and, as you can already tell from Jerry and Karen,  YOU ARE NOT ALONE AT ALL ON THIS JOURNEY!!   WE ARE ALL RIGHT BY YOUR SIDE THE WHOLE WAY
And yes, clear xrays and clear joints are definitely a pawsitive!!  And Tonka does not have a timeframe stamped  anywhere on that cute vutt of his.  He is his own doggy self and not a statistic.  
STAY CONNECTED and let us know how we can continue  to support you.  Remember, recovery  doesn't  last furever.   Tonka will recover at his own pace and in his own way.  We look forwa to celebrating  all his upcoming  victories and milestones.  And keep the pictures coming!!
Hugs
Sally and Alumni Happy Hannah and Merry Myrtle and Frankie too!
Happy Hannah had a glorious additional bonus time of over one yr & two months after amp for osteo! She made me laugh everyday! Joined April's Angels after send off meal of steak, ice cream, M&Ms & deer poop!
Thank you so much Sally, Karen and Jerry,
Thanks to this site, I feel a little prepared for tomorrow - surgery day.
Tonka has spent the last couple of days bouncing around with his siblings, wrestling, chasing, barking and all the fun things - I'm so very sad that will all change for him tomorrow.  But it is the way it has to be, and hopefully it won't be for to long until he is back to himself.
I'm nervous that his Vet surgery isn't manned overnight, but they are confident that he will be well medicated and weened off morphine the following morning for pickup - I just have to trust that they know what's best as I don't have any other local choices to make, and I do trust the vets and their care there.
I'll update on Tonky's progress over the weekend - I'm so happy that he seems so well, and hopefully that will reflect in his recovery and make all this nastiness worthwhile.
Thanks again for your kind words.
Alrighty. we'll be sending  all sorts of powerful healing and pawsitive energy to your handsome Tonka!
Of course. ideally  it would be great ro have a staffed overnight clinic, but we know that's  not always possible.   Often times in scenarios  like this we see members bring the dog home that first night.  It's  not easy and can be quite daunting as they shake off anesthesia and the strong hospital meds.   etc.  Sometimes though the dogs are sedated  enough that it's not too scary.  Also some have the option of transporting them to a staffed ER clinic. 
Good pain management is crucial and can req some tweaking during the next several days.  Every reco is different  and every  dog's reaction to pain meds is different.   Most dogs come home with Gabapentin,  an anti inflammatory Rimadyl  ( or Carprofen) and an antibiotic.
And Tonka WILL be romping with all his siblings again!!!  He'll ge ,chasing them and  arking at them in no time.  Of course, all this is after his good solid recovery.
You'be got this and so does Tonky!  Update us when surgery is done, okay?
Hugs
Sally and Alumni Happy Hannah and Merry Myrtle and Frankie too!
Happy Hannah had a glorious additional bonus time of over one yr & two months after amp for osteo! She made me laugh everyday! Joined April's Angels after send off meal of steak, ice cream, M&Ms & deer poop!
Of course he will be back to Tonka soon! Recovery doesn't last forever. With that kind of doggie energy in your home, your biggest challenge is going to be keeping him mellow enough to heal.
Sally is correct in that many people do bring their dogs home the same day. It's not easy, but if you are able to do it, we are more in favor of that than leaving him alone an unattended. 
Keep us posted OK? 
Thanks to all - we are at 48hrs post op - oh my goodness what a trooper - we are all learning to do it all his way - loves being outside, not on his bed... when he needs to pee it's all hands on deck, but he's honestly pretty much got it sorted himself.  Is he happy? - not really - but he's not distressed and it's really early days. His tail wags occasionally and his little face is still there with us.
Can't thank this site enough to have the few prep hints we had in place have made the world of difference - a runway of mats to prevent slipping on our fully tiled house, a raised food bowl, a kinder elizabethan collar, we went with the kong cloud, the difference in him today is amazing.
As predicted, us humans are more upset and stressed that Tonka seems, there is a lot more of him missing that we had envisioned - we have a long way to go but we are super pleased that he is doing way better than we thought he would be.  He did'nt come home with the meds suggested and of course I lost my shit, but he's on a fentanyl patch and metacalm and seems to be doing really well.  I do trust our lovely vets so I just have to go wth that.
Keep sending the love to our hippy hoppy wonky tonky.
Awww you are so welcome! I'm thrilled that the suggestions here (learned from the community!) have helped out. You are seeing all of the goodness that is there despite the temporary challenges, and it's clearly helping you guys have a good recovery.
I'm sorry he didn't come home with the suggested meds. They can differ from region to region, but one thing to remember is that amputation is painful and for the animal's comfort requires multiple pain medications to treat associated pain. If you feel he is in pain, please don't hesitate to advocate at the vet's office. It's good to have a trusting relationship with the vet, but as Dr. Petty once told us, even the best vets don't have all the answers because all animals are different and require different levels of pain control. Keep an eye on Tonka's pain signals . The Fentanyl patch is probably worn off by now (effect is 72 hours, then it's gone even though the patch is still on). 
You are doing GREAT and things are rolling along as we all hoped. Thanks for the pupdate! Looking forward to more of Wonky Tonky!
Way to go Trooper Tonka!!!  You are certainly  a well loved boy.  And your hoomans have done such a good job making your home trpawd friendly 👍
Yes, ditto, ditto, ditto everything  Jerry paid about pain meds.  This is MAJOR surgery, all while adjusting to three.  Right now he still jas stong hospital meds in him which will,pro ve put of his system  in the next 24 hrs.
Don't know how much longer the patch will be effective, but I can imagine  not having some pain medication  after that.  The Metacam is an anti inflammatory,  but does very little to counteract  that pain from amputation surgery.
I'm sure Tonka isn't  fullynfeeling like Tonka quite yet.  The patch  may make  them a bit whacky sometimes,  You might see, ore sparkle when that is off. Just watch got pain signs though.   I dont  think the Vet would be very happy without pain medsmif head just had MAJOR amputation  surgery.
And once the fur grows back you wont even notice the incision.  Tonka will be Tonka again  before you know it!
Give all you handsome pack a big smooch for us.  Tonka gets two smooches🥰🥰
Hugs
Sally and Alumni Happy Hannah and Merry Myrtle and Frankie too!
Happy Hannah had a glorious additional bonus time of over one yr & two months after amp for osteo! She made me laugh everyday! Joined April's Angels after send off meal of steak, ice cream, M&Ms & deer poop!
Wow, you guys weren't kidding when you said the first few days were tough - we're finishing up day 4 here and it's been tiring for all of us, humans and dogs included.  It's like having a newborn!!  I haven't slept properly, haven't left the house etc.  But I think we're getting there slowly...  so emotional.
Went back to vet today to remove fentanyl patch and got some Gabapentin.  He seems quite comfortable now, had his biggest feed yet today and then hippy hoppy'd down to the other dogs to get some more bikkies!!  I will move his bowl back down to his normal spot tomorrow so we can start getting back to real life slowly. Is it normal on this first change over day of meds to be a little shaky on his back legs? Vet said "up to 3" tablets a day - we gave him one this morning and I'll give him another tonight.  I don't want him to be to dopey from it while he's trying to find his feet (literally). And hubby forgot to ask but I am presuming I will still give him his dose of Metacam in the morning also?  Oh and yes, he has been on antibiotics since he got home.  (like I said it's like a newborn)
We have had to tape up his back foot to stop him investigating his huge incision and stitches with his hind leg - he has a cute sock and vet wrap for grip - our vet said he'd still prefer the wound to be uncovered, and honestly with the size of his back leg a t-shirt just wouldn't protect it enough from a big scratch.  Wound is looking good, little bit of swelling at the bottom, but vet said normal.
Oh! and did I mention..... he got on the lounge by himself....  which is interesting because we don't actually let them on the lounge, and I think he was as surprised at himself as I was with his achievement!!!  And of course he spent the whole night there, who in their right mind wouldn't allow him to revel in his achievement.  The other two were not impressed with this level of leniency
Thanks again for all the support - really helps, like really really helps get through this. Next step stitches out!! 
YAY for Tonka the New Tripawd! He's doing pretty well and keeping the progress ball rolling.
Super happy you were able to get some Gabapentin for him. Your goal is to stay ahead of the pain, so give the meds as prescribed and if you see that it's making him sleepy, ask your vet about the best way to pull back on the dosage. Generally you'd want to do that in the daytime, so that he's pain-free when he sleeps at night. My guess is that with Tonka's energy level that the Gabapentin won't make him too sedate. Remember, it's not a narcotic, it works on nerve pain, one of several types when a patient is recovering from amputation. As for the Metacam, most dogs continue taking that once daily, so you want to be certain, check with your vet, just give them a quick call.
Definitely keep an eye on how he's treating the incision. We've seen a lot of dogs rip out sutures, and it's a real bummer for everyone. Yes, most dogs do come home without a bandage over the area. Just keep it clean, should be fine.
That is too cute about him getting on the lounge. The other dogs are gonna be soooo jealous! Did you get any pics?
Hahaha...love how Tonka reclaimed  the lounge as his own!   Maybe if you behave, he will share it with you😉
His 'shakey leg" could have been a pain sign, or simply just part of getting  his sea legs as he's adjusting  to life on three.  Give him lots of massages  up and down his spine, his neck and shoulder  areas.   He's using his muscles in a different way and they can be tight at first.
Slow and easy for now.  Tonka seems to be doing just fine this early on.
Hugs 
Sally and Alumni Happy Hannah and Merry Myrtle and Frankie too!
Happy Hannah had a glorious additional bonus time of over one yr & two months after amp for osteo! She made me laugh everyday! Joined April's Angels after send off meal of steak, ice cream, M&Ms & deer poop!
Tonka hasn't had a great day today - It's day 5, the first full day on Gabapentin and no fentanyl patch.  He's miserable.  He's on 300mg x 3 - I'm trying to space that out evenly which is 8 hr doses.  He also has his dose of metacam in the morning.
He's not moaning, he's not shaking, licking  or restless - he's just blaaahhh.  Compared to yesterday when he was hippy hopping around the yard (for a very short burst) and ate his biggest meal yet.  Now he's not interested in getting off bed wasn't interested in food this morning, although ate some chicken necks later in the day. Now he's just getting to sitting position, looking around and flopping back down.  
I'm so sad for him when yesterday seemed so positive.
I can't tell if it's pain or over sedation and I don't know what to do for him... or am I being impatient with his recovery.  I'm tired of googling it.  I think if he is still like this tomorrow I will call the Vet and let him know what is going on.
I'm not enjoying this ride one bit.
Thank you again for listening to my moaning - you'd think it was me that lost a leg!!!
Forum Timezone:
America/Denver
Most Users Ever Online:
946
Currently Browsing this Page:
1
Guest(s)
Member Stats:
Guest Posters: 1184
Members: 14997
Moderators: 2
Admins: 3
Forum Stats:
Groups: 4
Forums: 23
Topics: 17572
Posts: 244856
©
Simple:Press
—