Caring for a Three Legged Dog or Cat
Tripawds is the place to learn how to care for a three legged dog or cat, with answers about dog leg amputation, and cat amputation recovery from many years of member experiences.
JUMP TO FORUMS ↓
Join The Tripawds Community
Learn how to help three legged dogs and cats in the forums below. Browse and search as a guest or register for free and get full member benefits:
Instant post approval.
Private messages to members.
Subscribe to favorite topics.
Live Chat and much more!
Find out in Be More Dog: Learning to Live in the Now by Tripawds founders Rene and Jim. Learn life lessons learned from their Chief Fun Officer Jerry G. Dawg! Get the book and find fun gifts in the Be More Dog Bookstore.
Since we've gotten our diagnosis yesterday about the invasive mass on Odin's back left hip/femur, we've been in a state of shock and heartache. Odin came to us this past summer from a family member who couldn't be home enough for him. We're Odin's 4th owners. His original owner passed away tragically, and that person's brother took him in. Shortly after their second child was born, they just couldn't manage the large dog with two infants so that's when my husband's brother took him, which has now led to us. We instantly loved the big guy (having known him a little already) and were waiting for a pup to foster. It was a perfect match. Odin is the best. He's just happy to be with you, relaxing by your side. He's our (big) baby. 
He'd been experiencing weakness in his back left leg almost right after we got him this summer but were told it was arthritis. Once he started limping, we thought maybe he'd injured it on a walk. It got worse and worse so we took him back in to the vet. They recommended xrays but since he'd need to be under they put him on a bland diet first to make sure his stool was solid. This took over a MONTH! He didn't do well on that diet and we were not sure what to do...so much waiting while he was in pain. We put him on pain meds while we waited for things to go back to normal with his stool and digestion. Fast forward to these past couple of weeks, his pain had increased significantly. We got him on stronger pain meds but they couldn't schedule his xrays until weeks out (small vet hospital.. needless to say we won't be going back). 
We took him in to a recommended VCA vet hospital and he finally got his xrays and what came next was a shock we weren't prepared for. This is our first dog together, and although I'd had dogs growing up, we knew how big of a responsibility this was. Odin had an aggressive mass that would need more tests to determine if it's malignant or not. Wow. Our hearts sank. However, the second call after the oncologist took a look, was even more of a shock. It was decided that based on the amount of pain he was in, it wouldn't matter if it was benign or malignant (assumed to be aggressive at this point), this thing had to come out if it hadn't spread elsewhere. And I assume they could determine that it was in the bone at that point because the next words came so heavy I burst into tears. Our poor dog might need an amputation to make sure the pain and problem was gone. It was so hard to comprehend, and thinking about him alone at the vet, without being able to visit (covid) was just gut wrenching. We love him so much. 
He had his surgery hours ago... I brought him in yesterday and thought ok, we'll find out if he has an injury and get that taken care of. A little over 24 hours later he is having his leg removed (it still feels like an enormous weight). It all happened so fast and I'm so scared about his future. I found this website yesterday as we were trying to determine if a 185lb Mastiff could adjust to three legs. I've already found so much reassurance and comfort here and wanted to share this story. I was able to find some other stories about dogs Odin's size and even though there aren't many, there was enough to give me hope. Thanks in advance for all your support here.    - Odin's parents (scared but hopeful) 
Oh my gosh you guys, what an ordeal, and for your first dog, so soon after bringing him into your life. It's a scary, emotional situation but we hope to make it easier for you. We are glad you found us too because as you can see, every giant breed dog story here will inspire someone else some day. Odin will be that dog too, he already is! 
Don't be scared. This is the time to set a pawsitive tone and show him that you've got this. Because you know what? YOU DO! You are doing your research, you found us and you can lean on us when you don't feel strong. 
Please let us know how we can help, ask whatever questions and if you need to be talked off the ledge call the Tripawds Helpline anytime. 
Keep us posted OK? 
So sorry you find yourselves here, but so glad you did find us!!  Ypu are surrounded  by people who understand  the fear and shock and uncertainty  of first hearing the word "amputation "..  We can help you navigate  through recovery  and will celebrate every victory with you as Odin enjoys lofe to the fullest again...but without  that painful leg!!!
I'm so sorry about all the tragedy sweet Odin has had in his life.   But without question, he is exactly  where he needs to be at this point jn his life.  If he has to face these upcoming challenges, he is clearly  surrounded  by a loving and caring family willing to do whatever it takes to give Odin the best life evvvveeerrr!
And yes, Odin is a big boy and  big pups  sometimes  need extra time for recovery and to master mobility on three.   As you've already seen through your research, we've had big dogs handle lofe on three just fine.  Our "volunteer Vet" (Ask A Bet) , was own by a big Mastiff named Tazzie.  Another Mastiff named Big Lou, a Great Dane named Atlas and a Great Dane named Eurydice...all very large dogs who handled  life on three jist fine.  They  had extended  quality  pain free time for spoiling and loving and cheeseburgers and tummy rubs and couch snuggles. 
So Odin has had his surgery and is staying overnight st a fully staffed clinic, right?  Sometimes  larger dogs stay two or three nights until they can get their sea legs working.
Thank you so much for giving  Odin such a loving home.  He is wanted.  I k ow his original  owner is watching over him and so glad he ended  up in the home where ephe belonged all along.  His avatar  picture is soooo sweet.  Can't  wait to see more.  Here is a link for adding images .
Try and get some rest.  Odin is high as a kite on pain meds and seeing some pink elephants.   
We are here for you and right vy your side to offer a y support and answer any questions  you jave.  Recovery  is no picnic  for a couple of weeks, but it doesn't  last furever, promise!!
Hugd
Sally and Alumni Happy Hannah and Merry Myrtle and Frankie too!
Happy Hannah had a glorious additional bonus time of over one yr & two months after amp for osteo! She made me laugh everyday! Joined April's Angels after send off meal of steak, ice cream, M&Ms & deer poop!
Odin's surgery went well and he did good last night all things considered. I have to say that the communication and care he's received has been amazing, we're so grateful! Anytime I call to check in on him, I get a full report and the run down of what he's doing at that moment. The emergency care team have all been so kind and the surgeon has 20 plus years of experience which was also very reassuring. Worth the extra $$ to know he's taken care of.
The vet said that he's already motivated to get up and stand when they open his kennel door, moving around and such, which is a great sign. Although he obviously can't yet stand or walk on his own and is frustrated by that, his determination is so reassuring! She said he has a fighting spirit! Proud Mama here! They said he got up and went outside to pee a couple times overnight which was also great progress. They're using a sling to help him stand and we've already been looking at harnesses to help aid his recovery - I think this will be key (we found the ruffwear harness with straps and handles on here that looks like just the ticket!). The vet said he can come home today but we will wait until later tonight so he has the day to rest and build strength. I cannot wait for the moment he sees us. The happiness and reassurance he will feel in that moment, to know we're there.    
Thank you all for your kind words and support, it means so much. And it's honestly been the thing that helped us feel like we've made the right decision and keeps pushing us forward, even in the short time we've found you. We're proud of ourselves for handling this challenge, and grateful to be here. Will continue to share progress for added support and hopefully to reach others in this situation. Will absolutely share more photos of our Odin as well! 
-Rachael and Ryan
Awww we are grateful YOU are here too! Thank you for letting us know how he's doing. He really is getting some excellent care it sounds like.
These first few days can be highly emotional so lean on us and know that you can do this! Odin got cheated early in life but you and Ryan are giving him the one that he was born to enjoy. There's a reason he found you!
Just wanted to share an update on Odin. We brought him home Wednesday night - it took 7 vet nurses to hoist him up and into the car! It was a sight to be seen but he did great and actually sat up with his head out the window for the car ride home, I couldn't believe it. He's been doing really great at home, his old normal self really. Wagging his tail, healthy appetite, and even a little playful. The first night was little rough - we didn't sleep much because he seemed to not be able to get comfortable and was whining a lot. We were able to get some trazodone yesterday and it helped him (and us!) get a good night's rest last night. He is already standing up on his own and we have a sling to help support him when we take him out. We'll be ordering a get a grip harness today once we can get his measurements.
Trying to keep him laying down - we even moved a queen memory foam mattress into our living room for him (he's a big guy and is most comfortable sprawled out! Plus a little spoiled...) He's had trouble going to the bathroom since he's been home, but that's to be expected. The good news is he had two good pees today and this morning he finally pooped!! We were thrilled since he's had full meals the past couple days and I'd read it can take several days for them to figure this part out. I never thought I'd shed a tear for that... but here we are haha. We think that might have been why he was whining so much the first night because ever since he's relieved himself, he's just been relaxing without the trazadone. Overall we're really happy with his progress and think he's going to adjust great to three legs. We should know the results of the pathology tests in about a week and will go from there! 
Again, so so grateful for this site!!! 
YAAAAY FOR. 💩💩  WE LOVE CELEBRATING 💩💩.  AROUND HERE!!!👏👏
Odin is really doing extremely  well!!  We say not to ever compare one recovery  to another...every dog recovers  in their own way and at their own pace.  But Odin seems to be recovering  ahead of the curve, especially  for such a big boy!👏👏
While I'm sorry Odin had to be on this journey, I am sooo glad he is on it with you!!   He definitely  feels the love and knows you will always be thete for him💖
And it's impossible  NOT to spoil a cuddly gentle Mastiff,  But a tripawd cuddly gentle Mastiff adds a mew depth to the term spoling!!!!
Hugs
Sally and Alumni Happy Hannah and Merry Myrtle and Frankie too  !
Happy Hannah had a glorious additional bonus time of over one yr & two months after amp for osteo! She made me laugh everyday! Joined April's Angels after send off meal of steak, ice cream, M&Ms & deer poop!
Awwww YAY ODIN!
I hope today and the days ahead are even better. Great news!
We are grateful you found us too, because we are learning from you and your gentle giant. I'm so glad he was able to get some rest (and you as well), it's the kind of first night home that we all hope for. You're on your way.
I wanted to provide another update on Odin - he's doing really well! We're now 12 days post op and Odin has been walking around on his own for about 5 days now, and just yesterday even went outside to do his business on his own - no sling, no assistance at all! And he can make it down the two front steps just fine. We are so proud and relieved with his progress, as we weren't sure what to expect with our big guy (180lbs give or take).
We've found that his mobility and his alertness has drastically increased as we've weaned him down off of his pain medication. He was taking 2 300mg Gabapentin every 8-10 hours and 1 Rimadyl (Carprofen) every 8-10 hours for almost a week as we weren't sure what his pain level was and wanted to make sure he was resting. Now we only give him his meds when he seems uncomfortable or unable to relax (panting, whining, or constant repositioning), maybe once a day and usually just one 1. 
We heard from the oncologist on Wednesday that the tumor was indeed Osteosarcoma like we'd suspected and he most likely has microscopic cells in his body that may start spreading. He gave us an average of 4 months life expectancy if we did not do Chemotherapy and then he explained thoroughly what Chemo would entail & cost and said the average is 1 year life expectancy with treatment. He was very good about coaching us through this news and said there's no right answer.. but we've thought about it and will most likely pursue treatment. Still, these numbers were really hard to hear... but we know there's no rule. 
I'll be researching different food/diet, etc to hopefully increase his odds. We're committed to keeping him healthy and happy. Thank you all for your continued support! Thanks!!!!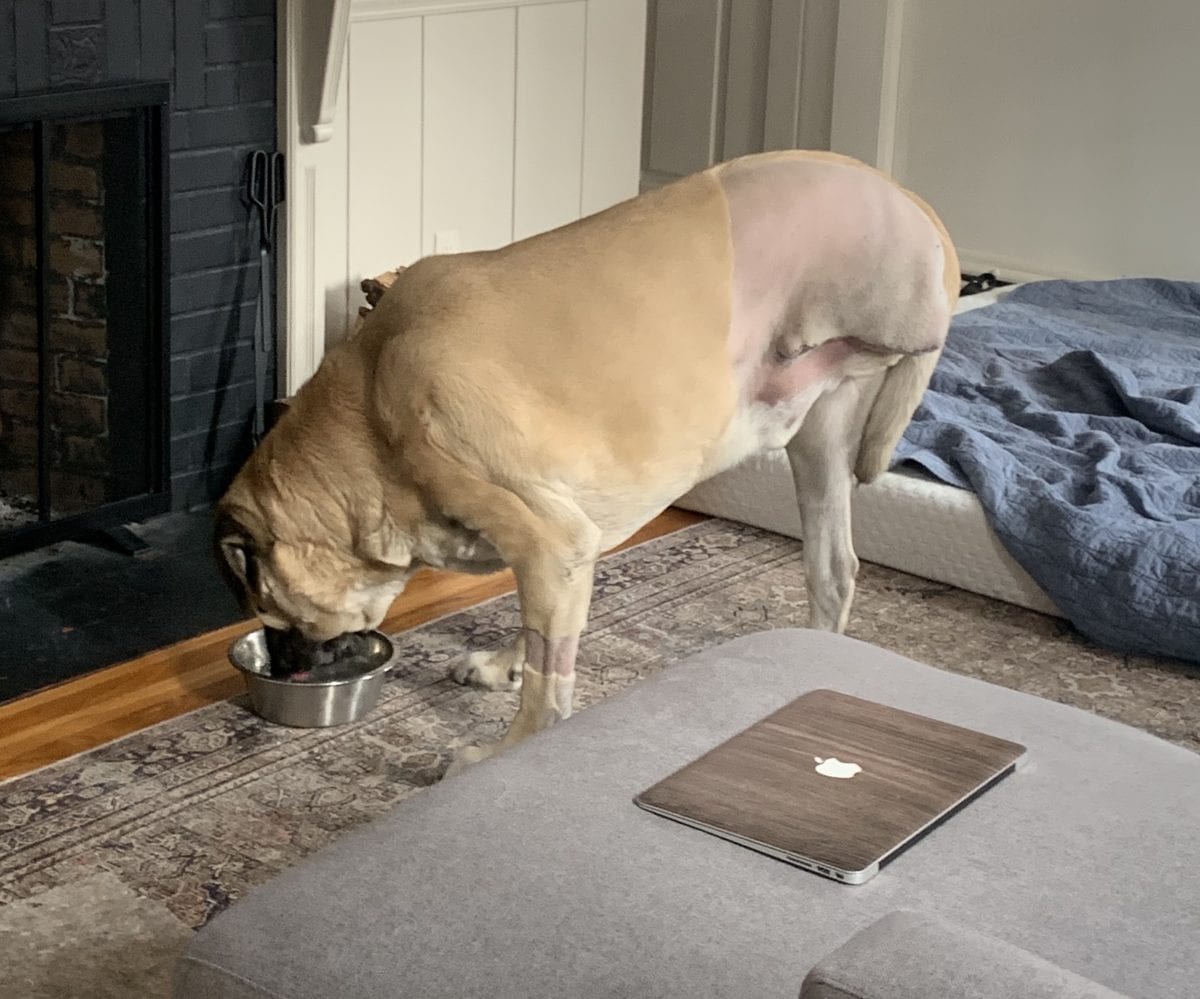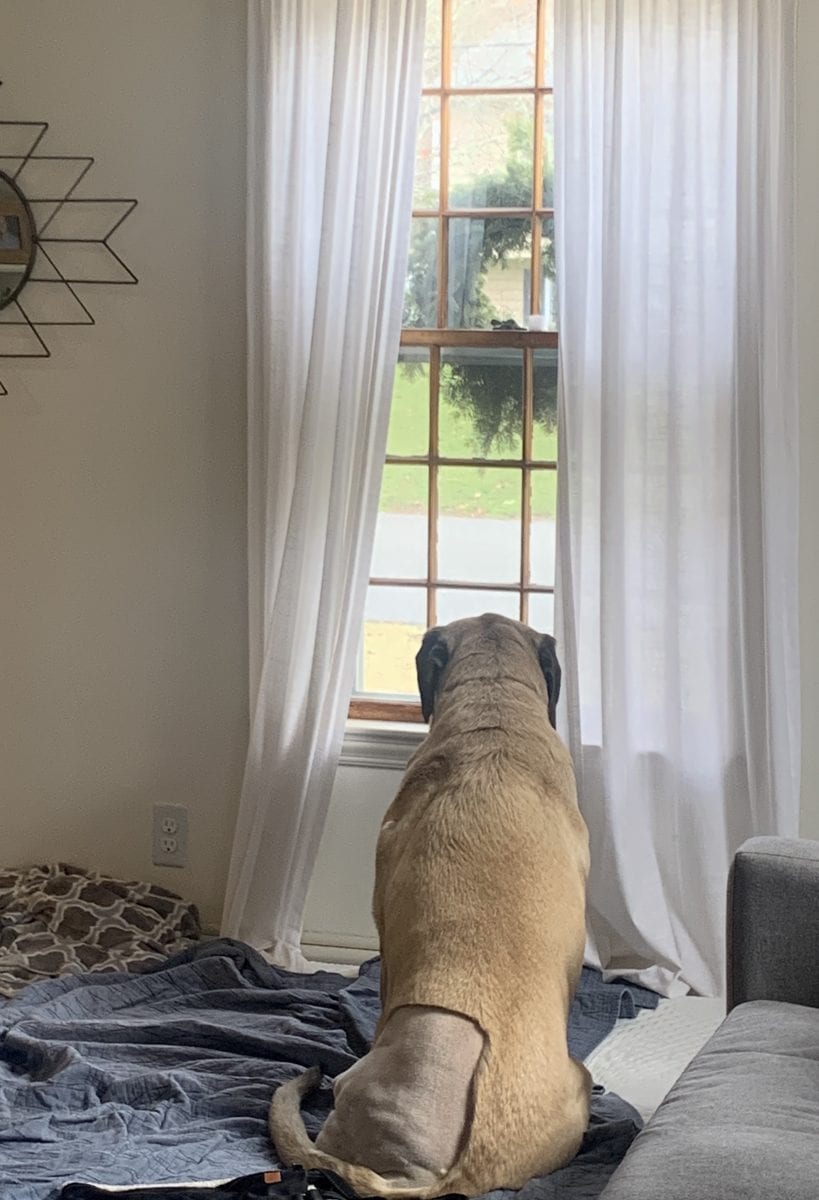 London. UK
Forum Posts: 55
Member Since:
10 January 2021
Offline
You must be so proud of him, as long as they are emotionally secure it looks like Dogs really do not do self pity like we do. 
"what shall be done for these innocents? I have been warned not even to raise the question of animal immortality, lest I find myself "in company with all the old maids". I have no objection to the company" - C S Lewis (The Problem of Pain)
"Mr Toplady was touched by the cruelty of the scene, and exclaimed, ' Who could bear to see that sight, if there were not to be some compensation for these poor suffering animals in a future state' 'I certainly hope,' said my grandfather, ' that all the bulls will go to heaven; but do you think this will be the case with all the animal creation' 'Yes, certainly,' replied Mr Toplady, with great emphasis, ' all, all!" - Josiah Bull (recording a meeting with the great A. M. Toplady, author of "Rock of Ages" in "Memorials of the Rev. William Bull of Newport, Pagnel")

"Are not five sparrows sold for two pennies? And not one of them is forgotten before God" Luke 12:6

Forum Posts: 2041
Member Since:
22 August 2008
Offline
He looks great!  My Mastiff Tazzie lost her front leg to OSA and did quite well with chemo and survived almost a year and a half before the cancer came back in her spine.  It is hard to predict; I had a client with a St Bernard who lost his rear leg and never did chemo and that dog lived almost one year and I have had other clients who did chemo and their dogs did not live more than a few months. If you live in an area where they can administer the vaccine after chemo that should extend his life expectancy.
Ask your oncologist but most will say that fish oil and mushroom supplements are okay but may want to wait until after chemo before you start other supplements. I gave Tazzie artemesinin after her chemo because she could not tolerate the oral metronomic chemotherapy that we started after the carboplatin injections were given. At the time the vaccine was not an option but I think that is the most promising thing I have seen in the last few years.
Good luck!  Odin looks a lot like my current Mastiff Julian.
Pam
Oooooooohhhhhhdin! You are such an amazing pawesome gorgeous boy! WHEEEE!!! I'm so happy to see that you are getting around so well and enjoying life on three.
Great photos!
Guys I'm really sorry about the diagnosis. If it's any comfort, our Jerry had osteosarcoma too, he lived two years, no chemo. It's a tough diagnosis to bear but as Dr. Pam said, you just never know who will beat those odds. All you can do is follow your gut and make decisions with Odin's quality of life in mind. Your vet sounds great and put it very well, there are no right or wrong choices.
Any yet again, Smooching that big cuddle bear right thru the screen-!
Thrilled to hear how well Odin is doing!!  A Teipawd RockStar for sure!!   And this is just day twelve...WOW!!!
Yep, no eifht or wron.  Any decision  out of love is the best decision  though♥️♥️♥️
Hugs
Sally and Alumni Happy Hannah and Merry Myrtle and Frankie too!
Happy Hannah had a glorious additional bonus time of over one yr & two months after amp for osteo! She made me laugh everyday! Joined April's Angels after send off meal of steak, ice cream, M&Ms & deer poop!
Hi All, it has been quite a while since I gave an update on Odin - I'm happy to report he's doing great! Posting a video below of him running in the snow a couple months ago! (I hope the video works - it took a while to figure out how to upload!) Odin just had his fourth chemo treatment today and has one more to go - the doctors say he is so well behaved while he gets it, which makes us proud! No side effects at all either - healthy appetite afterwards, just usually pretty tired from the excitement/stress of a vet visit. 
We've been trying to keep his weight at a manageable level, he's now 160lbs versus the 184lbs prior to his amputation surgery. No doubt his leg weighed a bit, but he's been snacking on carrots, celery and high protein jerky instead of milk bones and cookies!
Hopefully if any other giant breed dog owners are reading this, you know there is hope! Odin proves that it doesn't matter the size, you can overcome leg amputation surgery and have a great quality of life. This forum and website has helped us get through making this tough decision! Thank you all 🙂 
WOOOHOOO!!!!
Odin and you are rock stars! Thank you for this update, it really made my day. You have every reason to be so proud of him, and of yourself too.
SO was it just changing his treats that helped him drop the extra pounds? What amazing weight loss! Was it hard? We would love more details! Maybe in a new post in Eating Healthy if you are up to it.
Forum Timezone:
America/Denver
Most Users Ever Online:
946
Currently Browsing this Page:
1
Guest(s)
Member Stats:
Guest Posters: 1154
Members: 13576
Moderators: 2
Admins: 3
Forum Stats:
Groups: 4
Forums: 23
Topics: 17185
Posts: 240468
©
Simple:Press
—