Join The Discussion
Learn about life on three legs in the forums below. Browse and search as a guest or register for free to take advantage of member benefits:
Instant post approval.
Private messages to members.
Subscribe to favorite topics.
Join the Live Chat and more!
Best Support Harnesses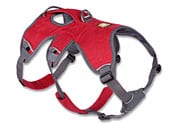 Visit the Gear Shop for the best harnesses and helpful products for Tripawds!
A
A
A
Hi All
Just wanted to say how useful this forum has been since we found out one of our little boys had no option but to have his hind leg amputed.
Theo lives with his brother Milo in the UK and is a Savannh who is nearly 3 years old, a couple of weeks ago on Easter Monday Theo went out to play as he often does but didn't return home in the evening (not entirely unusual he's very inqusitive and will nose in peoples open garages and sheds!) but 4 days later he still hadn't returned so we put up lots of posters in the local area resulting in a phone call from a lady to say he'd been found in her neighbours garden that afternoon and was on his way to the vets with an injured paw – queue huge sense of relief all round –  Milos had a paw injury before – trip to the vets and some antibiotics and all was fine.
When we saw his paw it was very very swollen and clearly infected, the vets put it down to a cat bite and gave pain meds and antobiotics – the standard stuff, however over the weekend more and more puncture wounds started to appear both on his paw and his leg, along with more infection and skin started to come away. So back to vets where they recomended a clean under general anethestic which would enable the dead tissue to be removed as well.
Okay so not what we were hoping for but we went ahead full of optimisim that he would then start to recover – however this was not to be – when the vet rang me directly rather than the nursing staff I knew things couldn't be good, the infection and tissue damage was so severe they had removed alot of his soft tissue on both his leg and paw, his tendons were exposed and he was going to need cleaning and dressing changes every 2/3 days under sedation for several months to stand any chance of saving his leg or the other option was amputation

we were called to the Vets to discuss the options and they decided to give it a couple more days to see if the infection could be brought under control but in the meantime the vet had photographed the injuries (images I wish I could unsee) and was going to seek a second opinion. When we went back for the dressing change a couple of days later the decision had basically been made for us, a number of vets at the practice had assessed the photos and had decided amputation was the kindest option.
Further discussions with a few of the vets has led us to believe that Theos injuries were not casued by a simple cat bite, they now believe he was caught in some kind of animal trap and probably struggling to escape for much of the time he was missing which would explain the extent of the injuries and the level of infection and that he was probably set free by whoever set the trap as they are pretty impossible to escape from – needless to say there have been a few tears that anyone could be so cruel as to set these.
We are now one week on from surgery (full leg removal from the pelvis), Theo is up and walking around and can even manage the stairs which is great, he was taken off of Buprenorphine on Thursday but was still on Meloxaid and still wearing the cone of shame (which he hates!), sadly over the weekend he started having what look like mini fits he screams out as if startled, his tail puffs up and he panics and starts trying to run basically like his fight or flight instinct has kicked in, sadly not being very stable he then crashes into things and has manaed to damage the skin on the wound site, it's upsetting to watch and I have to try can catch him to calm him and stop him hurting himself more which in itself is scary for him, we had several episodes overnight on Saturday and in the end I had him on the bed with me and I pretty much stroked him for 2+hours to keep him calm so he could get some rest.
Reading up on here I thought it might be some kind of phantom limb or post surgery pain shooting pains coupled with memories of the trap going off. So I went back to vets yesterday armed with this information and quite prepared to argue with them but they agreed and have put him back on the Buprenorphine for a few more days to try and manage any pain and also to sedate him a little, this was started last night and we had a calm and quiet night so am hoping this is going to help – has anyones else's little one been given Buprenorphine post op and if so how long were they on it for?
Anyway sorry for the very long first post, I have a few questions about protecting his wound site especially around the boney area so I'lll find the best forum to post those in now.
Sherilyn
Hello Sherilyn, welcome. Your future posts won't require approval so post away, and write as much as you'd like, there's no such thing as too much information here!
I'm sorry to hear about Theo but glad that someone set him free from that horrible trap, and that he found his way to get help. What a lucky kitty, he's been through a lot.
To address Theo'ss situation:
sadly over the weekend he started having what look like mini fits he screams out as if startled, his tail puffs up and he panics and starts trying to run basically like his fight or flight instinct has kicked in,
This definitely sounds like a situation known as phantom pain , which affects cats and dogs. Many parents of Tripawd kitties in our Three Legged Cats Forum describe the exact same behavior. Usually animals can find relief through a combination of prescription medication known as Gabapentin, as well as acupuncture. Are you in an area where you can find a vet who can perform the acupuncture? Many Tripawds have found relief with it. Ask your vet about Gabapentin as well. Usually it works and is well tolerated. 
has anyones else's little one been given Buprenorphine post op and if so how long were they on it for?
These search results are from people with stories you may want to check out. I'm glad it's helping Theo! Don't feel badly about putting him back on pain medication. Most animals are on pain medication 10-14 days, sometimes longer. 

Virginia


Forum Posts: 16398
Member Since:
22 February 2013

Offline
Oh goodness!  What an ordeal for you and Theo!!   Soooo glad he was found and s now home and on the road to recocery!
DDitto all of Jerry's post, and DEFINITELY chexk out the links! We have some of the most knowledgeable kitty pawrents on the planet when it comes to heling cats heal during recovery, what to expect, how to  overcome hurdles, etc.   And definitely amputation was the way to go.  One surgery and done!
Gabapentin should help with the phantom pain .  May make Theo sleepy, but rest is good!
Yeah, to think brutally savage and barbaric traps are still used today is sickening.  They are STILL used in the States to target the unlucky animals humans have decided  to kill so they can wear their skin for "fur coats".    Needless to say, the trap does not discriminate between the life of a Wolf, a Fox, or a dog, or a deer…..or a cat.
Just so glad your Theo was found and is back in your loving arms.
Hugs
Sally and Alumni Happy Hannah and Merry Myrtle and Frankie too
Happy Hannah had a glorious additional bonus time of over one yr & two months after amp for osteo! She made me laugh everyday! Joined April's Angels after send off meal of steak, ice cream, M&Ms & deer poop!
Hello and Welcome Sherilyn and Theo,
We are sorry you have to join us & so sorry to read about Theo getting caught in a trap you are both very fortunate Theo was released from the trap and found his way home to you. That is one of many dangers of letting kitty roam off your property. We have another member who joined their kitty also got into a trap. I believe it got caught in a groundhog trap. I'd have to dig around to find it. Like you kitty found his way home, and they were able to save him & amputate the leg. He recovered and hopped on.
We cant know what other people are doing, unfortunately.  Cats are curious, and they end up in all sorts of situations. I am relieved Theo will be ok. And he will be once you get him thru this.
Did your Vet request limited activity for Theo? Purrkins had restrictions for 14 days. We did that by staying in a spare room. What about after Theo is all healed up? Will Theo be going back outside? Or will he become an indoor kitty now? 
Our cats are indoor kitties, but they go outside supervised. We take them out on a harness or kitty tent. They love going outside! 
I agree with Jerry & Sally sounds like Theo is having phantom limb episodes. It does appear to happen more frequently in rear leg amp kitties. It is alarming to watch them go thru those episodes. Purrkins had several and you I felt helpless. Buprenorphine is a great pain reliever I would ask your vet your vet about Gabapentin that is for nerve pain.
Purrkins was on Gabapentin for 14 days 100 mg every 8 hours and Buprenorphine for 12 days. Then we took him to acupuncture to help him get off his pain meds & he continues to go every three months for tune-ups.
What are your questions regarding the incision? Hopefully one of us can help you. Purrkins is a front leg amputee we have active members with rear leg kitties hopefully they will see your post.
Ask away that is what we are all here for to help you get to your new normal!
That day is coming! Hang in there and if there is another episode tonight call the Vet ASAP and get the Gabapentin prescribed.
I hope your evening is uneventful and Theo has no episodes!
Hugs & scratches to the kitties! 
Holly & Purrkins❤️
Oh boy, what a story. I hate traps, even the thought of them makes me cringe. When I was an animal control officer I got to see one up close and personal. Thank goodness it was empty but it was set. I demanded it be removed and it was, at least for the time I was around. 
Theo sounds like he's having phantom limb pain. The buprenorphine helps with post surgical pain, but the gabapentin helps with phantom limb pain. It actually works on the nerve endings that send pain messages to the brain if that makes sense. My mom had back surgery several years ago and they gave it to her for similar reasons. Unfortunately, it seems in the UK that doctors are reluctant to prescribe it. I am not a vet, but I will tell you it was a game changer for Huckleberry and many others here. 
Huck was on buprenorphine and gabapentin, given with some time in between, for about 2 1/2 weeks. He did have phantom limb pain and it made a huge difference. After staple removal and healing of the incision we took him off. I believe you may have to lower the dosage a bit before cutting them off. He's great now and does not have the phantom limb pain. I hope this helps you.
I'm so sorry this has happened to your boy, but you couldn't have found a better place for support and understanding for animals that have had to undergo amputation.
Please stay tuned in, I know many others will be here soon with their own experiences.
Jackie and Huckleberry ❤️
Hugs,
Jackie, David, Mitchell, Andy Oscar, and the coolest feral tripawd kitty Huckleberry


London, UK

Forum Posts: 1534
Member Since:
15 December 2015

Offline
Hi Sherilyn and welcome! I'm so sorry about what happened to Theo, but thank heavens he is safe now and you have found your way here!
Whereabouts are you exactly? I am in the UK too, and know a brilliant rehab vet (and big time cat lover) who does acupuncture etc., if you happen to be anywhere near Buckinghamshire.
I agree with the others, this does sound like episodes of phantom pain , and gabapentin would be helpful. You shouldn't have any problem obtaining some. It is commonly prescribed here. Both my dogs have been on it, prescribed at different times by different vets, though clearly, with more than 20,000 vets practising in the UK, you would expect a range of approaches to pain management.
All best to you and Theo,
Meg, Clare and Angel Pie xxx
Meg, Mutt, aged around 9, adopted 31/12/2009. Sudden explosive right elbow fracture 06/12 (caused by IOHC), diagnosed with End Stage Arthritis 03/15, Total Elbow Replacement 08/15, problems with healing leading to skin graft & skin flap surgery, Chronic Infection leading to implant breakdown. Became a Tripawd 9th March 2016. 
Lives with Mum, Clare, watched over by Angel Pie and Angel Billie
My life as a MEG-A-STAR 



Clare I'm so glad you chimed in, thank you! If anyone knows about finding great veterinary care in the UK, you do. 
Sherilyn you probably think we are crazy about Gabapentin here! Yeah, whether someone is in the UK or elsewhere, it has helped a ton of Tripawds members' dogs and cats feel better when post-op pain is an issue. When used in combination with other modalities like physio, the cat or dog can get back to feeling good again on a much faster time frame than without using it.
Jackie, thanks for sharing Huckleberry's experience, it's so valuable. But I'd like to share some of my thoughts about this comment, for the sake of avoiding a "UK vets versus US vets" disagreement among our global community …
 Unfortunately, it seems in the UK that doctors are reluctant to prescribe it. 
Admin and I have never been to the lovely UK but based on the UK vets and Tripawds members we've known, we've learned that just like here in the states, there vets who understand Gabapentin's benefits, and vets who aren't yet aware. It's not a UK versus US thing, it's just a matter of vets finding the time in their crazy schedules to explore new pain management options. In fact, Dr. Petty said it best in the interview I published last week:
"You may have the best surgeon in the world that has done a major procedure, an amputation, or whatever, but maybe doesn't know how to deal with the post-operative pain at home. That doesn't mean he's a bad veterinarian, we just can't all be good at everything,"
Thanks to all the great input members share here, we learn what works in cases like this and by sharing it with our vets wherever we happen to live, all animals benefit. Yay!
Oh, I read what I wrote after and I can see how that could easily be taken the wrong way, apologies please. I don't think what I typed was meant to come out that way. It seems like some docs go right in for the gabapentin and send them home right away with it. Some prescribe it before surgery and then keep them on it. Some prefer to wait and see if it is needed and do not send them home with it unless a problem occurs. I hope that is better. I myself had to almost argue with my American vet over Huck and his pain meds. He ran out three times and each time he suffered for it. I find it upsetting to see them go through unnecessary pain, like the amputation itself is not enough.  
No doubt, Clare is a wonderful pawrent and a huge advocate for her furbabies! And sometimes we really do have to advocate for them or they just don't get all the care that they need. 
I hope Theo is feeling better soon!
Jackie and Huckleberry


Hugs,
Jackie, David, Mitchell, Andy Oscar, and the coolest feral tripawd kitty Huckleberry

Hi Everyone
thank you for the friendly greetings and all your advice, at the moment he's doing well and no more 'episodes' since he went back onto buprenorphine and thankfully the extra wounds he caused when he was spooked seem to be healing well – we have another post op check at the vets this evening so will see what they say and whether they have heard of Gabapentin.
With regards to him being an indoor cat – whilst a huge part of me wants to protect him in that way I know he would be miserable as his brother would be going out and about – even now he makes a bee line for the door when it opens and sits by the cat flap doing his little begging face and mewing at me as if to say please mum let me out, we live in a semi-rural very quite area and so on the whole he's very safe but we are looking at ways to make the garden more secure which we think would give them the best of both worlds as the garden is pretty big so they would have lots of space to still run around and burn off their Savannah energy

Sherilyn
That is fantastic no more episodes and the wounds are healing.
Great to have the best of both worlds there are some great ideas to enclose an area if you are looking to enclose the garden area. 
http://www.purr…..tfence.com  This is just one site I found and I am sure there are a lot of other ideas out there.
I understand the energy of  Savannah kitties and the need to expel that energy. Please know I am not pushing one way or another on you just showing you there are some options if you wish to explore them.  
Please let us know what your Vet says and how Theo checks out. 
Hugs,
Holly & Purrkins❤️

Canada
Forum Posts: 1063
Member Since:
7 July 2017

Offline
Hi Sherilyn and Theo
i am sorry that you find yourselves here and especially after such a horrific situation! My heart goes out to you all! Great to hear that Theo is healing and doing better. Keep up the good work little fella and you will be back to your old, new self again soon!
Savannah  Cats have to be one of the Coolest Catssss evah, right up there with the Ocelot Cat! They are both super high energy catssss and need a ton of stimulation. Have you ever watched the show with Jackson Galaxy? He is the 'Cat Daddy' and has some excellent tips on how to keep your high energy cat happy with living the indoor life. 
https://www.jacksongalaxy.com/cat-daddy-tips/
Stewie has four Catssss in his home and one of my catsss is a super high energy, roaming type of fella and so I keep him in a harness and we go out at least twice a day. It took a few 'harness training' sessions in the house befoe we went outdoors and I was sure to keep a  short leash on him in case he freaked out on it, but now he is like a dog! He walks on leash better than some pups I know! I bought a suitable dog harness and my friend (with sewing skills) made some minor adjustments to make it fit Teddy. The reason I did this is because most cats harnesses are those skimpy looking things and I felt if Teddy wanted to freak out he would certainly either hurt himself or possibly get out of it!
My other cat, Chester, has a tag finder on his collar and I am out checking on him every 10 minutes. We also live in the country and a fence around our yard is not feasible for us. He is a home cat for sure and doesn't go very far. Miss Lily doesn't get to go out at all, as she would run off and my old man Spikey is just too old to go anywhere but suntanning on the deck! The potential for another wild animal to grab my boys is too high and so this is my way of keeping them safe.
Holly and Purrrrkins and Sexy Saxton have a lovely tent that they spend their daze in and that way she can still do stuff around the yard and the boys get to hang out as long as they want! I know that Purrrkins also gets to go out on his harness made especially for Tripawds Kittens!
Its possible that Theo will be quite hoppy as a Harness Wearing Tripawd Kitty! He will still be Cat, but he will need to expend a little more energy in hopping around. We're looking forward to hearing lots of hoppy stories about your beautiful Savannah!
Pawsitive healing thoughts are coming your way from
Petra, Stewie and his played out Kittens.

Hi All
Sorry for the delay in responding it's been a hectic few weeks!
Positive news from the vet she actually recommended gabapentin when I explained Theos symptoms without me having to ask, he's been on 1 tablet twice a day for nearly 2 weeks now and it seems to be having the desired effect, she also prescribed more buprenorphine but we've gradually reduced the amount over the last week and he's now been off that since Friday, he's still on Meloxaid but so far the combination of that and the gabapentin seems to be stopping any more episodes which it great. He has another check at the vets tomorrow and am hoping he might be able to stop the meloxaid after that – the vet said he may need to stay on the gabapentin for a couple of months to allow his nerves to settle as they had to cut through the sciatic nerve. The wound site is healing really well and he's no longer wearing the cone of shame so am hoping he might get the okay for some supervised visits to the garden tomorrow as well – he must be feeling better in himself as he's trying to chase his brother round now and play fighting with him (we are making sure things don't get rough). We are still looking at options for garden proofing but at the moment he can't jump very high so won't be able to clear the 6ft fences that we have.
A couple of queries
– How long in your experiences do they need to stay on gabapentin for?
– Theo has a rather boney bit which I am guessing is the edge of his pelvic bone which he periodically scrapes the skin above (nothing serious and heals quickly) will this always be there or is he likely to fill out in that area so he has some padding around it? In the meantime is there a good way to protect it?
– How quickly did their fur grow back – I am really suprised how long Theos is taking he still got hardly anything there just a bit of fluff although we are starting to see patches of colour on his skin where his spots and strips were.
Sherilyn and Theo x
Hi Sherilyn and Theo, so good to hear from you!
I am so glad Theo is doing well, it sounds like your doctors were all over what he needed

We have all had different experiences with gaba from just a few weeks to intermittent dosing as needed over a long period of time. Huckleberry was on the gaba for between 2-3 weeks. So far I have not needed to continue since his surgery in October, but I do have some left in case he has problems. Others in here have had periodic problems and some continue on with a low dose regularly so I have to say that they are all individual based on individual needs.
Huckleberry's fur seemed like it took forever to grow back, but it did. It took several months. Right now you would never even know he had surgery if it weren't for the fact that he only has three legs

  His fur grew back perfectly beautiful.
The area that he is scraping is definitely something I have not had to deal with and I have no experience there. I honestly have not heard of that happening in most cases. I would definitely suggest asking his doctor about that when you see them tomorrow. I am a bit concerned if he is actually scraping and opening the skin. Of course it is hard to determine without seeing it, and it may very well sound worse than it actually is. When the doctor sees it they should be able to give you a better assessment.
It sounds like he is doing really well all in all! So glad to hear he was able to get through that horrible ordeal and is getting back to enjoying life as he should. You have done a great job with him!!  If you have time to try and post some pictures we would love to see them sometime when life finally calms down for you
Hugs,
Jackie and Huck

Hugs,
Jackie, David, Mitchell, Andy Oscar, and the coolest feral tripawd kitty Huckleberry

Hi Sherilyn, good to hear from you and to know that Theo is doing better. Your vet is giving him some wonderful care!
To answer your questions:
Every cat and dog is so different in their pain medication needs. We've met some that take it the rest of their lives, and some that are off it sooner than the vet prescribed. It really depends on how each individual responds to it. Take things day by day and try not to worry too much right now, he's still healing.
Speaking of healing…definitely point out that area where he scrapes his skin. Let your vet know that's happening. It doesn't sound like it's a serious thing but it's good to keep the vet in the loop in case it turns into an infection (hope not!). Generally we see muscle atrophy around the incision area, not muscle growth.
And about fur growing back…again, every animal is different. Some take months to grow their new coat back, others take a few weeks. It really depends on the individual. So, not much help there I know, so sorry.
Overall though, it sounds like things are good. I'll bet Theo and his brother are so happy to be together again!
Hi Sherilyn,
No apology needed, We all understand, Fantastic no more episodes!
Purrkins was on Gaba 2 weeks. Since Theo had episodes I would stay on it as long as the vet suggests. Rear leggers have more issues because they cut that sciatic nerve.
I would ask the Vet when you see them on his bony area. I am not sure what is going on there and something that should be addressed with your Vet.
Purrkins fur took five almost six months for it all to come back in. Yes, it is neat to see the markings on the skin isn't it?
Glad to hear Theo is doing so much better and just a tip never underestimate a tripawd kitty I did once and never again;)
Please take my word for it!
Holly & Purrkins❤️
Forum Timezone:
America/Denver
Most Users Ever Online: 597
Currently Online: tinsch
37 Guest(s)
Currently Browsing this Page:
1 Guest(s)
Devices Used: Desktop (35), Phone (3)
Member Stats:
Guest Posters: 1005
Members: 12613
Moderators: 2
Admins: 3
Forum Stats:
Groups: 4
Forums: 23
Topics: 14974
Posts: 210886