Join The Discussion
Learn about life on three legs in the forums below. Browse and search as a guest or register for free to take advantage of member benefits:
Instant post approval.
Private messages to members.
Subscribe to favorite topics.
Join the Live Chat and more!
Help Your Tripawd Swim!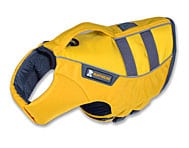 Three legged dogs swim safer and have more fun with the K9 Float Coat from Ruffwear!
A
A
A
hello everyone! i brought home my new tripawed buddy scout over the weekend. he's a 2 year old, 50 lb german shepherd mix. when his foster human found him his rear leg was badly damaged, likely by a chain being wrapped around it. he was no longer able to use the leg and it seemed like he had become acustomed to dragging it, so it was removed two weeks ago. 
scout could definitely stand to gain some weight – which we're working on but he's a light eater – but i noticed today that one hip (the side his leg was amputated from) seems to stick out further than the other. i've applied light pressure to it with my hand and it's very hard and doesn't cause him any pain. of course, this side is shaved so it may not be as drastic as it seems. 
is this normal for tripaws? 
also – my current apartment (and most of my friends' apartments) has some stairs. we take them slowly and he does very well on them. i am in the market for a house, but we may be here awhile. do you think going up and down stairs several times a day will cause him any long term damage?
thank you so much! 

The Rainbow Bridge

Forum Posts: 23780
Member Since:
25 April 2007

Offline
Hi Ashley & Scout, welcome! We're so glad you two found each other, and found us too!
Scout's story sounds a lot like how our Wyatt Ray lost his leg. Sad and very common unfortunately. Wyatt has been a rear leg Tripawd since he was eight months old and now he's nine, and doing well.
Don't worry too much about Scout being thin. Your vet may have already told you but being thin is an advantage for a Tripawd, and especially those with German Shepherd in them. Shepherds have notoriously bad hips. Any extra weight, even a pound, is hard on their bodies. Thin Tripawds have less joint stress, and studies have even been done that show that any dog, four legged or three, has a better chance of living longer if they are slightly underweight. Has Scout seen your vet yet? If not, be sure to have a conversation about a good body weight for him. 
Your vet will also be the best person to explain what the hip bone area is that you're feeling. I'm guessing it's just that; his hip bone, which is more visible without the fur. Be sure to point it out to you vet.
About the stairs…..we recommend a Ruffwear Webmaster harness if Scout will be using them throughout the day. You really want to guide him going up and down the stairs and the Webmaster has a handle that allows you to do it. Our Wyatt doesn't do any uncarpeted stairs on his own, and definitely not without wearing the harness. 
Be sure to check out our e-book, Loving Life On Three Legs , which has tons of tips about keeping Scout strong and injury free throughout his life. Congratulations on finding your forever dog!

Oakland, CA
Forum Posts: 672
Member Since:
20 December 2008

Offline
Yay for Scout for finding his forever home and kudos to you for adopting him!! Scout's story is also similar to our Codie Rae, who was dropped in the shelter night box with barbed wire wrapped around a hind leg. What is it with people?? 
I totally agree with Jerry–we have 3 tripawd GSDs and keep them as lean as we can. One of them came to us severely underweight so we fed him up and he gained weight and then boom, all of a sudden he could barely walk! Once we took a few pounds off he did much better. 
The other thing I would say is that yes, tripawds can do pretty much anything else 4 leggers can do but in order to keep them in the best shape for as long as possible it defintiely pays to monitor thier activity and not let them overdo it. You will want to protect that remaining hind leg from undue stress. Thats wear the Ruffwear harness comes in handy. 
Looking forward to hearing more about Scout's adventures! 
xoxo,
Martha, Codie Rae, and the Oaktown Pack
Woohoo! Tripawds Rule!
Regulator of the Oaktown Pack, Sheriff of the Oaktown Pawsse, Founding member and President of the Tripawd Girldogs With 2 Names ROCK Club, and ... Tripawd Girldog Extraordinaire!
Hi and welcome and congrats on your new pack member!
My current Tripawd Elly lost her right rear leg after being hit by a car at 7 months old. She is a small Pug mix who is now about 3.5 years old.  Elly's entire femur was removed which makes her hip bone on the amp side appear sort of prominent.  She actually has trouble sitting on hard surfaces because there is no padding.  
My first Tripawd Maggie lost her left rear leg to mast cell cancer.  She had a mid-femoral amp where they left a little piece of the femur and wrapped it in muscle.  She had a much more stable base to sit on and you couldn't see her hip bone at all.
As far as stairs- I live in a split level house so stairs are a part of life.  Elly is too small for me to routinely assist up or down the stairs (about 15.5 pounds) and she free to roam the house so goes up and down stairs unsupervised.  One flight of stairs is carpeted and on the tile stairs I installed carpet treads for traction .  She does wear a Ruffwear Webmaster harness whenever we are out of the house- it helps me get her in and out of my truck and I can assist her when we come to obstacles.  Because she is small I have stools or steps near all the furniture she is allowed on including my bed.  She is pretty good about using them but will sometimes still jump off the bed or couch when she is excited.
We spend a lot of time working on core strength and balance which helps keep Elly healthy.  I do limit long walks, especially on hard surfaces and also try and limit activities that put a lot of stress on the one back leg.  I got her when she was 10 months old so she was full of puppy energy and she still surprises me sometimes with what she can climb or how high she can jump off the one back leg. 
Karen and the Spirit Pug Girls
Tri-pug Maggie survived a 4.5 year mast cell cancer battle only to be lost to oral melanoma.
1999 to 2010
thank you all for the replies! 
i will monitor scout's weight very carefully as time goes on but right now the poor guy's so thin it looks like he's going to topple forward on that big head of his – you can see every rib under his coat! 
his amputation may be similar to elly's – he doesn't have much left on that side and he can't/won't put any weight on it despite the wound being healed and the stitches removed. it doesn't bother him when i touch the area. 
he's very tall and leggy, so he does really well on stairs, getting up/down from the couch and the bed. he even tries to jump on me sometimes when he's excited. he's convinced that he's a lap dog 🙂 
that being said, he is very clumsy. what kind of exercises do you do to help with balance and core strength? 

Here and Now

Forum Posts: 11434
Member Since:
25 April 2007

Offline
ashleyrose said
what kind of exercises do you do to help with balance and core strength?   
There are various starter exercises you can work on at home to help keep Scout fit and strong. You will find many more recommendations, articles and how-to videos in Loving Life On Three Legs available in the Tripawds e-books library.
The best option, however, is to consult with a certified canine rehab therapist for a professional evaluation and specific exercise regimen design just for Scout's particular issues. Visit a CCRT or CCRP and the Tripawds Foundation can even pay for your first consultation from the Maggie Moo Fund for Tripawd Rehab.
Starting with a rehab specialist is a great idea. 
There are some simple things you can do that are really games. A gentle game of tug will work on balance and core strength.  You don't want wild movements but just making him shift his weight from leg to leg will do him good.  I also love food puzzles and games.  Low impact, but excellent for working balance and core.  Elly's got her breakfast in a food toy for the first year or so she was with me- eating and exercising at the same time!  And puzzles and games work their noses which can really tire them out, not to mention the added benefit of mental stimulation.
Elly's Blog has some pictures of some of our activities, especially the older posts.
Karen and the Spirit Pug Girls
Tri-pug Maggie survived a 4.5 year mast cell cancer battle only to be lost to oral melanoma.
1999 to 2010

Virginia


Forum Posts: 16378
Member Since:
22 February 2013

Offline
Thank you for giving  Scout such a loving and caring furever home,  Spoiling a tripawd is so much fun!😁
Jist clarifying.   When you say Scout "doesn't  put any weight on it", are you referring  to  laying on the amp side?  My Happy  Hannah took five weeks before she slept on her amp side.  Like your Scout, her incision  was all jeal3d and there was no pain.  I think it's probably  just a strange sensation at first as all the nerves and muscles are still adjusting.  I kmow some scarring Ive jad for various reasons  is kind of a  "numb/gone to sleep" feeling for several months  after healing.
And as Karen said avout her Elly, tshe doesn't  jave mich padding over the vone so she avoids sitting  on it.  It sounds like Scout is very, cery thin right now, so mayve as he gains a good healthy  weight (no,  not fat), he may get a little cushion  over it.
Can't  wait for pictures! Check this link out for help adding  images
Hugs
Sally and Alumni Happy Hannah and Merry Myrtle and Frankie too!
Happy Hannah had a glorious additional bonus time of over one yr & two months after amp for osteo! She made me laugh everyday! Joined April's Angels after send off meal of steak, ice cream, M&Ms & deer poop!
thanks for the tips! 
this was scout the day i brought him home – i've since taken his stitches out and the wound looks much better.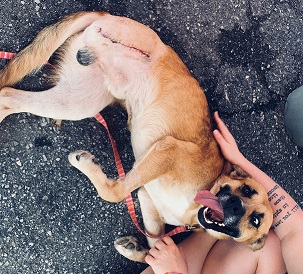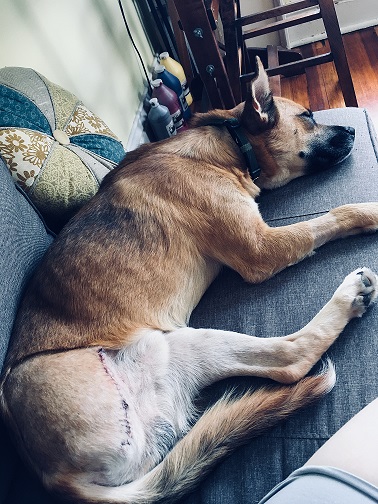 he does not sit or lay on the amp side at all. he goes to great, awkward lengths to avoid it. i imagine it's still a little sensitive, but as you can see he doesn't have much on that side to sit/lay on! 
That incision/hip area looks just like Elly's, I looked for a picture but I couldn't find a good one of her hip. I adopted her about 2.5 months post op so she was fully healed from the surgery, she was 10 months old.  She is about 3.5 years old now and approaching 3 years on 3.  Ever since I've had her she would lay or sit on her amp side, but only on soft surfaces.  Just recently she has taken to sunbathing on the concrete walkway in our side yard but always lays on her 'leg' side. She will now sit on rugs on hard surfaces like our tile floors- so not super cushy and she usually doesn't stay there long.
She is still really sensitive on her amp site and doesn't really like it to be touched. She used to really freak out if her leash dragged across her back end but I got her over that.
Karen
Tri-pug Maggie survived a 4.5 year mast cell cancer battle only to be lost to oral melanoma.
1999 to 2010
Forum Timezone:
America/Denver
Most Users Ever Online: 597
Currently Online: kbp0419, kbart1107, joni
60 Guest(s)
Currently Browsing this Page:
1 Guest(s)
Devices Used: Desktop (52), Phone (10), Tablet (1)
Member Stats:
Guest Posters: 1005
Members: 12590
Moderators: 2
Admins: 3
Forum Stats:
Groups: 4
Forums: 23
Topics: 14970
Posts: 210768