Caring for a Three Legged Dog or Cat
Tripawds is your home to learn how to care for a three legged dog or cat, with answers about dog leg amputation, and cat amputation recovery from many years of member experiences.
Learn how to help three legged dogs and cats in the forums below. Browse and search as a guest or register for free and get full member benefits:
Instant post approval.
Private messages to members.
Subscribe to favorite topics.
Live Chat and much more!

Member Since:
27 January 2012
Offline
I was looking through the forums and apologize if I missed where someone else has posted about this topic and I just couldn't find it.
This past Friday marked the 2 week post-amputation mark for our Daisy girl and so far she has amazed us…..and the whole staff at our vet's office, our vet, friends and family (I am a very proud mom, can you tell??) 😉 She's slowly weaned off almost all of her meds except the occasional Tramadol and Deramaxx every day. She's doing great with walking, stairs, etc….even gave me a small heart attack the other day when she decided to jump on our bed!
The only area she is NOT doing well in is with her 'brother and sister', our other 2 dogs, who until her surgery were her inseparable best friends. Daisy (who now has her own blog on here with her whole story at Daisy's tripawd diva spot) is a 5 year old American Bulldog and we also have Mason our 2 year old Pit Bull and Grace our 3 year old Am Staff….they weigh in at 78, 83 & 45 pound respectively.
They were each other's constant companions…..never any 2 against 1 issues or aggression amongst them, their biggest huffs were always who got up earliest in the morning and ruined it for the others 😉 We adopted Grace when she was 3 months old, but had been separated from her mom since she was only 3 weeks old. Her, her mother and litter mates were surrendered to a kennel that sadly did not re-home bully breeds so their mother was put to sleep before the rescue group we got Grace from had a chance to step in.
From the minute we brought Grace home, Daisy thought Grace was her responsibility. She taught her everything, even housebreaking! There was nowhere Daisy went without her shadow, she even slept in Daisy's bed during storms and fireworks. Adding Mason to the mix wasn't much different except that he was already 1 and had come from pretty rough beginnings. She never showed any resentment towards either of them and trust me, Daisy always let's you know what she's thinking!!
This is why I am so puzzled with her post-amputation attitude towards them. All they want to do is be by her like always before and she wants nothing to do with them, she even snarled at Mason the other day for trying to give her a kiss. She won't let either snuggle up by her and if they walk near her in the house she goes the opposite direction.
I am hoping someone out there has had a similar situation and could give me some insight. I am really hoping it is just a phase that will pass but in the meantime I am looking at the faces of 2 very sad and confused dogs.
Sorry this turned out so lengthy but I thought the background info was needed. Hope for some great Tripawd feedback, I could use it!
Hi Daisygirl, thank you so much for joining us here! You don't need to apologize for your post, answering questions is what we're here for. I know there are lots of folks here with multiple dogs in the pack so you'll get lots of great insight. Your future posts won't require moderation now that you're registered and approved, by the way.
This search for "Siblings" in our Forum Tags, came up with a few results you can sift through for some input while you're waiting for responses (thank you for using tags in yours!).
My own personal thought is that two weeks is a benchmark for healing but it doesn't mean all dogs will be back to their normal selves by then. Sounds like your girl is still healing, and that occasional Tramadol can also be causing crankiness. Some dogs just don't like how it makes them feel. I'm betting that in another two weeks or so you'll start to see her old personality start to shine though. So hang in there OK?!
And welcome aboard.

knoxville, tn
Member Since:
12 February 2010
Offline
thinking back, i remember gayle, after her surgery, kept distance from jane for a while.  first, the tramadol was making her a bit wacky, and she just wasn't herself until all of that was out of her system.  second, it's probably a natural 'dog' reaction, once you've been hurt or 'modified' to stay away from the rest of the pack.  in the wild, a wounded or weak pack member would be weeded out and exiled, to protect everyone else from predators.  we're guessing it's this instinct that's come into play, as daisy is still adjusting to being a tripawd.  
with time, our girls resumed their relationship (which wasn't quite as chummy as your guys') and got along quite well.  there were still times, like after the melanoma surgeries or when the lymphatic tumor was painful, that again, gayle got standoffish...by then, we'd lost jane and our boy sam was the confused one. 
hope this is just an 'adjustment' for daisy and she can slowly get back to her happy relationships.  she hasn't yet had much time to adjust, so maybe just give her some slack until she comes around.
love her avatar picture, such a cutie pie!!
charon & spirit gayle
Life is good, so very, very good!!! Gayle enjoyed each and every moment of each and every wonderful day (naps included).  She left this world December 12, 2011 – off on a new adventure.
Love Never Ends

San Diego, CA
Member Since:
29 October 2010
Offline
Welcome to you and Daisy. We've always only had 1 dog at a time, but Abby was VERY standoffish during her recovery. I'm wondering if it's just the same thing with Daisy. Abby was always my shadow - but post-amp, she didnt' want anything to do with my husband and I for a while. She would go outside and "hide" in the yard and no amount of coaxing could get her back in the house - even when it started to get dark and a bit cold. (Luckily we are in San Diego, so it never got *that* cold, but still - it concerned us!). Our vet said the same thing that Charon mentioned - it's likely instinct from waaaay back when an animal did not want to be seen as weak by other pack members.
Once she is fully recovered, hopefully they'll resume their great relationships. Even if she is off the meds and returning to her old self, she might need to build up her strength and stamina (which can take a couple more weeks) before feeling like her old strong pack-member self!
Hopefully that's all it is and she'll be back to normal soon,
Jackie, Angel Abby's mom
Abby: Aug 1, 2009 – Jan 10, 2012. Our beautiful rescue pup lived LARGE with osteosarcoma for 15 months – half her way-too-short life. I think our "halflistic" approach (mixing traditional meds + supplements) helped her thrive. (PM me for details. I'm happy to help.) She had lung mets for over a year. They took her from us in the end, but they cannot take her spirit! She will live forever in our hearts. She loved the beach and giving kisses and going to In-N-Out for a Flying Dutchman. Tripawds blog, and a more detailed blog here. Please also check out my novel, What the Dog Ate. Now also in paperback! Purchase it at Amazon via Tripawds and help support Tripawds!

New Zealand
Member Since:
6 November 2011
Offline
Time is a great healer of all wounds, and I guess this is  no different. Our two took awhile to be themselves around each other again and I think it is just a adjustment period and lets face it the last thing you want when you hurt is someone hanging around. I'm sure they will be back to  thier usual closeness soon.
This is the best and only place for all those question serious or not.
Hope her recovery continues well.
Sarah, Kayla and Sarge

Las Vegas, Nevada
Member Since:
14 August 2009
Offline
I concur with everyone!
When dogs lose their 'fight or flight' ability, it can make them uneasy.  And that's what has happened to a certain degree. Plus that darned Tramadol makes them goofy!
If it were me, I'd stop giving Tramadol (that's because I think it's not helping at this stage) and is causing her to be a bit confused.  The Deramaxx should be all she needs after 2 weeks.  I think once you cut it out completely, she'll be back to normal and remember how much she enjoyed her siblings and the fight or flight feeling will go away!  I'm not a doctor or vet but I think I've been through at least 500 amputations here!!!   All problems usually point to tramadol!  (just remember tramadol isn't helping the healing, it's just blocking the pain from the brain.  The Deramaxx is helping the inflammation, which in turn is helping the pain) 
I hope that helps a little!
Keep us posted on how this situation progresses! 
P.S. If she seems to be in pain, try an ice pack (frozen peas) for 10 minutes on the area
Comet - 1999 to 2011

She departed us unexpectedly  January 23, 2011 at the age of 12 1/2.

She was born with a deformed front leg and a tripawd all of her life.


Columbia, MO
Member Since:
10 December 2011
Offline
I have a Daisy Girl, too!  My Daisy would growl at my other dog Matti when she would sniff at her surgery site.  Daisy is not normally a growler, she's pretty docile and laid back.  She doesn't do that with Matti now (we're two months post-amp) but if a dog comes a sniffing at the dog park she will growl at them.  I think she just feels vunerable with only three legs.
Hopefully when your Daisy fully recovers she'll be back to her old self.
Marla and Daisy
My Two Tripawds...Biscuit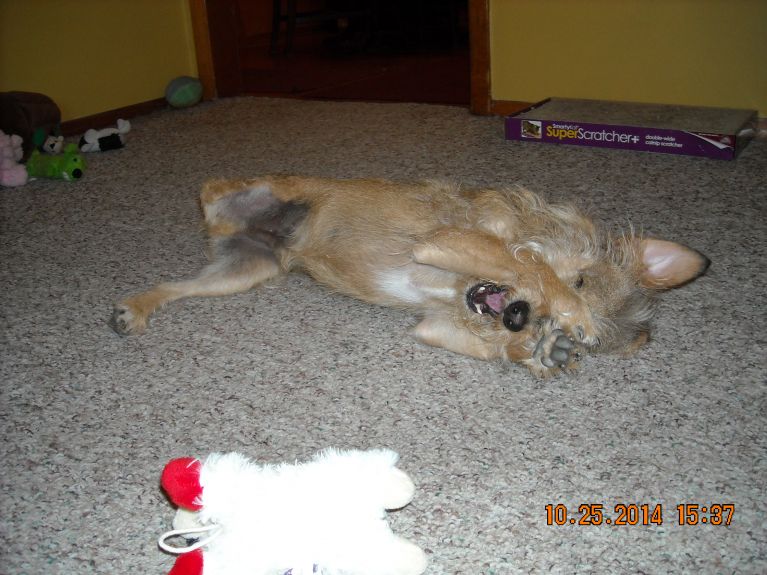 and Spirit Daisy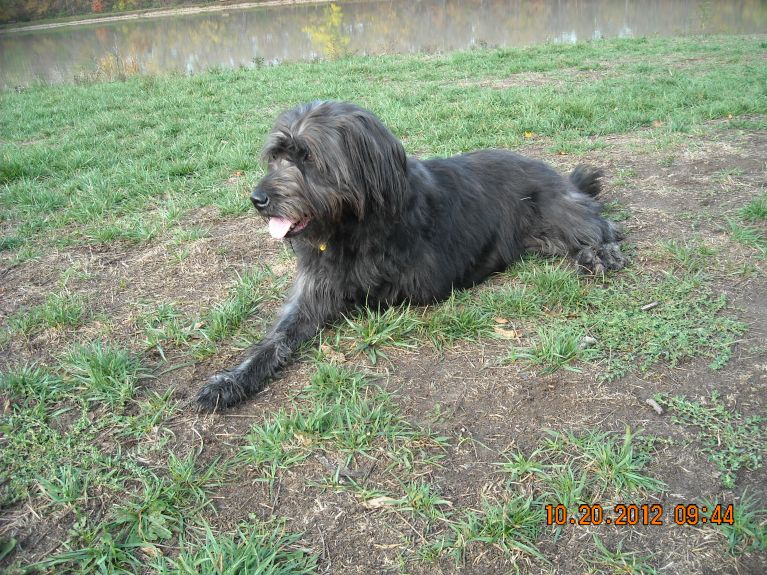 Member Since:
14 June 2010
Offline
We are a 3-paw house but we are in NYC and for the first month or so after his surgery Ajax would give a warning growl/rumble to other dogs he passed on the street - something he NEVER did before.  Then he gradually stopped growling, started approaching small dogs, then bigger dogs he knew well, and now he is romping around lilke nothing happened.  I do think they feel a little vulnerable at first. 
That being said, I don't have a "pack" at home so my input is limited.
Forum Timezone:
America/Denver
Most Users Ever Online:
946
Currently Browsing this Page:
1
Guest(s)
Member Stats:
Guest Posters: 1234
Members: 16475
Moderators: 2
Admins: 3
Forum Stats:
Groups: 4
Forums: 23
Topics: 18053
Posts: 249797
©
Simple:Press
—