If you're part of a multi-dog pack and considering amputation for your Tripawd, you're probably wondering how your other dog will react when the Tripawd patient returns home to recuperate.
Will your quadruped take advantage of your Tripawd? Is there a chance that your three legger can get injured?
Rest easy. Not once have we heard of a Tripawd being injured by a four legged sibling, at least on purpose. Not to say that it can't happen, but usually the quadruped in the family senses that his Tripawd packmate needs extra loving care and some space. They usually react as Cooper did when Guinness came home, as shown in this video:
[youtube]http://www.youtube.com/watch?v=JZ-zyoZ9f3s[/youtube]
The biggest risk for most new Tripawds when they come home is getting too tired from rough play with their pack mates.
Do your best to keep your patient in a separate area where he can see what's going on but feel safe enough to rest.
Here's what 35 month bone cancer survivor Dog Darcy Deerhound's rest area looked like. Darcy's mum, Bev, says:
"We sectioned off an area of the living room for Darcy so that everyone could see her and she could see everyone, but nobody could irritate her or accidetally step on her in those early days after surgery. . .

Nobody ever tried to 'break in' to Darcys bed space but they could lay beside it if they wanted to."
When Nova came home from surgery, her sibling Emmy reacted with care. Nova's mom Sue says:
"What was really amazing is that Emmy (the 4-legged one) almost instantly knew something was wrong with Nova (Tripawd), and "knew" that she should be treated with care. For the first week or so she just was a little stand-offish, and they did not snuggle up as usual. She could tell Nova wasn't feeling herself, and gave her space.

Now they are back to snuggling, but Emmy is cutting Nova a lot of slack in many ways. She lets her eat first and is patient with her when she plays with her toys, even if she just stole a toy or bone! And she no longer roughhouses with her."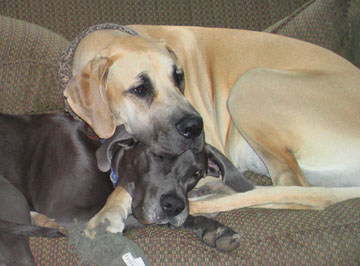 Be sure to carefully observe your other dogs for signs of feeling left out. You may be so focused on the patient that you forget to notice that they aren't getting enough time with you. They may not want to eat or revert to bad puppy behavior.
If this happens, be sure to carve out extra time with your other canine kids. Even just 15 minutes of ball playing or walks with you alone can alleviate any feelings of being left out.
If you have a multi-dog household, how did your other pups react when your new Tripawd came home?
Share your experiences here or in the Discussion Forum topic to help put nervous new Tripawds pawrent's fears at ease.