Caring for a Three Legged Dog or Cat
Tripawds is your home to learn how to care for a three legged dog or cat, with answers about dog leg amputation, and cat amputation recovery from many years of member experiences.
Learn how to help three legged dogs and cats in the forums below. Browse and search as a guest or register for free and get full member benefits:
Instant post approval.
Private messages to members.
Subscribe to favorite topics.
Live Chat and much more!
I have a 7 year old American Staffordshire Terrier, Rusty, who lost a rear leg when he was about 1 year old (before I adopted him).  I have always been worried about that sole leg being his rear support and always tried to keep it strong and exercised. He has been very healthy and is a perfect weight for his size (50lbs.). He had been acting kind of slow since I took him to doggy daycare about a week ago (which I now realize is too much for him!), but last night it all came to a head when he started limping on that back leg. I took him first thing this morning to the vet and she diagnosed his with a partially torn ligament. She said he may need surgery, but if he starts to feel better on anti-inflammatory meds and restricted activity, then he may not need the surgery.
I have been doing research on my own and see that a lot of people suggest having the surgery and would never NOT do it. I am confused and would like some more clarification as to when (if ever) it is ok to NOT have the surgery. My vet seems to think that may be an option.
I want to do the right thing for my sweet boy, but I am not the kind of person to do unnecessary treatments for my dog, especially with the pain and difficult recovery. Any advice would be appreciated.
Thanks!

My heart lives at Rainbow Bridge
Member Since:
28 November 2008
Offline
Duke (a quad pawd) had a torn ACL early this year.  When I took him in for a diagnosis, one of our options was to give him complete rest for 2 weeks and see if he improved. The vet was pretty certain it was a full tear, so we chose to do the surgery, I didn't see any need to delay the inevitable.
Had it been a partial tear like yours, I would not have had a problem waiting to see if the rest and meds helped.
If you do the surgery, he will be on complete crate rest for up to 8 weeks. I'm not sure what they would recommend for a pup missing the other back leg.
Shanna & Spirit Trouble ~ Trouble gained her wings 3/16/2011, a 27 1/2 month cancer survivor, tail wagging. RIP sweetheart, you are my heart and soul.  Run free at Rainbow Bridge.
The November Five - Spirits Max, Cherry, Tika, Trouble & Nova. 11/2008 - 3/2013 An era ends as Queen Nova crossed the Bridge.


WYO
Member Since:
10 February 2011
Offline
I am not a vet but just wanted to add that maybe a leg brace instead of surgery may be an option for you?
Has that option been introduced?
We researched it when we thought our rear amp might have a tear. Surgery was not an option for us. Luckily it just turned out to be some stretching in the knee. Anti inflammatory meds, restricted movement and rest were all he needed.
Healing thoughts!

Columbia, MO
Member Since:
10 December 2011
Offline
My Daisy is going thru the exact same thing.  This past Sat she started limping and refusing to put weight on her right rear leg (she is a front amp) after an outing to the dog park.  Her vet thinks it is a strained or torn ACL in her knee.  We are treating it by restricted activity (only walking to go out to the bathroom) for two weeks and anti-inflammatories (she does those everyday anyway).  We are also doing cold laser treatments.  She has had two treatments so far.
I also posted in the forums and several people responded that they had success with rest and cold laser or acupuncture.
Hope Rusty starts to feel better.  There is nothing more frightening then one of their good legs having problems.
Marla and Daisy
My Two Tripawds...Biscuit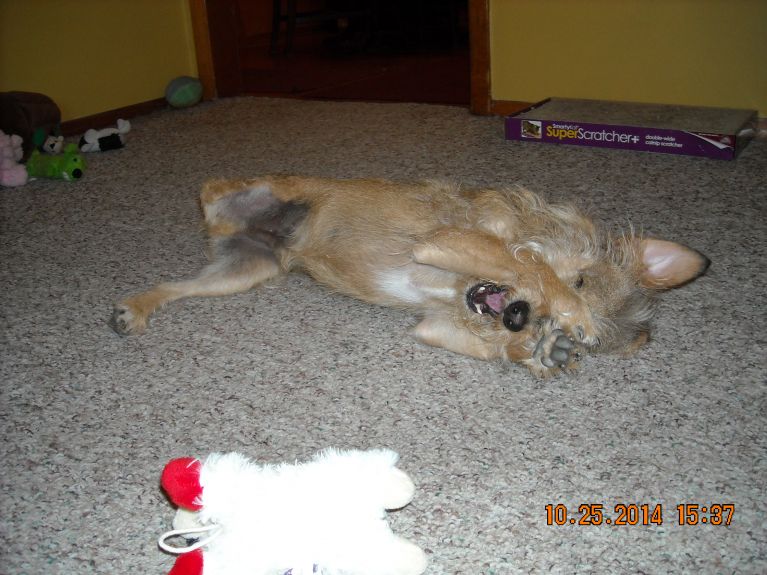 and Spirit Daisy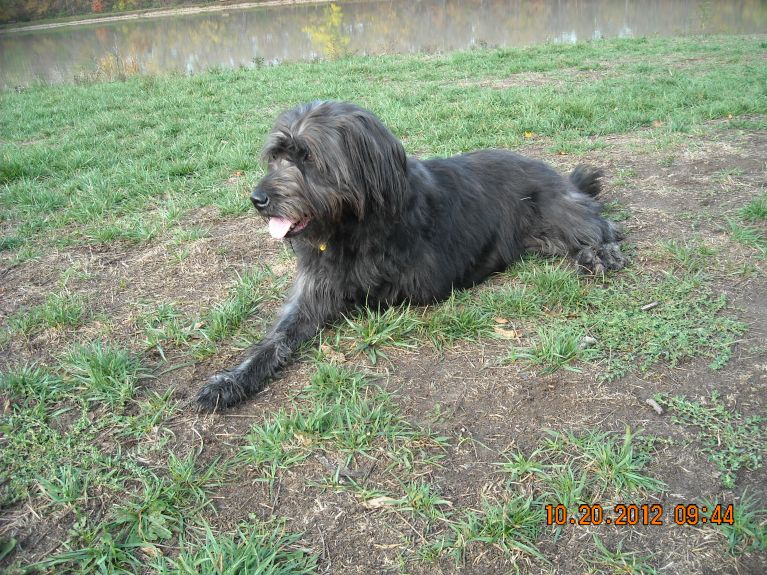 Hi Rusty,
Welcome to Tripawds. Sounds like you've been getting along great without that spare leg! We'd love to see some pics.
As I mentioned to Daisy, there was a point when my vet suspected I had an ACL tear, just like you. My vet recommend total rest and rehab and my leg got better after a few weeks. 
I'm not a vet, and hopefully Wookie or Tazziedog will chime in here...but in my non-professional opinion I think that while it's good to research your options, an invasive surgery should be a last resort when all else has failed, especially for a Tripawd. We've seen Tripawds here recuperate from major leg surgeries like this, but it ain't easy by a longshot.
If I was in that situation again, I would go see a certified rehab vet (a trained vet with "CCRT" or "CCRP" after their names) and go down the second opinion route before going into surgery, just to make sure that's what you're looking at. Hopefully your vet can refer you to one in your area or you can visit these websites to find one:
Rest up kiddo, let us know how things go.
There is not an easy answer for Rusty's situation. In mid to large size dogs, I believe that most (all?) partial ACL tears go on to become complete tears at some point no matter how much rest, medications, or braces you use. At least that has been my experience.
The question remains at this point whether Rusty has actually torn his ACL. Did your vet mention if there was instability in the knee? Did they take x-rays? You cannot see a torn ACL on x-rays, but there are secondary signs that can be very suggestive of a torn ACL. 
I do not think you are doing any harm with rest and anti-inflammatories for a number of weeks. If Rusty makes a full recovery, I very much doubt he had an ACL tear. 
But let's say the ACL is torn. These would be the options as I see it:
1. Do nothing and manage the ensuing arthritis with long tern joint supplements like Glucosamine as well as anti-inflammatories and rehab. Lots of dogs have torn ACL's that never have surgery. They will develop arthritis in the knee over time, and this would be my concern for Rusty, as he only has 3 legs as it is. But many dogs live many happy years with arthritis as long as it is properly managed.
2. Have the knee surgically repaired. I suppose this would be the option I would lean towards. Yes, it would definitely be a more difficult recovery and more potential for complications due to the fact that he is a tripod, but I think it is doable. Personally, I would not recommend a TPLO for fear of implant failure due to early weight-bearing, but you could probably talk to 10 different surgeons and get 10 different opinions. I like the Tightrope procedure, it's much newer so a lot of surgeons aren't doing it, but there are no cuts in the bones and no plates and screws that could fail, like there is with the TPLO. I have had patients walk on the leg the day after surgery without even a limp! 
If you have not consulted with a surgeon, I would recommend doing so. There really is no easy answer, I am afraid. There are going to be pros and cons no matter what route you go. 
Best wishes to you both.
Right hind limb amputated 7/3/12 for OSA, started on alternating cycles of Carboplatin and Doxorubicin and oral Palladia. Single lung met 9/1. Met in the neck muscle removed 9/30. Large mass in sublumbar lymph node 10/2. Rescue chemo with ifosfamide 10/6. Mets to the rib and axillary lymph node 10/21. Started Leukeran and Pred 10/25. Wookie left this Earth for a far better place on 12/4/12. I miss you, Boo, you were my heart.
Wookie, this is such great information, thank you so much for a professional's perspective on ACL tears and Tripawds. Now we have a place in the Forums that we can send people to when this comes up again.
I really hope that R&R will help. It makes total sense that if the R&R works then it wasn't an ACL tear. I never looked at it like that! So what you're saying is that partial ACL tears can't be "healed"?
Oh, and Tazziedog has mentioned that she is also a big advocate of the tightrope procedure too.
jerry said 
So what you're saying is that partial ACL tears can't be "healed"?
The ligament itself does not heal, no. Once it is torn, the torn portion will always remain. The problem is, once a tear begins, it usually continues to tear over time. The bigger the dog, the quicker this happens. 
Knees can eventually stabilize without surgery. This is not from the ligament healing, but from the amount of scar tissue that develops around the knee. This happens more quickly in smaller dogs, but it can also happen in large breeds too. Unfortunately, the prolonged instability in the knee and altered biomechanics leads to a lot of arthritis. 
Right hind limb amputated 7/3/12 for OSA, started on alternating cycles of Carboplatin and Doxorubicin and oral Palladia. Single lung met 9/1. Met in the neck muscle removed 9/30. Large mass in sublumbar lymph node 10/2. Rescue chemo with ifosfamide 10/6. Mets to the rib and axillary lymph node 10/21. Started Leukeran and Pred 10/25. Wookie left this Earth for a far better place on 12/4/12. I miss you, Boo, you were my heart.


Member Since:
22 August 2008
Offline
I would agree that the tightrope or lateral suture is probably preferable to a metal implant (TPLO or TTA).  My dog Tazzie was pretty big (185 pounds) and she had both of her knees repaired that way and did great but she also had rehab including underwater treadmill for 16 weeks post op on each knee.  She had her RF leg amputated about 2 years after the second knee surgery and her rear legs held up well.
Pam

AmeliaLovesBuju
AmeliaLovesBuju said
I am curious if anyone can recommend a vet in Orange County, CA...
Welcome, please consider registering to take full advantage of these forums. Consider searching the veterinary referrals forum or start a new topic there. Once registered you can subscribe to receive notification of replies.
I'm so sorry to hear this, I know how difficult it is to be back at square one!
Have you consulted with a board-certified surgeon or a rehab veterinarian? If so what did they say?
Yes, he's been to an Orthopedic surgeon and had a joint tap yesterday to find out what is going on at the ligament. We are waiting for the results. I guess it seems like his ligament is degenerating. We'll find out the extent of it with the results of the joint tap. I think surgery is going to be what the doctor recommends and I'm leaning towards that being his best option.
I am thinking of getting a second opinion from a rehab vet though. Anyone know what they are likely to recommend as an alternative/addition to surgery?
Oh ok. Well, it makes sense that an ortho vet would recommend surgery. I would definitely see a rehab vet to get an alternate point of view, as they don't always agree that surgery is the best route to take.
Have I shared this link with you? This is what a rehab vet's point of view might be:
Conservative Alternatives To Leg Knee and Hip Surgeries
Just be sure if you go see a rehab vet that you see an actual DVM who is certified as a rehab therapist, or things could just get worse. This article will tell you how to find one.
Forum Timezone:
America/Denver
Most Users Ever Online:
946
Currently Browsing this Page:
1
Guest(s)
Member Stats:
Guest Posters: 1225
Members: 16205
Moderators: 2
Admins: 3
Forum Stats:
Groups: 4
Forums: 23
Topics: 17944
Posts: 248795
©
Simple:Press
—