Join The Discussion
Learn about life on three legs in the forums below. Browse and search as a guest or register for free to take advantage of member benefits:
Instant post approval.
Private messages to members.
Subscribe to favorite topics.
Join the Live Chat and more!
What Is The KillBarney Tour?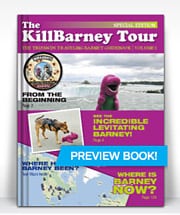 Get the KillBarney Tour Book for photos and stories of Tripawds members around the globe!
A
A
A
Hello there,
My name is Kevin and I am an industrial design student and for my senior thesis I've decided to look into dog prosthetics . I have a very short survey that I'm looking for some general answers on. If anyone could take the time to fill it out I would appreciate it immensely.
https://kevinbaier.typeform.com/to/pAecso
I'm also looking to directly interview someone with a dog with or without a prosthetic, and possibly talk with them a few more times as I continue throughout the design process. Please feel free to directly message me on here, or leave more information in the comments! 
– Thank you so much!
Hi Kevin, thanks for thinking of us. It's wonderful you are doing this project, and we hope you find enough responses to generate some useful data.
If you'd like feel free to ask your questions here, for those of us whose Tripawds don't have a prosthetic. The vast majority of our members do not utilize artificial limbs for various reasons. Tripawds with cancer usually need all of the limb removed to eradicate the tumor, and in non-cancer cases, it's usually because the amputation was done before anyone considered it as an option. We are happy to share our experience in the forum if you'd like.
Thanks again.

Livermore, CA

Forum Posts: 3298
Member Since:
18 October 2009

Offline
Hi Kevin,
What are you trying to do with prosthetics ?  Improvements or modifications?  There are a few here who have gone the prosthetic route but not that many so don't get discouraged if you don't get too many responses on your survey.
I've had two rear amp Tripawds.  My first Pug Maggie lost a rear leg to mast cell cancer.  Her tumor was in her knee so most of her femur was also removed.  My current Tripawd is a little Pug mix who lost her rear leg after being hit by a car.  She was amputated to the hip as I believe her femur was broken in several pieces, I adopted her as a Tripwad.  So neither of mine would be candidates for a prosthetic by the standards I am familiar with.
Good luck with your Thesis!
Karen and the Spirit Pug Girls
Tri-pug Maggie survived a 4.5 year mast cell cancer battle only to be lost to oral melanoma.
1999 to 2010
Thank you for your responses! Since most of the folks here don't really have dogs that have prosthetics , is there anything you wish you could have for your dog that isn't currently available on the market? For example maybe something like harnesses, leashes, life jackets, or other accessories that need to be different for dogs with missing limbs. 
You are so welcome! What made you think of doing this project? Do you have a Tripawd?
Our biggest issue is finding an assistive harness like the Ruffwear Webmaster that doesn't rotate on a front limb amputee dog, or cat for that matter (yes, a few members here walk their cats on leash). We have talked to various manufacturers about this issue but the logistics of creating a harness made specifically for all varieties of amputee combos are at this point, insurmountable due to cost, inventory management, etc. For now, the harnesses we test and carry in the Tripawds Gear shop are the ones that we find work best for Tripawds but we hope that some day that rotation issue can be overcome.
The Float Coat by Ruffwear that we carry doesn't have this rotation problem, they don't need a modification. However when it comes to jackets or sweaters, most people tend to sew up the open arm hole where the dog's missing limb is located.
Aside from that, we would love some day if a prosthetic could be invented for a dog or cat who doesn't have much, if any, stump left. But according to pet prosthetics experts like Dr. Marcellin-Little, that day is a long way off.
We would love to see what you come up with and look forward to helping out any way we can.
Wow this information is so helpful thanks so much! The rotation issue seems to be a strong concept for me to look into more and design for. I'm definitely interested in possibly making a harness / leash combo that would work well on dogs with missing limbs, and making it adjustable to different injuries. 
As for the full replacement prosthetic, I've also seen that technology like that is either extremely expensive or almost impossible to create. So I may need to hold back on that for now. 
Thanks so much for being apart of this community! I don't have a tripod myself, but I do have two dogs myself. I started looking into this lightly before choosing it as my thesis, just because it seemed like a topic that needed some design improvement. I would love to keep in touch or get even more feedback further along in the process if you would be open to that. 
You are so welcome, anytime! You have a keen eye for the needs of dogs, and I can tell your own two are very lucky to have such a conscientious parent. 
Sure, keep in touch and let us know how things are going, if you need demo models, etc. We are here to help and would love to see what you come up with.
I've done some preliminary sketches so far and have gotten more and more into the idea of making a universal harness that would fit well no matter which leg is amputated. Do you know of any other specific issues involved with harnesses aside from rotation on the body? Possibly things like over heating, complex attaching methods, poor materials, etc. Thanks again for all of your input!

Livermore, CA

Forum Posts: 3298
Member Since:
18 October 2009

Offline
One issue for a harness on a Tripawd is how it is put on and buckles. Tripawds have a balance issue no matter what leg is missing, so asking them to pick a leg up to put a harness on can be hard.
For example, my girl Elly is missing her right rear leg and I use the RuffWear Webmaster harness.  The harness has two straps which buckle on the left side including the front strap that her right front leg has to go through.  The way I put it on her is that she has to sit so she can pick up her right front leg to go through the strap, then I have her stand to buckle the two straps. 
This is much more difficult for a left front amp I would imagine.
There are harnesses like the Front Range that has buckles on each side so can be put on without the dog having to lift any paws or the Convert which has one strap buckle.  Neither of them offer as much support at the Webmaster, the Front Range doesn't have a handle. 
Karen
Tri-pug Maggie survived a 4.5 year mast cell cancer battle only to be lost to oral melanoma.
1999 to 2010
Forum Timezone:
America/Denver
Member Stats:
Guest Posters: 1015
Members: 13055
Moderators: 2
Admins: 3
Forum Stats:
Groups: 4
Forums: 23
Topics: 15142
Posts: 213116