"Amputation is my enemy," said the tall man with a smile and a French accent as he approached the Tripawds Foundation exhibit at the 2017 Western Veterinary Conference. The visitor was Dr. Denis Marcellin-Little, DVM, Diplomate ACVS, VSMR and Professor of Orthopedic Surgery at North Carolina State University. What an honor to meet one of the world's leading experts in amputation, pet prosthetics and bionic limbs! Today we'd like you to meet him too, in this episode of Tripawd Talk Radio.
Dr. Marcellin-Little Meets the Tripawds Nation
Let's Talk About Amputation, Pet Prosthetics and Bionic Limbs
Nobody wants an animal to lose a leg, and for Dr. Marcellin-Little, it's a life calling to save as many legs as possible. As one of the world's pioneers in osseointegration, a surgery that fuses a prosthetic limb with living bone, he's acclaimed for his innovative and successful orthopedic surgeries that avoid amputation.
Among many achievements he is especially noted for break-throughs like performing the world's first surgery to fuse leg implants with a cat's bone tissue, the first total knee replacement on a cat and custom prosthetic limb implants for dogs and cats using 3D printing.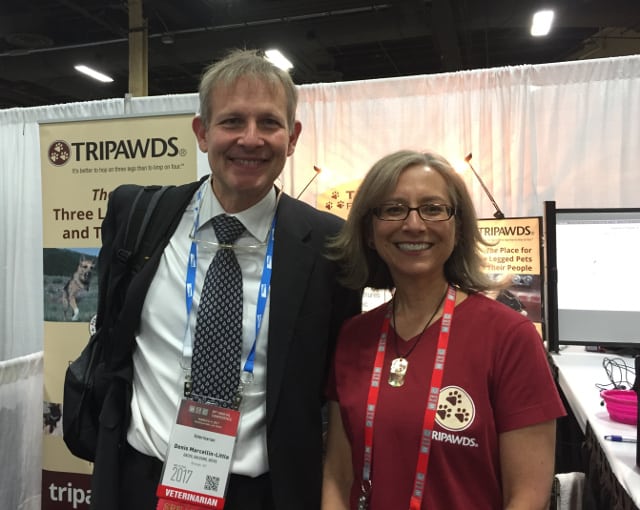 Many of the pioneering prosthetic implants surgeries he and others have performed are still in the experimental phase. However Dr. Marcellin-Little says "I have several patients that have had them for years including a cat that has now has them for about 11 years that's doing quite well."
The cat he's referring to is Mr, Franz, a Tripawd born without a right rear foot. In this video you'll see how his implant was made and infused into the remaining leg bone:
And now prepare to be amazed when you see for yourself how great Mr. Franz is doing 11 years later. His owner graciously allowed us to share this recent video:
The osseointegration bionic pet leg implants continue to be expensive and prone to infections. But improvements occur with each new procedure on ideal candidates. "It takes a lot of little incremental progress to have a better ingrowth of tissues into the implant and have them become more resistant to infection. I think that's the key. Have that production become a little simpler and faster but with advances in codings and implant fabrication. I think we can achieve that in the next five to ten years," he explains.
Not only is Dr. Marcellin-Little creating innovative ways to avoid amputation for dogs and cats, but he's also a passionate advocate of improving quality of life for amputee pets. In this episode of Tripawd Talk Radio we discuss the impact of amputation on dogs and cats, including:
Amputation Basics. Why do pets lose limbs? Why do some vets choose a partial limb amputation? What is the best way to amputate a pet's leg?
"The answer is they do different things because we don't really have a standard of care that say if your dog has a problem at that level, you will amputate at this level. So, in other words, we still in a little bit of an early stage in Orthopedics or in Veterinary Medicine."
Differences between front and rear leg Tripawds. How does amputation affect a pet's gait? What kind of amputee has a better quality of life?
"Losing your front leg is like losing two back legs . . . walking on three legs is easier when you're missing a back leg"
Older Tripawds versus Younger Tripawds. Do old or young amputee dogs and cats do better? Which ones have a tougher (or easier) time on three legs?
"I think it's better to lose a leg not too early and not too late."
What kind of exercise for Tripawds is best?
"You shouldn't be doing things that are extremely intensive or rapid or stressful. So you do an exercise that takes place maybe on a better surface, a safe surface that's not too slippery, at a reasonable speed so you don't have to do heroic things, jumping enormous heights and so on."
Can joint supplements help a Tripawd stay strong?
"Losing a pound is a lot more important than eating glucosamine for three months for example. It's going to have a much more profound impact on the dog."
You'll learn all this and more in our extra-long episode of Tripawd Talk Radio.
We apologize for the recording's early technical glitches but promise that it's worth listening to the inire show. If can't listen now, you can download a PDF transcript of our interview with Dr. Marcellin-Little. We guarantee you'll find it enlightening and informative.