Caring for a Three Legged Dog or Cat
Tripawds is the place to learn how to care for a three legged dog or cat, with answers about dog leg amputation, and cat amputation recovery from many years of member experiences.
JUMP TO FORUMS ↓
Join The Tripawds Community
Learn how to help three legged dogs and cats in the forums below. Browse and search as a guest or register for free and get full member benefits:
Instant post approval.
Private messages to members.
Subscribe to favorite topics.
Live Chat and much more!

GinaNara
Hi all, rnOur 8 year old ginger shorthair is needing a left arm amputation after getting attacked by a dog and now has nerve damage and is dragging the arm.rn He\'s a super active boy and always wants to run around, play, jump and explore outside.
We\'re worried about when he comes out of his surgery how his quality of life will be and if he\'ll be able to do all the things he loves doing with time and roughly how long it will take to get there.
Is anyone able to shed some light on their experience with this and the process of getting back to normal (or somewhat normal?).
Is there anything we need to be aware of with recovery or any tips for us?
We\'ve also got a newborn and husband is currently working away from home, so it would be me by myself to take care of him until the weekends.
At the moment he\'s been kept in a cage (about the size of a large dog) and we\'ve had to block it off on all sides because when it\'s open and he can see the house he flips out from being trapped. He currently has a bandage around the arm that is to come off and because he freaks out and tries to take the bandage off, he\'s had to have the remaining 3 paws put in booties so he can\'t scratch and cause any wounds, and a soft cone so he can\'t bite (he\'s done that before and reopened and created wounds when he had stitches).
Because of all this, we\'re worried about how he will go recovering as the vet has advised the stitches after the arm comes off will need to be open and if we should keep him in the booties so he can\'t open the stitches.
Any advise, tips or similar experience stories would be a life saver!
Hi Gina, welcome. Sorry it took so long to get your post approved, we were out yesterday. Please consider registering as a member, so your future posts won't need to wait for approval OK?
Sorry about your cat! What's his name? I'm so glad he survived the attack. Poor guy. 
Try not to panic about his future quality of life. Three-legged cats handle life on 3 even better than dogs! He will get back to doing what he loves in no time at all once the recovery phase is over. Typically it lasts about 2 weeks. Is he on pain medication? If so, how much and how often? Good pain management is essential for a good recovery.
Check out our Tripawds What to Expect articles for some recovery tips and tricks. Our Tripawds Recovery Shopping List also has some ideas for you, like using a cat recovery suit so he can't harm the incision. That way he may not need the booties. To be safe, it sounds like he may need a cone too, just in case. 
Using the crate is a great idea, and so is covering it so he's not visually upset by being inside one. If you're able to move him into a room of your house (with a door) where he cannot hurt himself or get stuck under furniture he may be happier there. I'd wait a few days though, just to make sure he's rested enough to have more space to stretch out.
You sure have your hands full right now! If you are able to find time to check out our Cool Tips for Tripawd Cats book, you'll find lots of tips there. If not I understand. Lean on us, we are here to help! Keep us posted and let us know how he's doing. 

GinaNara
Thank you so much, Jerry!
Our boys name is Simba (he definitely acts like a little king of the house). He's currently on 100mg of Gabapentin every 12hrs, but the vet has already informed us he will go back on Meloxicam after the surgery along with the Gabapentin (but we might increase to every 8hrs for a while afterwards for the mild sedation to help calm him as he's coming off the anaesthesia). We've also got some Temvet at home too from when he wasn't eating and couldn't have the Meloxicam after his original surgery after the attack; so we also have that option as well if he is in a lot of pain afterwards. 
Our vet advised it's only day surgery so I'll be dropping him off in the morning and picking up before they close/late afternoon.
We had tried the room before but he got too agitated and kept throwing himself against the door to try get out 🙁 so I think we may need to stick to the cage until he's ready to come out. He flips out when his litter box is in the cage, so every time I've offered the box to him outside his cage (while blocking of the rest of the house) he is ok and will try get into his box himself while dragging the bad leg and won't flip out. 
P.s. I did try registering as a member first before doing the post but for some reason it wouldn't let me register and everything was correct? I might try again, fingers crossed 🙂
Hi Gina & Simba! 
Sounds like you have a spunky guy there! That's a pretty good dose of Gabapentin, and if he's showing some feisty behavior while he's on it now, he's got the spunk to get through recovery and get back to living. It's good you've had some recovery practice with him, so now you know what he really hates and what he will tolerate.
You mention you have Temvet on hand. That's a good pain med, called Buprenorphine here in the States. What part of the globe are you lcoated in? 
It's good that Simba's vet is not keeping him overnight, since it sounds like they don't have overnight staff to look after him. Be aware that bringing home a Tripawd the same day of surgery is not an easy thing. But it's not impossible to handle either. See our post:
Thanks for trying to register as a member. You did actually succeed! And you even uploaded an avatar pic of Simba! I see you used the User Name @ginanara37. Just sent you a password reset link. A lot of new members think they are not logged in when they actually are in. If you think you logged in, look at the top right corner of our page. There should be a black bar across the top, with "Howdy, Simba" and your avatar next to it. If you'd like help please message me anytime (I'm in Pacific time zone). 

Virginia


Member Since:
22 February 2013

Offline
Simba is one lucky kitty to have you as his advocate. Terry has already given you wonderful advice and Great Links to help you navigate through all this. I just want to send best wishes for a successful surgery and speedy recovery.
Stay connected and let us know how we can help or if you have any questions.
Hugs 
Sally and Alumni Happy Hannah and Merry Myrtle and Frankie too!
Happy Hannah had a glorious additional bonus time of over one yr & two months after amp for osteo! She made me laugh everyday! Joined April's Angels after send off meal of steak, ice cream, M&Ms & deer poop!

Michigan

Member Since:
11 July 2016

Offline
Hi and Welcome,
So sorry you have to join us, and glad Simba (I adore his name) survived the attack. Jerry has given you excellent advice already. I can add ditto to all that has been posted!!!
Purrkins is a ginger tabby & lost his left front leg. He was six at the time of his amp; he will be 12 in July. Cats do excellent on three legs. Recovery is no picnic and lasts a couple of weeks: proper pain management or lack of makes or breaks a recovery for you both. The meds your vets prescribing, gabapentin and – Temvet / buprenorphine, and Meloxicam, will be excellent and cover Simba's pain.
What surgery did he have after the attack?
I know this is impossible right now but TRY not to worry about the quality of life after recovery. You will be amazed! Purrkins has an excellent QOL, and we have never looked back. Our situation was different Purrkins had a soft tissue sarcoma.
Stock up on some favorite foods. Wet food is best in recovery as we don't have to worry about being hydrated. I used a lot of smelly foods to help get past the meds. After surgery covering his crate with a blanket or towel at least half of it will help Simba rest and feel like he is in a den. Purrkins recovered in a spare room. He chose the closest to recover in. (denlike). Most, if not all, cats prefer denlike areas in recovery.
We used a baby onesie on Purrkins. We only had one area to protect. I'm in total shock he is keeping the booties on! WOW, Simba!
We have to see a pic, please;)
If we can answer any questions, just post. Let us know what part of the globe you are in for time zones;)
When is Simba's surgery?
HUGS & scratches to Simba, please!
Holly & Purrkins💝💝💝

Member Since:
14 May 2022

Offline
Hi! I'm new here also. My Stevie is on day 11 after his right front-leg amputation. He's been trying to hop onto things and open the bedroom door for a few days now, so that's been a little difficult to kitty-proof these days. He mostly slept the first few days though. I've been so impressed with his recovery and positivity.
As far as stitches being exposed; I got a $12 "surgery onesie" from amazon that's supposed to be for abdominal surgeries (it's the only thing I could find last minute.) To cover the hole for the missing arm, I used a nonstick telfa pad, and paper tape to stick the sides to the fabric. It cushions the sutures a bit and he has not tried to lick it off or kick it off very much. Also, the onesie is slightly too elongated in the back so he can pee on it a bit; I just don't put his back legs through the leg holes. There are a lot of things he COULD do to get out but he seems to like it, miraculously.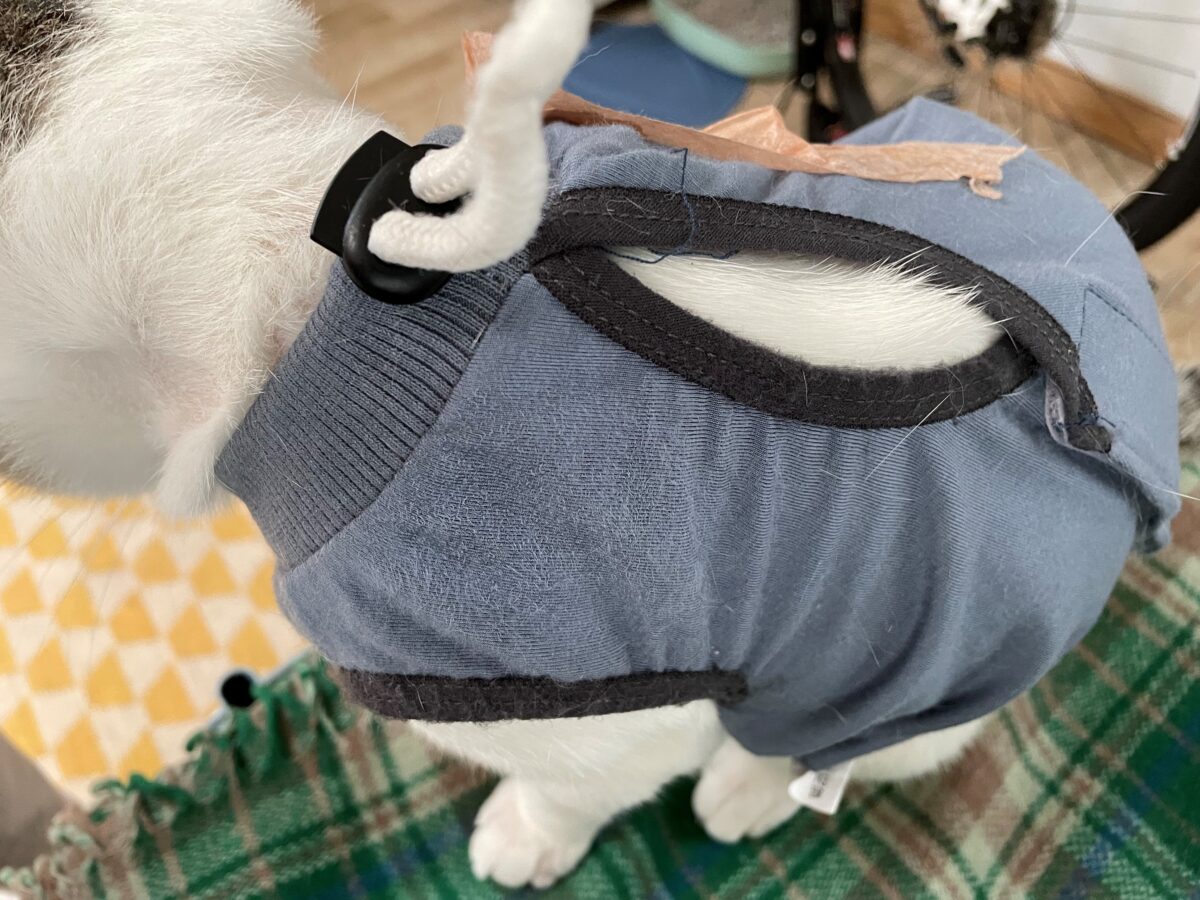 (he hopped onto the top the cage while writing this, but it made for a good photo opportunity x-x)
I tried buying the way nicer vetmed one, but I mismeasured so it was too big for him.
Forum Timezone:
America/Denver
Most Users Ever Online:
946
Currently Browsing this Page:
1
Guest(s)
Member Stats:
Guest Posters: 1212
Members: 15711
Moderators: 2
Admins: 3
Forum Stats:
Groups: 4
Forums: 23
Topics: 17755
Posts: 246858
©
Simple:Press
—