The Tripawds community and social media following has grown over the years, partly in thanks to our participation at the annual BlogPaws conference.
What is BlogPaws?
The BlogPaws community is the go-to resource for pet industry bloggers and social media enthusiasts looking to build their online presence and enhance their social networks. BlogPaws hosted its first pet-friendly social media and marketing conference in 2010 and has grown annually to be the biggest pet industry social media conference. BlogPaws conferences attract expert and inspirational speakers from TV personalities and social platform experts to legal and e-commerce experts. Hundreds of bloggers, veterinarians and pet industry professionals attend BlogPaws every year to connect with others and develop brand relationships.
[youtube]http://www.youtube.com/watch?v=Dxs88nGLs7o[/youtube]
Scenes from BlogPaws 2013.
Grow With Us In 2015!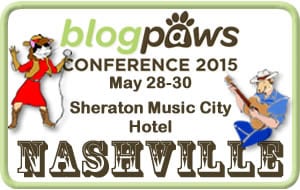 We will once again be representing the Tripawds Nation at BlogPaws 2015! Join us in Nashville for three days packed with education and entertainment
Can we represent you too? Partner with Tripawds to directly engage with more than 1,000 of the world's most influential pet bloggers, writers, speakers, brand leaders and social media gurus. And, reach 10,000+ fans and followers via the Tripawds Blogs community, press relations and various social media channels before during and after the event.
Our presence at BlogPaws is the perfect opportunity to spotlight your brand before, during and after this acclaimed three-day event.
Read about our comprehensive brand engagement opportunities, then let's talk about the benefits of sponsoring Tripawds at BlogPaws 2015.
Tripawds Educates At BlogPaws 2014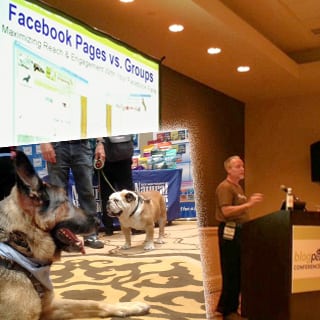 We took a major step to getting more involved with BlogPaws at the 2014 conference held in Henderson Nevada.
Tripawds Admin Jim Nelson presented the popular Facebook session, informing attendees about how to best use Pages and Groups to maximize engagement with fans. We also partnered with various brands to help spread the message at the event about products and services we believe are important to pet and vet bloggers everywhere. We owe special thanks to K9 Medicinals for supporting our attendance.
Read our wrap-up blog post for more information or to download Jim's slides, and see the follow up newsletters we sent to brands and bloggers we met during the three day event.
Interested in reaching BlogPaws attendees at future conferences but can't attend? Contact us below for information about how we may be able to represent your business, or review the creative campaign ideas we customize for brands to engage with the Tripawds community all year long!
Scenes From BlogPaws 2012
During our first appearance at BlogPaws 2012, Jim was interviewed for the popular television show Who Let the Dogs Out. Watch this clip from the episode for more information about BlogPaws conferences and the history of Tripawds.
[youtube]https://www.youtube.com/watch?v=eA636vz3yrk[/youtube]
Why Sponsor Tripawds?
Tripawds does not collect member fees and is paid for out-of-pocket by founders Jim Nelson and Rene Agredano, who incur thousands of dollars in yearly expenses to maintain the website infrastructure. Your corporate sponsorship helps us offset travel costs to the event and enables us to introduce hundreds of influential pet industry leaders to your brand.
Facts About Tripawds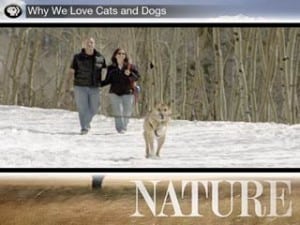 Tripawds.com is the world's largest community for amputee pets and their people.
More than 10,000 registered site members and social media network followers turn to Tripawds for healthy pet nutrition, pet cancer information and veterinary amputation resources.
The Tripawds community is recommended by veterinary professionals from around the world.
Jim and Rene are featured with their dog Jerry in Why We Love Cats and Dogs which first aired on PBS in 2009.
Jim was featured in Who Let The Dogs Out on the Hallmark Channel after BlogPaws 2012.
Nobody else provides this kind of comprehensive, scientifically sound information about pet cancer, amputation and physical challenges faced by cat and dog amputees.
Want to hear more? Let's talk! Email us with any questions or contact us below for more information. Want to chat? Call: 707-845-3129
Contact Tripawds: